Under Armour PESTEL Analysis
Detailed PESTEL Analysis of Under Armour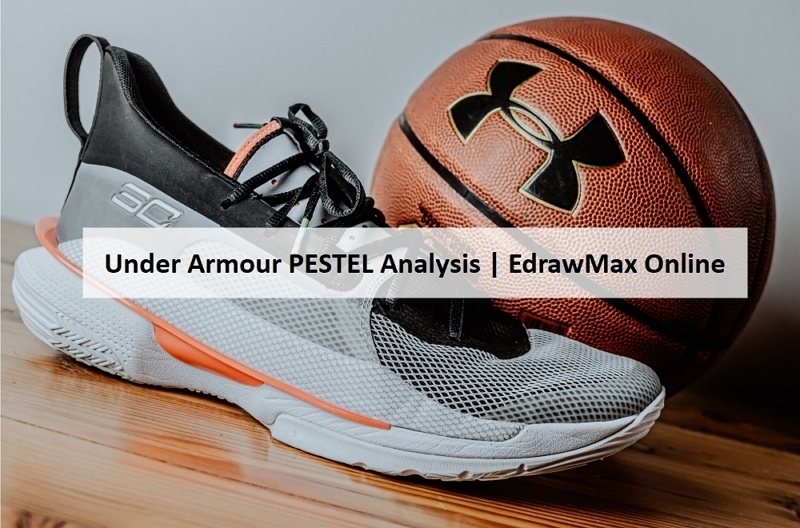 1. Introduction
Society is ever-evolving, and along with it, the taste and needs of people are also going through considerable changes. Businesses need to be relevant in their approach to the potential market to keep up their game. To evaluate the relevance of the marketing strategy of company tools like PESTEL analysis has proven to be quite effective.
PESTEL business tool analyses the macro-environment that has a direct impact on a particular industry. Carefully judging these factors, the software helps the company shape and mold its existing strategies to fit the changing time. The features of the PESTEL analysis model include Political, Economical, Social, Technological, Environmental, and Legal. The tools evaluate the current strategies of the business and highlight its strengths and weaknesses after assessing these factors. In this article, there is a detailed Under Armour PESTEL analysis to demonstrate how Tesla stands out in such fierce competitions.
2. Background of Under Armour
Under Armour- the American sports equipment company had its first breakthrough in 1999 when a renowned production house approached them for a feature film. Since then, the company has touched heights of success in the following years. With passing time, Under Armour has become one of America's leading apparel brands. Despite all the success, brands like this continuously thrive for the best. They bring about changes in their business strategies to cope up with the changing need of people. Under Armour PESTEL analysis empowers the company by planning and be one step forward than the rivals.
2.1 Basic Information of Under Armour
| | |
| --- | --- |
| Company Name | Armour Inc. |
| CEO | Patrick Frisk |
| Company type | Textiles, sports equipment |
| Company type | Company type |
| Number of employees | 16,400 – in 2019 |
| Annual Revenue | 5.27 billion US dollar |
| Founder | Kevin Plank |
| Area served | Worldwide |
| Headquarters | Baltimore, Maryland, US |
| Operating income | 236.77 million US dollars in 2019 |
3. Under Armour PESTEL Analysis
Political Factors:
Political factors of a PESTEL analysis comprise the government laws and policies, including policies related to tax, revenue, health care, labor law, foreign trade policy, and more. It judges how the local, national government influences the economy of different industries. It, in return, affect the growth and expansion of the businesses.
Political stability plays an essential role in the growth of any business. Under Armour PESTEL analysis of political factors can help them identify the potential market.
For manufacturing companies like this, flexible governmental policies seem to be a boon. But in countries like India and Bangladesh, where labor laws are pretty strict, the political factor might pose a problem.
Fluctuating currencies, exchange rates, tax, customs charges, and other things stand in the path of the company's expansion globally.
Economic Factors:
Economic growth, exchange rate, inflation, unemployment, the purchasing power of consumers, and others are factors that directly affect the profitability of a particular company. All these factors come under the economic factor of PESTEL analysis.
Under Armour is driven by strong economic policies. Under Armour, PESTEL analysis shows that the growing apparel industry holds growth opportunities for the company in-store.
However, the rising labor cost in countries like China, from where the company gets maximum production, may result in a products' price hike.
The brand is also going through a financial crunch owing to the present pandemic. According to PESTEL analysis, a significant shift in the economic strategies can help the brand cope with the loss.
Social Factors:
It refers to the socio-cultural factors that shape and mold the customer preference and needs. Demographics, population growth, career attitude, societal norms play a critical role in planning the demand and distribution model in any industry.
The upgraded lifestyle and constant change have resulted in increased demand and production for Under Armour.
The company has managed to establish itself as an exclusive brand providing quality products at a satisfactory price. It works in favor of the company.
The involvement of public figures like Dwayne Johnson has appealed to the common mass.
However, some strategies have led the employees to be dissatisfied with the brand.
PESTEL analysis indicates that the company must work hard to improve its brand image. It should also adapt itself to the changing need of the consumers.
Technological Factors:
Technological advancement is the key to success for businesses nowadays. Innovation, automation, technical awareness is some of the factors that influence the production and distribution of goods. It also has an impact on customer communication. Technological advancement empowers the company to improve its business strategies.
Keeping pace with the changing times, Under Armour has brought its services online.
To become relevant to the millennials, the company has become more active on social media platforms to understand the changing preference of the new generation.
The brand has integrated technology in producing innovative products that have suited the changing customer preferences and needs.
Environmental Factors:
Environmental factors have become increasingly important in the last few years owing to different issues such as scarcity of raw materials, climate change, and pollution, and other things. Businesses must focus on sustainability to ensure growth and a long-lasting impact.
Urban Armour claims to be investing in strategies that are environment-friendly and sustainable. It will help them to minimize its impact on the environment.
The brand has also joined hands with different non-profit organizations and joined the movement of environmental awareness.
Legal Factors:
Similar to the political factors, legal factors also comprise the rules and regulations. These include consumer rights, health and safety, and equal opportunities, and others. Legal factors are essentials, especially for global trade.
The company has ended up being involved in many scandals, including a claim of accounting fraud. It has created a negative impact on the minds of people.
The company suing another apparel brand for supposedly using its name has not gone down with people well.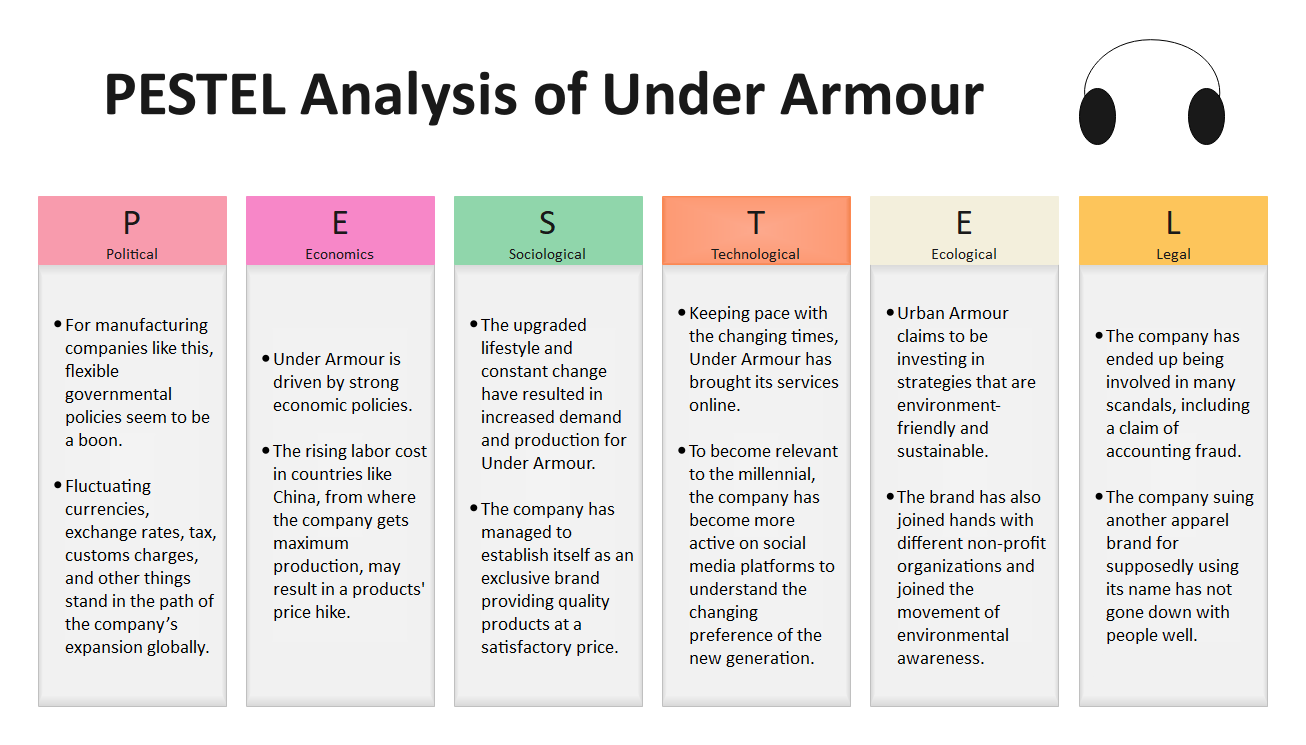 Source:EdrawMax Online
4. Key Takeaways
The company needs to implement the data gathered by PESTEL to gain the maximum benefit. Based on the Under Armour PESTEL analysis, one can say that the company has lost its initial glory. It must work on its weaknesses and focus on the strengths to stand strong against the challenging competitors. Restructuring of existing strategies can help the brand bounce back to the hot spot it was initially enjoying.
Use EdrawMax Online to create a PESTEL analysis diagram, or create any other diagram with ease! There are massive PESTEL templates and symbols to choose from, and creating a PESTEL analysis diagram could be really simple. Also, you can find substantial PESTEL templates in our template community to have a quick start. If you want to know more about how to make a PESTEL analysis diagram in EdrawMax Online, just check this PESTEL guide, it may help you to create diagrams without efforts.
5. References
Momin, A., 2021. 'Under Armour PESTLE Analysis 2021: Succumbing to the Competition', PESTLE Analysis, [online]. Available at: https://pestleanalysis.com/under-armour-pestle-analysis/ (Accessed 19 June 2021).

Team, M., 2021. 'PESTLE Analysis | PESTEL Analysis of Under Armour | MBA Skool-Study. Learn—share', MBA Skool-Study.Learn.Share, [online]. Available at: https://www.mbaskool.com/pestle-analysis/companies/18060-under-armour.html (Accessed 19 June 2021).