Wiki PESTEL Analysis
Detailed PESTEL Analysis of Wiki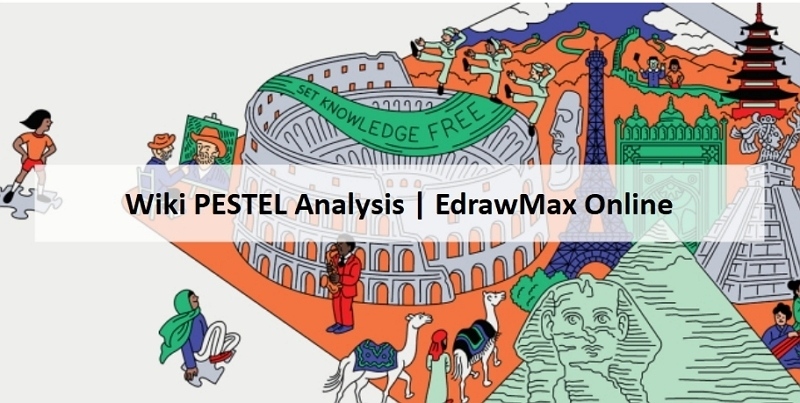 1. Introduction
The PESTEL analysis of any company is a powerful management tool as it helps them identify how the company may get affected by external factors or conditions. If they can identify them, it becomes easier to cushion the threats and plan for the expansion of the organization. Though the Wikimedia organization is a charitable organization, its revenue may get affected by external issues. PESTEL analysis Wiki can identify those factors and aptly plan to increase their revenue.
2. Background of Wiki
For the PESTEL analysis of a company, it is pretty essential to know its background. Wikipedia is a free dictionary application maintained by Wikimedia. The tool is multilingual used by millions of people every day. Here are a few background information about the tool:
2.1 Basic Information of Wiki
| | |
| --- | --- |
| Company Name | Wikimedia Foundation |
| Company's Former Names | Bomis |
| CEO | Katherine Roberts Maher |
| Company Type | Charitable organization |
| Year Founded | June 20, 2003 Wikipedia (2001) |
| Number of Employees | (approximately) 450+ |
| Area served | Worldwide |
| Annual Revenue | US$ 127.2 million |
| Founder | Jimmy Wales |
| Headquarters | San Francisco, California, United States |
3. Wiki PESTEL Analysis
Wikipedia is a free dictionary application, and it makes most of the money out of the Wikipedia store and donations. As a good proportion of its revenue is dependent on donations, the company needs to maintain a clear image. PESTEL analysis of Wiki can show how different external factors like politics, economy, sociology, technology, environment, and law can also influence a business.
Political Factors:
Political condition of any country massively affects the companies that have investments in the country. However, Wikipedia is an online platform. Hence, for it, the political condition may not have an immense impact. Here are a few political conditions that can affect Wikipedia:
Wikipedia donations start from the minimum amount of 15 USD, and many individuals worldwide donate to the platform. If the political condition is unstable and emergencies like war are there, Wikipedia may see a downfall in donations.
Wikipedia has been accused of publishing politically influenced narratives in the past. A party can use these biased articles to have an impact on the people for their profit. It can question the credibility of Wikipedia.
If a person is editing any content, they can use any information to instigate political mishaps in any country. Thus, ruining Wikipedia's reputation.
Economic Factors:
The economy has a direct relation with the business of any company. As Wikipedia is immensely dependent on donations, they can consider their business aspect for expansion. Hence, the economic issues can impact Wikipedia's business.
Since the company's significant revenue comes from donations, there is no fixed revenue for it. They may or may not get it from a particular source which may weaken their financial conditions.
Like most platforms, Wikipedia may consider an advertisement as an essential source of revenue. Since the free platforms get a large number of visitors, they can get advertisers smoothly and can also earn good revenue.
The Wikipedia store is another source of income for the company. However, to strengthen the store business, they need to promote it and make proper strategies.
Social Factors:
Different sociological factors can influence any business. As Wikipedia is a widely used platform, varied sociological issues have impacted the growth of Wikipedia. Here are a few social conditions which can affect the business of Wikipedia:
Wikipedia is a site that has content promoting different social, gender, and racial discriminations. It can often lead to controversy or harassment against that particular community.
The social conditions may get manipulated if any person used Wikipedia for their biased ideas. The narrative may create confusion and may result in further danger.
The tool is multilingual and has an appeal to mass speaking different languages all over the world. Thus, making it an immensely robust and powerful platform.
Technological Factors:
Like most other online sites, Wikipedia is also largely dependent on technical factors. The development of technology can undoubtedly be a crucial part of the betterment of the software. The PESTEL analysis Wiki can show how technology can impact the growth of the platform:
Technological innovation has always been a blessing to online applications and platforms. As security is a big concern, the tool may make it more secure for the users.
The biggest criticism that Wikipedia has received over the years is its representation of facts. Several articles have false information. Wikipedia must work its fact-checking function to be a reliable source of information.
Finally, the editors of Wikipedia are often anonymous, and anyone can add or delete information. The tool must restrict this and give rights to official editors. They can also keep data of qualification and be strict about the editing function of the tool.
Ecological Factors:
Although Wikipedia lacks direct connections with the environmental issues, they may take some responsibility towards the environment. It can help the brand in creating a good impression. Here is how the company may get affected by the environmental factors:
Though Wikipedia earns a large amount of revenue from donations, they also sell products on the Wikipedia store. They can offer funding projects for the buyers, which they can donate for environmental projects.
The site can also add some notes about saving ecology and environment under their content which may grab the audience's attention.
The company may pay attention to the pages, which talk about the environment. It should add notes about how to protect natural elements. They can also discuss redirecting the users to the pages that deal with nature or environmental preservation.
Legal Factors:
The business of Wikipedia may get severely affected if there is legal prosecution against the company. The PESTEL analysis Wiki can show how legal conditions may affect its business :
Wikipedia offers users to edit a page without much catering about their credibility. Therefore, it is easier to spread hatred on the site. Racial discrimination and derogatory writings can lead to legal prosecution.
The information shared on Wikipedia may not be true, and there is not much scope for the users to judge. It can lead to further issues. The company must keep track of the editors in case of any trouble instigated by false news. They can save themselves from legal proceedings.
Wikipedia needs to be more cautious about people who can edit the content to avoid being dragged to court by countries having strict laws against online media for speaking adulterated news.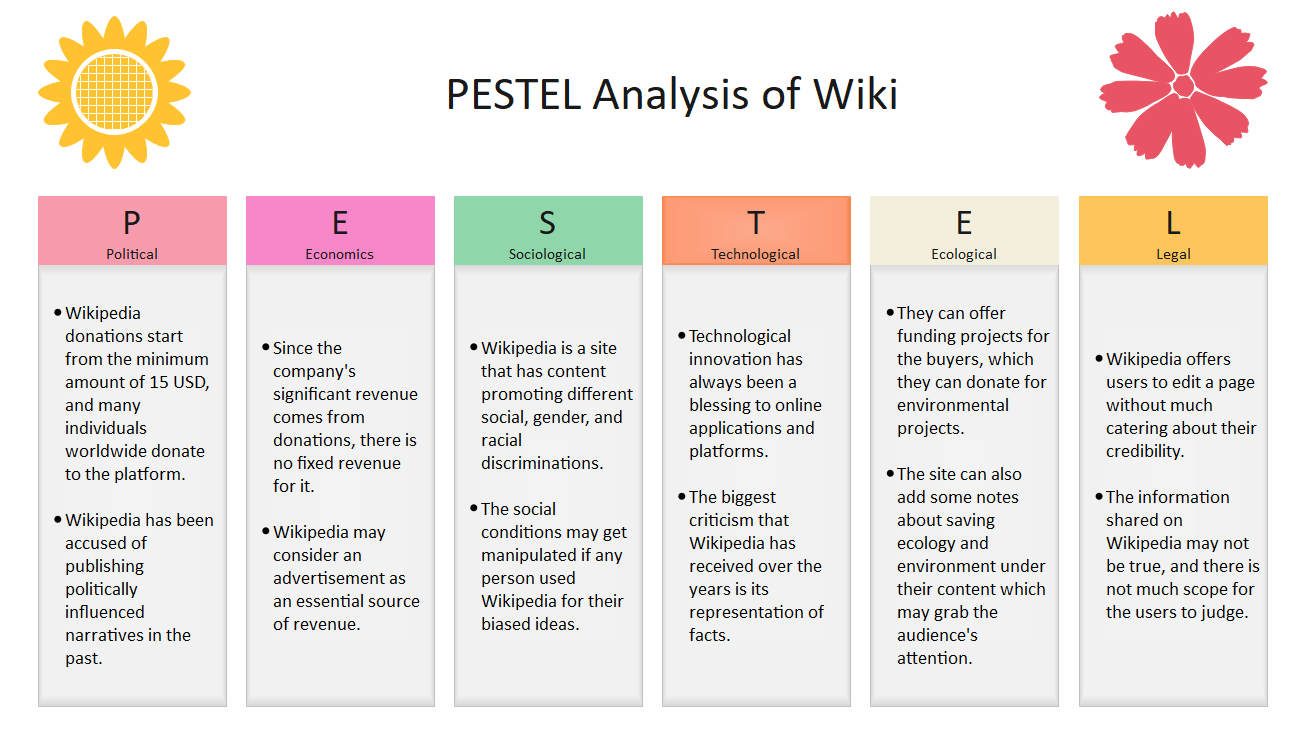 Source:EdrawMax Online
4. Key Takeaways
The PESTEL analysis Wiki shows that there are some occasions in which external factors may influence Wikipedia. They need to ensure their credibility and are required to find strategies to bring in more revenue. The need to restrict the function of free editing may resolve some issues with its credibility. The tool needs to warn the audience about such sensitive content. They may cross-check the details before allowing them to post. Like most corporations, Wikipedia can also take some social responsibilities, and for that, they can use their articles. Wikipedia needs to work on strategizing things to expand its business and bring in more revenue.
Use EdrawMax Online to create a PESTEL analysis diagram, or create any other diagram with ease! There are massive PESTEL templates and symbols to choose from, and creating a PESTEL analysis diagram could be really simple. Also, you can find substantial PESTEL templates in our template community to have a quick start. If you want to know more about how to make a PESTEL analysis diagram in EdrawMax Online, just check this PESTEL guide, it may help you to create diagrams without efforts.
EdrawMax Online
Create 280+ types of diagrams online
Access diagrams anywhere, anytime
Everything in desktop + Templates Community
Team management and collaboration
Personal Cloud and Dropbox Integration
5. References
En.wikipedia.org. 2021. 'Criticism of Wikipedia - Wikipedia', PESTLE Analysis, [online]. Available at: https://en.wikipedia.org/wiki/Criticism_of_Wikipedia (Accessed 22 June 2021).

Team, M., 2021. 'Wikipedia SWOT Analysis | Top Wikipedia Competitors, STP & USP | Detailed SWOT Analysis of Brands | MBA Skool-Study.Learn.Share', MBA Skool-Study.Learn.Share, [online]. Available at: https://www.mbaskool.com/brandguide/media-and-entertainment/1415-wikipedia.html (Accessed 22 June 2021).