Fitbit SWOT Analysis
An In-Depth SWOT Analysis of Fitbit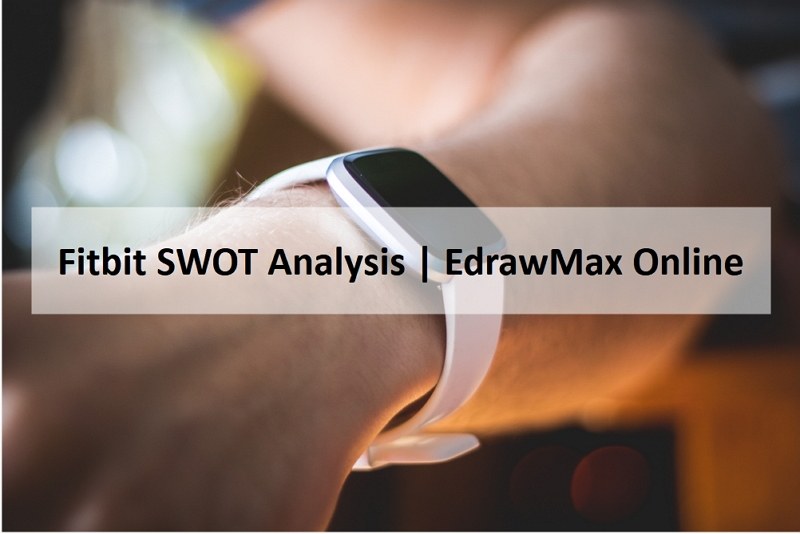 1. Background of Fitbit
1.1. General Overview of Fitbit
| | |
| --- | --- |
| Company Name | Fitbit |
| Industry | Consumer electronics and fitness company |
| Founded | 2007, March 26, Delaware, United States |
| Headquarters | San Francisco, California, United States |
| Founders | James Park, Eric Friedman |
| Annual Revenue | The U.S. $ 1.42 billion (2019) |
| CEO | James Park |
1.2. Introduction to Fitbit
For the Fitbit SWOT analysis, it is crucial to know about its past and future planning. The American consumer electronics and fitness company manufacture products like smartwatches, activity trackers, and wireless-enabled wearable technology, which help measure heart rate, steps climbed, quality of sleep, number of steps walked, etc.
The parent organization of Fitbit was known as Healthy Metrics Research, Inc. These devices may increase physical activities, but there is doubt whether they can improve health outcomes. Fitbit stands fifth for the largest wearable shipment company as of 2019. It grows at 14.8%. It has 28 million-plus users and sold over 100 million devices.
1.3. Development Timeline of Fitbit
| | |
| --- | --- |
| 2007 | the foundation stone was laid by James Park and Eric Friedman. |
| 2015 | The company began trading with the 'F.I.T.' symbol. |
| 2016 | The company's stock fell by more than 50%. |
| 2017 | Fitbit partnered with Adidas. |
| 2018 | The revenue of the company has reached US$1 billion. |
| 2019 | Adidas branded Fitbit iconic was released. Blue Cross Blue Shield Association partnered with Fitbit. |
Over the years, Fitbit bagged several prestigious awards for its performance. It was named the TechCrunch50 runner-up in 2008, 'Innovation honoree' in 2009, and the 'best in the health & wellness category at C.E.S. As of 2016, Fitbit ranked 37th out of the 50 most innovative companies of the year.
2. SWOT Analysis of Fitbit
The Fitbit SWOT analysis can find out the strategies that can help the company to strengthen its position and maximize revenue. It identifies the effects of competition and weaknesses as per the culture and organizational structure. The company can improve its potential by considering opportunities. Simultaneously, it must build strategies for business diversification to gain market stability and earn a reputation.
2.1. SWOT Analysis of Fitbit in Detail
Strength:
For any company, it is crucial to know their strengths as those features have earned them a name. When they are working on their weakness, they need to retain their strengths. These can help them to earn a better status in the highly competitive market. Like most other companies Fitbit have some strength:
Fitbit holds a strong market position beating its powerful competitors. The company has the credit to pioneer wearable fitness devices;
Fitbit maintains a healthy market position to hold a 3% market share. The company's ecosystem offers a wide variety of products, making the users satisfied and providing them a healthy lifestyle;
It is the Google Play Store's second-largest health and fitness app, it monitors the user base constantly, and it has broad access to data.
The company maintains direct relations with the users and offers direct distribution;
The power of Google gives excellent insight into the brand value, it indulges in healthy competitions amongst peers and friends.
Weakness:
A company may have some weaknesses, but they can also change them into their strengths with some steps. They need to judge their conditions while spotting their weaknesses to include appropriate policies to negate them. Fitbit also has some weaknesses:
The company has a limited target market;
Companies sell products with similar functions at comparatively lower prices which is a thing of concern;
Some smartphone manufacturers are there who offer products with better functionality, the fitness-only trackers have limited continued value;
❖The company's metrics won a lousy name for inaccuracy.
Opportunities:
When a company is working on their strategies and making future goals, they need to recognize their opportunities. Since several coffee chains offer variety in menus and ensure inclusivity, the market competition is getting high. Thus, companies like Fitbit need to consider their opportunities while doing Fitbit SWOT analysis. Here are some opportunities that they can work on to have a better status in the competitive market:
The company is a name in the health sector that develops synergies and innovations with the brand;
It enjoys a marketing advantage of strategic partnership in the medical and sports industries;
Health and corporate insurance incentives ingrain the company's in-household habits;
The sports sensors and wearable are crucial for tracking and monitoring in professional sports. There is scope to enrich its wearable versatility with diversified sensors.
Threats:
A company that is surviving in a highly competitive market must have some threats. They should take some measures to cushion those threats to develop a solid policy to achieve their future goals:
Fitbit consumer electronics and Fitness Company's threats are its serious concerns where it should pay more attention. Threats stand as impediments to a company's growth and development procedure. The global recession and the recent pandemic have caused many job losses. The company's operation faces danger for this reason;
There is growing competition in health tech and fitness worldwide. Fitbit is under pressure to cope up with technology and innovations;
The company has competitors like Apple, Samsung, Xiaomi, and Huawei, who give it a tough fight;
Some privacy issues with the Google merger encourage anti-trust regulators and ingrain doubt amongst users;
Fitbit needs to adapt to the new technologies and improve its product lines accordingly;
★Google has its private data policies and corporate environment. If Fitbit continues under Google for a long, the situation could be challenging. It had an 18% share drop after merging with Google.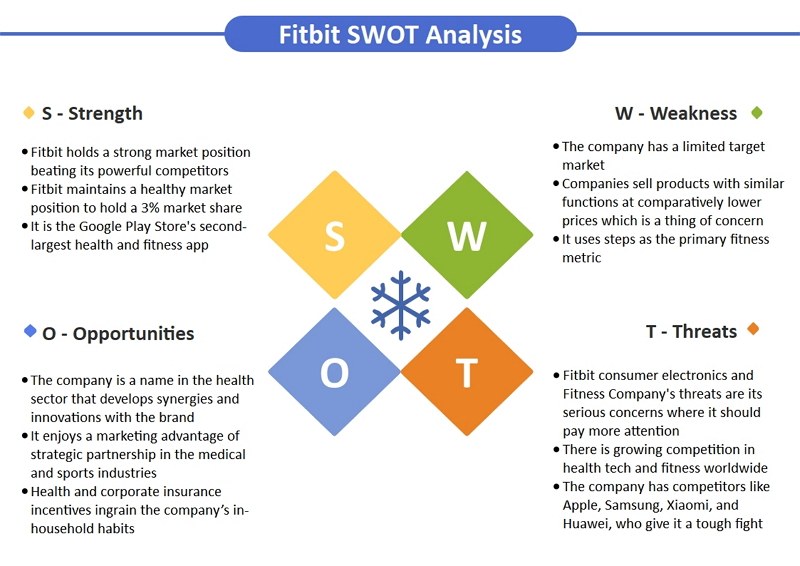 Source:
EdrawMax Online
3. Key Takeaways
The Fitbit SWOT analysis points out the fact that the company has numerous scopes to perform better. Undoubtedly, the company is one of the most revered namU.S.A consumer electronics industry the U.S.A. Still, it can maintain its success by adopting a few more measures.
The company can produce compatible apps for its products to attract third-party developers;
It should focus on building cutting-edge technology in the wearable fitness space like Gramin.
Use EdrawMax Online to create a SWOT analysis diagram, or create any other diagram with ease! There are massive SWOT templates and symbols to choose from, and creating a SWOT analysis diagram could be really simple. Also, you can find substantial SWOT templates in our template community to have a quick start.