Amazon PESTEL Analysis
Detailed PESTEL Analysis of Amazon
Do You Want to Learn More About Amazon PESTEL Analysis?
EdrawMax specializes in diagramming and visualizing. Learn from this article to know everything about amazon pestel analysis. Just try it free now!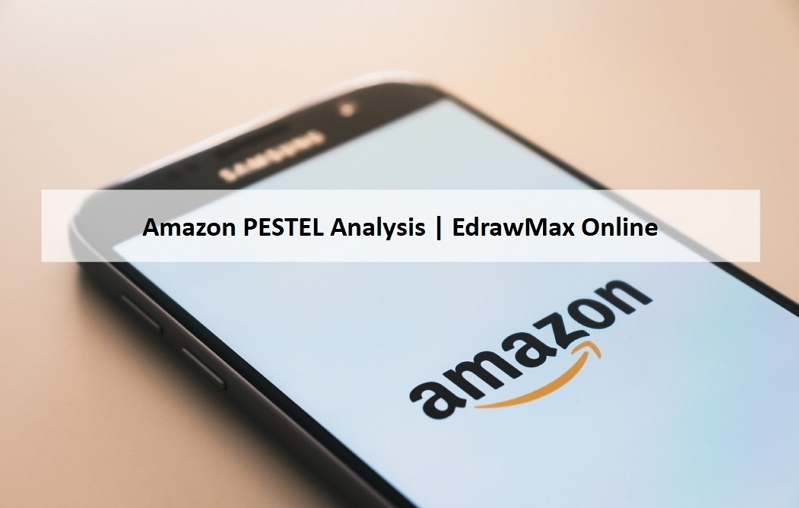 1. Introduction
PESTEL analysis or PEST analysis is a strategy carefully designed for business growth and expansion. Similar to SWOT analysis, this framework provides companies a general overview of their strengths and weaknesses analyzing various factors that determine the success of the particular organization.
Such strategies are vital for the companies to understand their present state and work, to improve their services and performance. It considers the macro, remote environment and presents the risks and opportunities to the companies monitoring the different aspects. In this Amazon PESTEL analysis, it gives the detailed explanations of why Amazon can stand out in such fierce competitions from six perspectives.
2. Background of Amazon
Amazon is an e-commerce giant that has made it big in the retail market. Over the years, Amazon has expanded its business and has also been involved in cloud computing, digital streaming, and more. The firm has made its mark on e-commerce. Despite having a stable position in the market, this multinational technology company deals with increasing competition in the field. Amazon PESTEL analysis helps the company to study the remote macro-environment and steadily deal with the competition. It also helps them identify their drawbacks and work on improving customer experience.
2.1 Basic Information of Amazon
| | |
| --- | --- |
| Company Name | Amazon.com, Inc. |
| CEO | Jeff Bezos (till 5th July 2021) |
| Company Type | Multinational technology company |
| Year Founded | 1994 |
| Number of Employees | 1,298,000 (December 2020) |
| Annual Revenue | US $386.064 billion (2020) |
| Founder | Jeff Bezos |
| Headquarters | Seattle, Washington |
3. Amazon PESTEL Analysis
The various factors that PESTEL analysis includes are- Political, Ecological, Social, Technological, Economical and Legal:
Political Factors:
The government, its policies, and its rules determine the growth of an organization in any given state or country. It includes tax rules and regulations, corruption, foreign trade policy, labor law, and all these components are the political factors of a PESTEL analysis.
It studies the government intervention and the scope of the industry at flourishing in that particular area.
Governmental support cybersecurity and smooth operation of e-commerce, which favors Amazon's business. Moreover, the political stability of developed countries works in favor of Amazon.
The growing popularity of the online retail business is a result of governmental encouragement. However, this growing industry of online retailing can also prove to be a risk for Amazon facing tough competition from big brands, especially foreign companies making their way into online retail.
Ecological Factors:
Challenges like pollution, climate change have raised more concern about environmental factors. The ecological factor examines if the company stands a good chance of thriving considering its ecological sensitivity. Companies that focus on environment-friendly products and services, utilize renewable energy, and think about a sustainable future have an additional benefit.
According to PESTEL analysis, Amazon has growth opportunities assessing its ecological factor. Its increasing interest in environmental programs, promotion of business sustainability, and low-carbon lifestyle and waste management strategies could enhance its growth opportunities.
Social Factors:
Understanding consumer behavior leads to an understanding of the need and demand of products. Primarily it is determined by the socio-cultural background of a place. Social factors like people's cultural change, education level, population help companies assess the potential market.
Amazon depends on technology to replace employees. The rate of decreasing job opportunities can be a threat for the company in terms of social factors.
On the other hand, the growing tendency of online shopping and increased consumerism will benefit the company. Easy availability of products and doorstep delivery are some reasons behind the popularity of Amazon among the young ones and aged people for whom leaving home is a concern.
Technological Factors:
Technological advancement is another crucial factor in determining an organization's strengths and weaknesses. Automation, technical innovation, change, and technical awareness are the factors that help companies to plan for their future intelligently. It guides them to adopt new technologies, plan their manufacturing, logistics, and distribution.
The expansion of operations of Amazon has led it to face challenges even from the technology firms. Amazon's innovative and creative ways to reach out to its customers are unparalleled. They are ever exploring new and effective ways of shipping and delivering packages.
The live chat option makes them easily accessible. Therefore, Amazon has plans to hire more people for technological advancement. It will help them to ensure a better customer experience.
Economic Factors:
Economic factors are directly related to the company's revenue. It includes unemployment rates, interest rates, raw material costs, and more. This factor gives the company an idea about the consumer's purchasing power and plans prices, products, and services accordingly. It directly influences the company's profitability.
Though Amazon has extended its services worldwide with the help of government aid, the taxes remain a constant challenge with its ever-changing number, especially in Asian countries.
The large variety that Amazon offers attracts consumers even when they are not seeking something expensive. In developing countries, economic stability has growth opportunities for Amazon.
Legal Factors:
Legal factors similar to political factors deal with rules and regulations. Organizations must abide by the laws such as industry regulation, health & safety of the employees, consumer law, and more to have thorough knowledge about the dos and don'ts of operating in a particular area.
While expanding its wings worldwide, Amazon abides by the rules and regulations. It focuses on cybersecurity, keeping the safety of the consumers in mind.
Efforts such as complicating the environmental protection regulations have helped it to strengthen the brand image. Besides this, changes in the import and export policies will lead the company to face challenges from the competitors easily.
4. Key Takeaways
For competitive advantage, companies must carry out PESTEL analysis on an interval of 6 months to measure the effectiveness of their strategies in the changing environment. Through PESTEL, the company can identify its threats and determine the opportunities assessing all the macro-environmental factors. Amazon PESTEL analysis points out the key issues that might pose a problem in it also helps in producing strategies that will help achieve its long-term goal. At the same time, it highlights the factors such as technological and social that will help the top player to hold its place in the online retail market.
Use EdrawMax Online to create a PESTEL analysis diagram, or create any other diagram with ease! There are massive PESTEL templates and symbols to choose from, and creating a PESTEL analysis diagram could be really simple. Also, you can find substantial PESTEL templates in our template community to have a quick start.
EdrawMax Online
Create 280+ types of diagrams online
Access diagrams anywhere, anytime
Everything in desktop + Templates Community
Team management and collaboration
Personal Cloud and Dropbox Integration
5. References
Cuofano, V., 2021. 'Amazon PESTEL Analysis In A Nutshell', Four Week MBA, [online]. Available at: https://fourweekmba.com/amazon-pestel-analysis/ (Accessed 16 June 2021).

Frue, K., 2021. 'PEST Analysis Of E-Retail Leader Amazon' PESTLE Analysis [online]. Available at: https://pestleanalysis.com/pest-analysis-of-eretail-leader-amazon/ (Accessed 16 June 2021).

Panmore Institute. 2021. 'Amazon.com Inc. PESTEL/PESTLE Analysis Recommendations' Panmore Institute [online]. Available at: http://panmore.com/amazon-com-inc-pestel-pestle-analysis-recommendations (Accessed 16 June 2021).