Lululemon SWOT Analysis
An In-Depth SWOT Analysis of Lululemon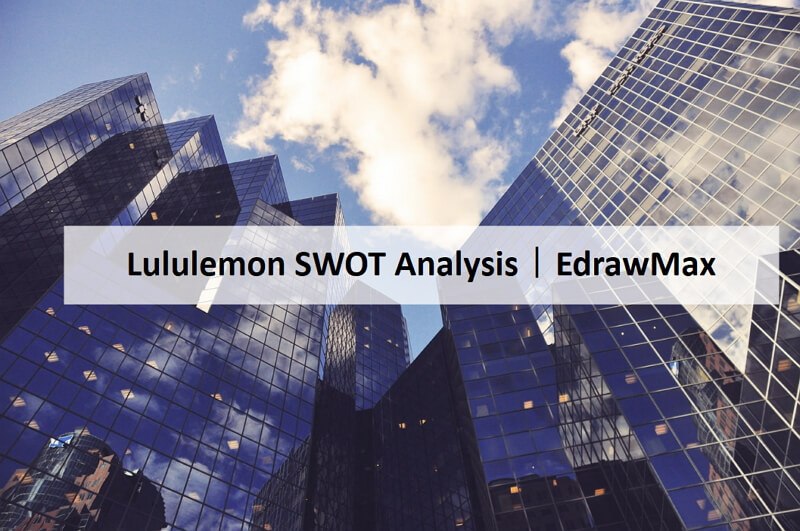 1. Background of Lululemon
1.1 Overall Overview of Lululemon
| | |
| --- | --- |
| Company's Name | Lululemon Athletica |
| CEO | Calvin McDonald |
| Company Type | Public |
| Year Founded | 1998 |
| Number of Employees | 15,700 (February 2019) |
| Annual Revenue | US$ 3.98 Billion |
| Founder | Chip Wilson |
| Area Served | North America, Asia, Europe, Oceania |
| Headquarters | Vancouver, British Columbia, Canada |
| Operating Income | US$ 705.84 million |
1.2. Introduction to Lululemon
It is essential to know their products, acquisitions, and investments before conducting a Lululemon SWOT analysis. Lululemon Athletica is one of the top athletic apparel retailer companies.
The company has a wide range of athletic wear, including shirts, shorts, shoes, lifestyle outfits, yoga wears, accessories, and other such things. The company has also launched a streetwear range 'Lab' that is available in selective stores. The company operates the business internationally with the help of its 460 stores and online site. Lululemon has a development lab, namely 'White Space' within its headquarters, where they have scientists and psychologists.
Lululemon designs their apparels to meet the market demand, making the brand a popular one. The company also sells merchandise and accessories for men, women, and children, like water bottles, mats, sports bags, and more. However, most of their collections are for women, making it mostly a women-eccentric brand.
1.3. Milestones/ Development Timeline of Lululemon
| | |
| --- | --- |
| 1988 | Foundation of Lululemon. |
| 2000 | Lululemon opens its first store in Vancouver, BC, called Kitsilano in November. |
| 2007 | The company went public by selling 18.2 million shares. |
| 2014 | Lululemon opens its first store in Europe, a flagship shop in Covent Garden. |
| 2017 | The company started selling men and women apparel in North America. |
| 2019 | Lululemon launches its luxury streetwear Lab in selected stores. |
2. SWOT Analysis of Lululemon
SWOT analysis is an effective way to trace the future scopes of a company. It helps a company to identify their strategies after analyzing their strengths and weaknesses. For retail brands like Lululemon, understanding the marketing scenario, and changing with it is very important.
The company needs to realize the demand and other factors affecting sales to create a thriving market strategy. It helps them to formulate their pathways for the expansion of their business. Lululemon SWOT analysis can help the company to rectify its drawbacks while retaining its positive features. Here is the Lululemon SWOT analysis: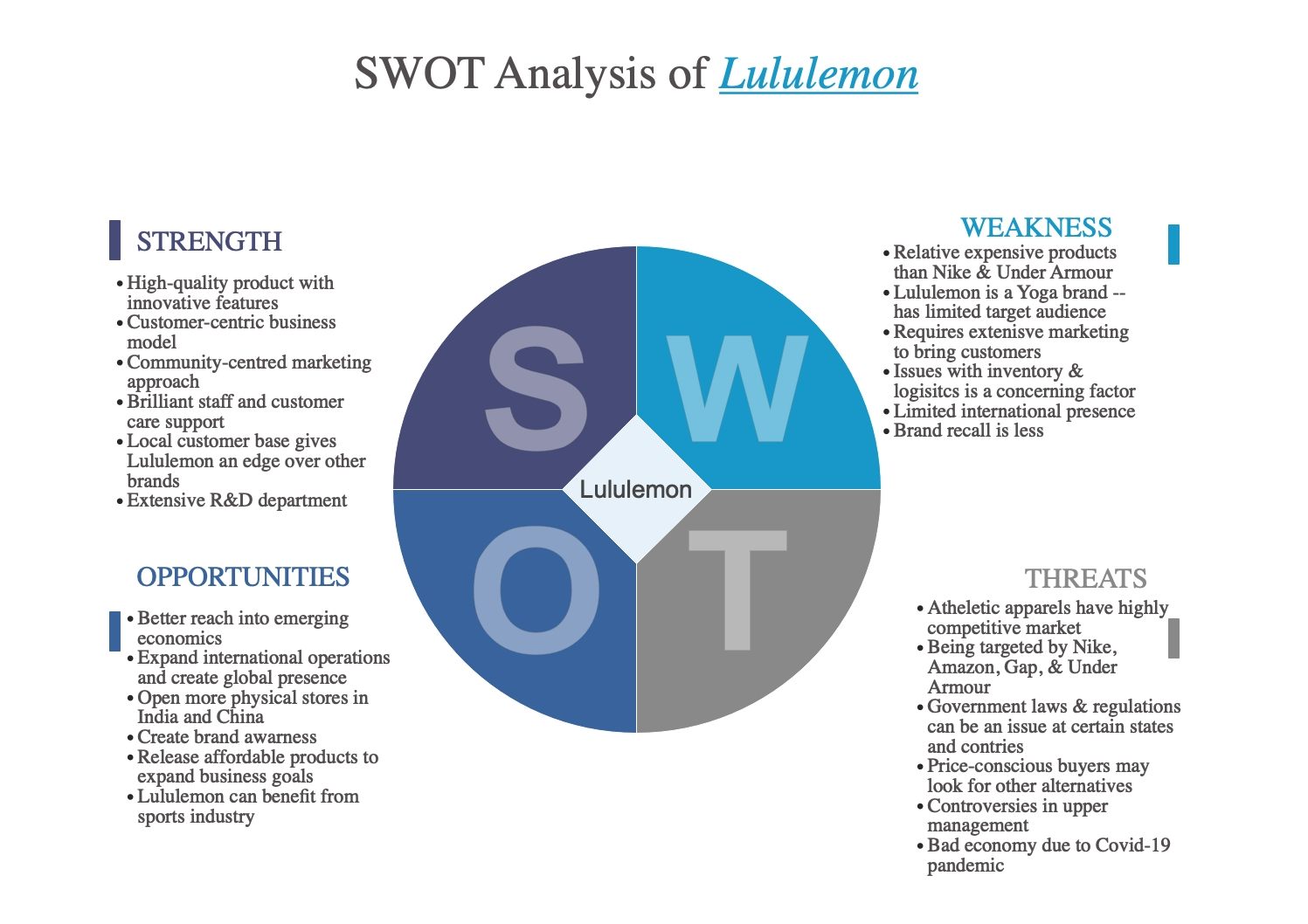 Source:EdrawMax
2.1. The SWOT of Lululemon
Strength:
For any company, it is very significant to identify their strength. For a brand like Lululemon Athletica, they have several vital points that have helped them gain their present position in the retail market. They need to strengthen their strong pre-existing issues to keep up their position in the current retail market.
Lululemon provides customers with high-quality products with innovative features, which makes them different from most other brands. They consider the community while planning their market strategies and approach, which helps them to grow.
The brand has a strong reputation for its brilliant, co-operative staff and good customer care support. They also think about the local customers, which has strengthened their local customer base.
Lululemon has a customer-oriented business module that has them to understand and think about their customer base. Their product quality matches customer demand, which makes them one of the popular retailers.
Lululemon has an extensive Research and Development department, namely White Space, that continuously works hard to bring innovative features to improve product quality.
Weakness:
Every brand has its weak points, and improving them can help them a better response from the customers. Though Lululemon is a famous brand, they have some arrays to improve.
Though Lululemon products are innovative, their products' price is higher than its competitor brands like Nike & Under Armour. The brand's Yoga accessories have a limited target audience and prevent it from reaching the mass.
The brand's issues with inventory and logistics concern, and this affect their performance.
Lululemon needs to work on their marketing. The brand's online presence is significantly lesser than its competitors, and hence it fails to bring in many customers. For this reason, brand recall is also less for Lululemon.
The brand has a limited international presence, which is a drawback that it is holding it behind, while its other competitors like Nike, Adidas, Fila have an extensive reach.
Opportunities:
The current retail market is ready to accommodate more brands, which will lead to increased competition. Recognizing the opportunities can help Lululemon expand its business and improve its current position.
Lululemon needs to work on its international operations. If the brand can improve its global reach, its business can significantly improve. The retail market in India and China is a good option, and the brand needs to open more physical stores in these two countries.
To increase its business, Lululemon needs to consider having some less-expensive products. It will bring in more customers, and the brand will have a strong brand presence.
Lululemon's presence can be improved by extensive marketing, and they can also involve the sports personalities for their campaigns.
The brand can have a better reach into the emerging economy. They need to work on their brand awareness for improved sales.
Threats:
The post-COVID-19 market is facing a challenge because of the dire economic conditions. Lululemon will also face the consequences while trying to expand their business in the current market scenario.
Lululemon is under constant threat as the sports retail market to a rapidly growing market. Other competitive brands like Nike, Amazon, Gap, & Under Armour are also trying to improve their market, and hence Lululemon may face tough competition.
While Lululemon will try to expand their business, they can face local government laws and regulations. The controversies in upper management may prevent the company's growth.
Lululemon's presence can be improved by extensive marketing, and they can also involve the sports personalities for their campaigns.
The price-conscious buyers will choose the competitive brands over Lululemon because of their pricey products.
EdrawMax Online
Create 280+ types of diagrams online
Access diagrams anywhere, anytime
Everything in desktop + Templates Community
Team management and collaboration
Personal Cloud and Dropbox Integration
3. Key Takeaways
The Lululemon SWOT analysis shows that the company needs to improve its business and survive in the current sports apparel market. Here are some recommendations for the company based on Lululemon SWOT analysis:
Lululemon needs to work on their marketing strategies and campaigns to reach more customers.
The brand needs to have a less-expensive item range that will attract more customers.
Lululemon should try to target more countries and open physical stores to expand their business.
Use EdrawMax to create a SWOT analysis diagram, or create any other diagram with ease! There are massive SWOT templates and symbols to choose from, and creating a SWOT analysis diagram could be really simple.