Uber SWOT Analysis
An In-Depth SWOT Analysis of Uber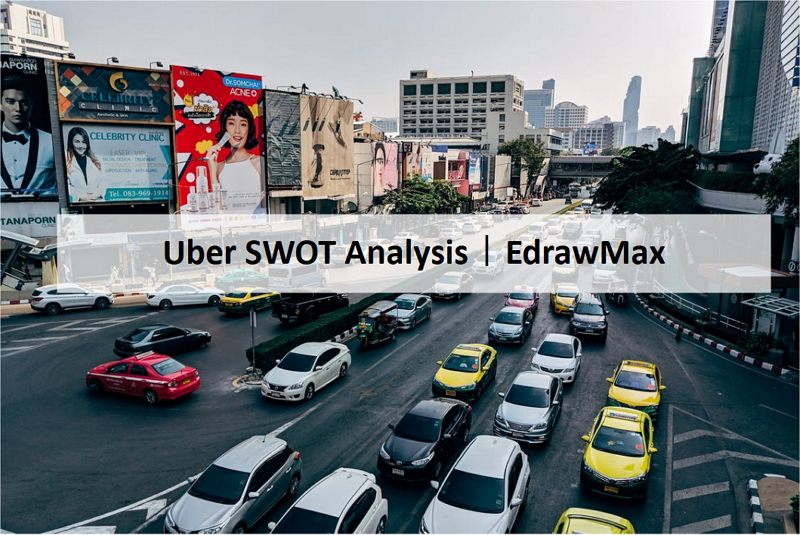 1. Background of Uber
Uber is a prestigious company that is synonymous to 'ride-sharing.' Its advent has led to the development of several other similar cab-riding apps. The impact that Uber had on the world was massive that it formulated an entirely new frontier for taxis and cabs. Uber managed to predict the potential of digital expansion and utilized it to introduce the world's first online transportation app. In this article, you will get a comprehensive Uber SWOT Analysis.
Uber has grown exponentially to offer services in over 780 cities around the globe. Similar to Facebook for social media, Uber introduced the concept of ride-sharing. It provides services such as taxi, ride-sharing, food delivery, and other transportation options. With over 100 million users and expansion in around 70 countries, Uber stands as a giant in the industry.
1.1 The Brand of Uber
Uber's brand recognition comes with several flexible leisure for both the driver and passenger. As it is a big name, people want to associate and work with the company. The drivers have the freedom to be their boss and accept or deny rides according to their convenience. Similarly, the rates of the ride change subsequently according to the changes in routes and instructions.
On the other hand, for passengers, you get unprecedented rates. Uber brings highly competitive rates and offers the cheapest rides, which became its USP. It has become an industry's 'norm' to determine the standard fare rates. Passengers will not get charged excessively anymore for their rides, regardless of the time of the day.
Finally, they have a rating system to ensure that both passengers and drives have seamless communication and evaluation. Impressive adaptability, customer satisfaction, and user-friendly apps have put Uber in a different league. With a branch office located in San Francisco of California state in the USA, it stands proudly as an opulent company.
2. SWOT Analysis Of Uber
Whether you're a user, business associate, or someone plans on getting a company franchise, a company's SWOT analysis will provide you with information regarding the company. Therefore, you can make an informed decision. It is a great way to understand your competitors or learn from them to excel in the industry. Significantly, the business itself can benefit from SWOT analysis by considering these factors.
2.1 SWOT Analysis of Uber
Strength:
Adaptive Technology: Uber understands the importance of digital expansion and up to date integrations. By offering adaptive accessibility, it stays ahead of the competition.
Low Investment: Starting a business franchise or working with Uber comes with minimum investment and risk.
Exceptional Brand Prestige: Uber has built a strong brand image to be the top in the industry.
Seamless Communication: It manages to offer excellent communication options with added security for drivers and passengers.
User Convenience: It introduces convenient features, easy booking, rate reduction, and massive discounts that plays a vital role in its growth.
Weakness:
Versatile Competition: It is effortless to develop a similar app and launch it in the market. Several competitors are arising in every part of the world against Uber.
Low Earning Potential: Uber doesn't offer compelling incentives and usually has low profitability for its drivers.
Potential Data Recording: There have been accusations, while Uber claims that it is for the security, that Uber records the data. It tracks you through GPS systems to improve services.
Strongly Dependent: The growth of Uber depends on its workforce and passengers. It is not a self-sufficient organization. Therefore, it can drop or grow dramatically, making it an unpredictable sector.
Potential Hacks: Uber has shown the potential to be hacked and had several bugs over the years. It includes free-order delivery that led to enormous losses for the company.
Opportunities:
Services Expansion: Uber invested in food delivery. It can take a similar route for other delivery or transportation services for ease of users.
Time Reduction: If the workforce is doubled, then the waiting would be less for the passengers.
Transportation Expansion: By implementing other various transportation modules, Uber can benefit massively to stay ahead. For example, boat riding services.
Technology Convenience: Uber is known for being a good app for 'tech-savvy' individuals. However, it can work to provide convenient apps and features for people who are less affined to technology, such as old aged people.
Incentive Incorporation: By improving its incentives, it can significantly impact the market that would please the drivers. This can counteract the lack of rides that could arise if drivers increase.
Threats:
Rising Competitions: Many companies are bringing better incentives to drivers. Local ride-sharing apps thrive in comparison to Uber.
Unreliable Workforce: The lack of professionalism in drivers has led to forming an image of 'poor service' among patrols. Uber doesn't have a competent customer care response, either.
Rebel Local Drivers: In many regions, local drivers stand in revolt against the app. They prohibit the app's use for themselves and other drivers, making it hard for Uber to expand in the area. It is common in tourism locations.
Reckless Updates: Often, Uber releases updates accompanied by bugs that lead to potential exploitation. They need to work on rolling out credible updates to prevent security or functional impairment.
Legal Repercussions: It has been in the news for one controversy or another. If the laws of any area change, it can dramatically impact Uber's module and create problems.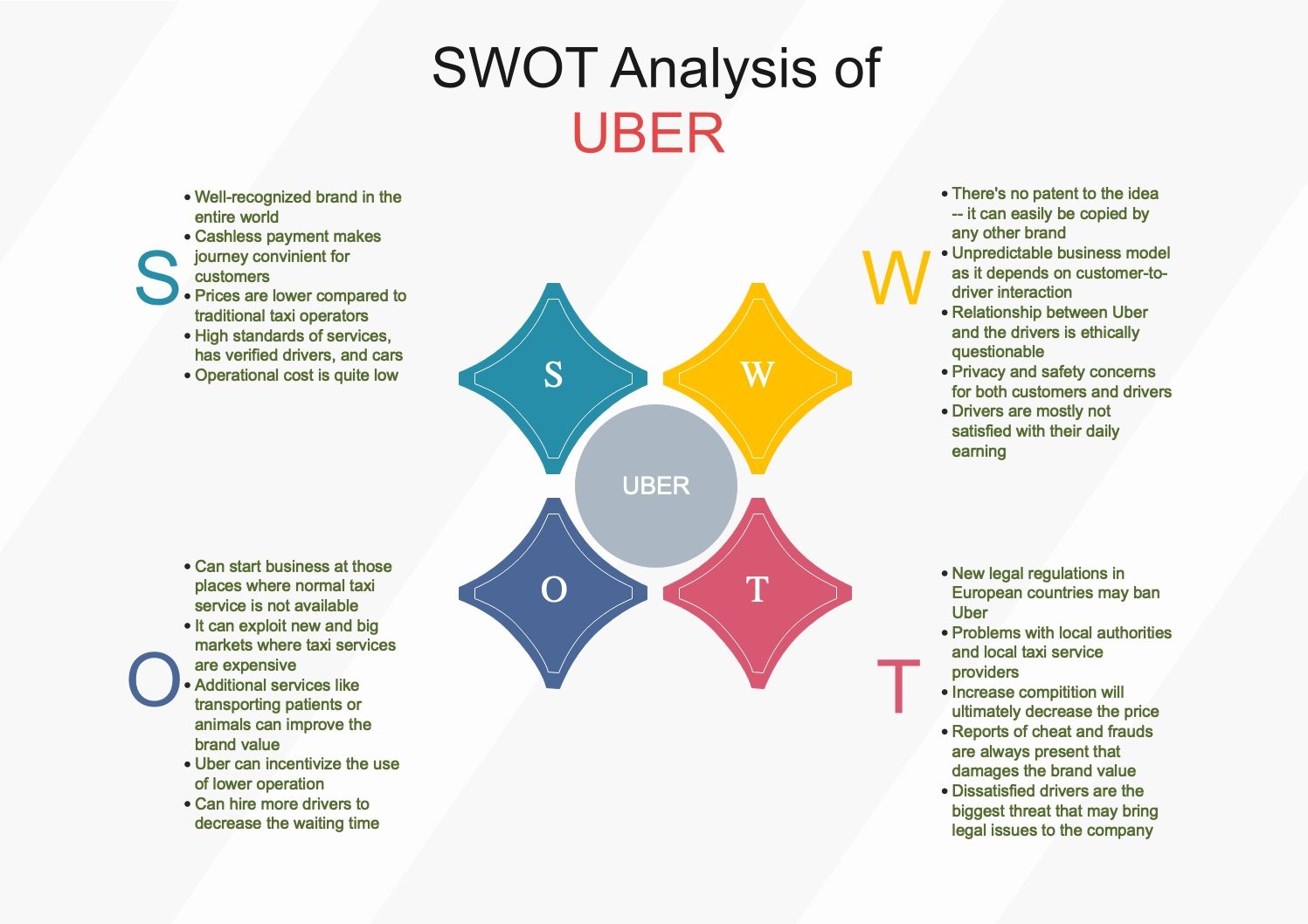 Source:EdrawMax
3. Key Takeaways
From the Uber SWOT Analysis, we can determine that to redeem its tarnishing image. Uber has to reinforce quality control over the workforce. Perhaps include a certification option or specific qualification requirements achievable by a typical driver.
A strong focus should be on the middle to old aged patrons and how they can provide leisure. Extra offers, discounts, and ease in-app interface can be a great start. Offering incentives and better payouts for drivers is paramount. Uber can reduce its 'low-price' discount known to be as much as 40 percent by some margin and offer that to the drivers.
Use EdrawMax to create a SWOT analysis diagram, or create any other diagram with ease! There are massive SWOT templates and symbols to choose from, and creating a SWOT analysis diagram could be really simple.