Netflix PESTEL Analysis
Detailed PESTEL Analysis of Netflix
Want to Create PESTEL Analysis?
EdrawMax is able to create free pestel analysis for software development teams with ease. Give it a try!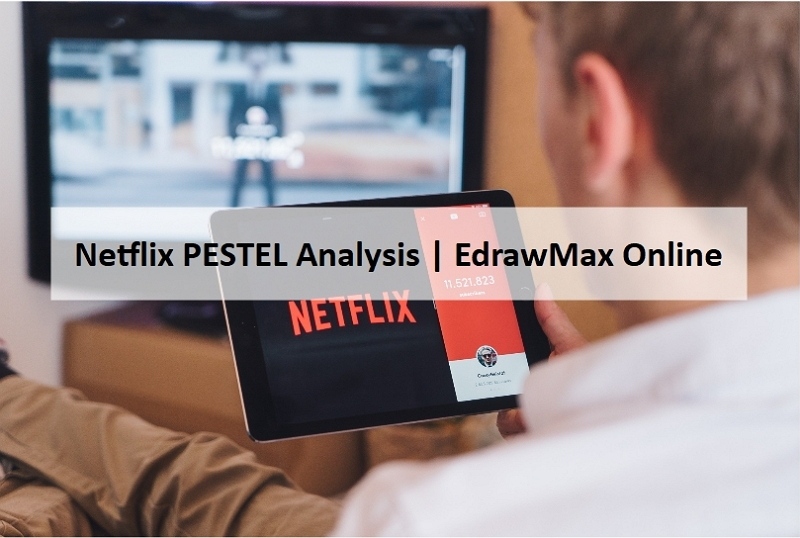 1. Introduction
The industrial boom has made the market much more competitive in the last few years. Companies now always have to be on edge with their unique strategies to keep up with the rat race. PESTEL analysis is a unique strategy that helps companies change their game and remain one step ahead of their rival.
PESTEL, in simple terms, is a tool that helps companies to monitor the macro-environment that affects the growth of the organizations. This Netflix PESTEL analysis can be described as a framework that helps company achieves its long-term and short-term goals. It helps assess the external factors that impact the company and the industry as a whole.
2. Background of Netflix
Netflix is the world's largest online streaming entertainment service provider. Netflix PESTEL analysis enables big brands such as Netflix to maintain stability in the face of rising challenges. Moreover, the company can use the analysis to understand its strengths and weaknesses. It can help them to ensure a better consumer experience and can generate better revenue for the company.
2.1 Basic Information of Netflix
| | |
| --- | --- |
| Company Name | Netflix Inc |
| CEO | Reed Hastings, Ted Sarandos |
| Company Type | Streaming entertainment service company |
| Year Founded | 1997 |
| Number of Employees | 12,135 (2021) |
| Annual Revenue | 25 billion US dollars (2020) |
| Founder | Reed Hastings, Marc Randolph |
| Area Served | Worldwide excluding Mainland China, Crimea, North Korea, and Syria |
| Headquarters | Los Gatos, California US |
| Operating Income | The US $ 4.585 billion (2020) |
3. Netflix PESTEL Analysis
PESTEL is the acronym for Political, Economic, Social, Technological, Environmental and Legal factors- the external remote factors affecting a company. It works similar to the SWOT analysis that evaluates the internal factors to determine the growth opportunities of an organization.
Political Factors:
The political factors refer to the influence that the government and its policies have on the company. It includes various factors, including tax, foreign trade policies, and fiscal policies. Apart from this, other things having a direct impact on the organization are also a part. The political factors influencing Netflix's decisions are the following:
For Netflix, censorship has proven to be an issue. Due to its content, it has been prohibited in some of the biggest economies like China.
Due to the government rules and policies, the entire content of Netflix is not available in all countries and its viewers. Due to this, Netflix faces considerable loss.
Restricted access does not allow Netflix to operate in many countries. Even if the brand agrees, the government norms do not allow it.
Economic Factors:
Economic factors assess the supply-demand graph of companies. Economic growth, exchange and interest rate, inflation rate, and others have a leave a long-lasting impact on the company's financial condition. For example, the purchasing power of the consumer can determine revenue growth. Following are the economic factors that influence Netflix's business decision.
The fluctuating exchange rate affects its economy when buying others' content. However, Netflix can profit from its original content like movies and TV shows.
The loyal customers of Netflix complain about a steady hike in the subscription price. High-quality content can be the solution to satisfy the viewers to make them realize the content is money's worth.
Increased competition in the streaming services poses a threat to Netflix with the uprising of a powerful rival with high-quality content.
Content piracy is a massive threat to the security of the company. It affects profitability.
Social Factors:
The socio-cultural background of a potential market is determined by the social factors of the PESTEL analysis. It indicates the preferences of the consumer and their need based on a careful study of cultural trends, demographics, societal norms, customs, population analytics, and more. Netflix should consider these below social factors for future growth and development:
The splendid work environment works in favor of the company.
Netflix and its CEO are known for their generous nature, and their kind gestures have touched people. Not only do they allocate 2% of their annual income to the black community, but they also support students with low family incomes.
The flexibility has benefited the company. With the latest trend of watching the live stream on mobile, Netflix has made it possible.
Technological Factors:
Innovation in technology shapes a healthy business. Technological advancement, automation, technical awareness plays an essential role in the operation of the industry and its popularity. Following are the technical factors influencing Netflix business:
In Netflix, one can avail high-quality video with minimal data being spent. It is one of the many advantages of the company.
The continuously changing algorithms often confuse the users. The best example of this is the content rating system.
Hermes, the automatic translating software, is quite popular with Netflix users.
Environmental Factors:
Environmental concerns like low carbon emission, environment-friendly service, reusable resources, and focus on sustainability are the basics of ecological awareness. Businesses must consider the ecological aspects while planning their operations. Following environmental factors influence Netflix business a lot:
The company's recent investment in joining hands with EPA showcases its willingness to shift to renewable energy. Well, this increased environmental awareness may lead to growth.
Other steps towards a sustainable future include reduced use of papers in the office.
The media company operates almost online and leaves no direct environmental impact. However, its electricity consumption is quite heavy.
Legal Factors:
Legal factors refer to the laws of a country or state that the company must abide by if they are operating there. Some aspects are consumer law, health and safety, labor laws, discrimination laws, copyright, and more. The legal factors affecting Netflix business are the following:
The sudden hike in subscription prices led the company to have a conflict with its customers. Some dissatisfied customers even filed class-action against the company.
The continuous copyright claim drives Netflix to face issues with a small segment of its customers. Instead of blocking users from other countries, the company must come up with a suitable strategy.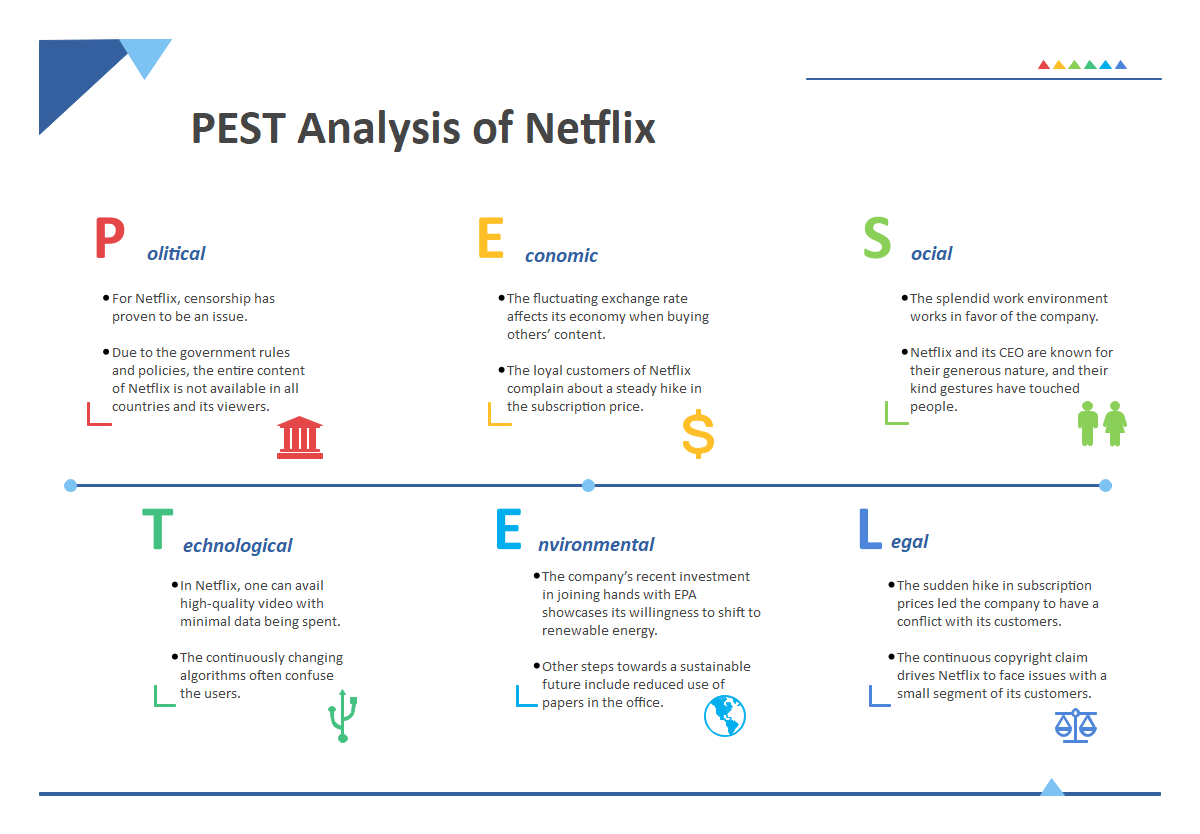 EdrawMax Online
Create 280+ types of diagrams online
Access diagrams anywhere, anytime
Everything in desktop + Templates Community
Team management and collaboration
Personal Cloud and Dropbox Integration
4. Key Takeaways
The company operating in over 190 countries with a whopping 195 million customers is not free from market risks. The remote macro-environment factors leave an impact on this company in more than one way. Netflix PESTEL analysis helps the company determine the risks, addressing the concerns, assess the scope of growth in the potential market, and focus on productivity.
Use EdrawMax Online to create a PESTEL analysis diagram, or create any other diagram with ease! There are massive PESTEL templates and symbols to choose from, and creating a PESTEL analysis diagram could be really simple. Also, you can find substantial PESTEL templates in our template community to have a quick start. If you want to know more about how to make a PESTEL analysis diagram in EdrawMax Online, just check this PESTEL guide, it may help you to create diagrams without efforts.
5. References
Pratap, A., 2021. 'PESTEL Analysis of Netflix', notesmatic, [online]. Available at: https://notesmatic.com/pestel-analysis-of-netflix/ (Accessed 16 June 2021).

Shaw, A. and Shaw, A., 2021. 'PESTLE Analysis of Netflix | SWOT & PESTLE Analysis', SWOT & PESTLE Analysis, [online]. Available at: https://swotandpestleanalysis.com/pestle-analysis-of-netflix/ (Accessed 16 June 2021).