Nike SWOT Analysis
An In-Depth SWOT Analysis of Nike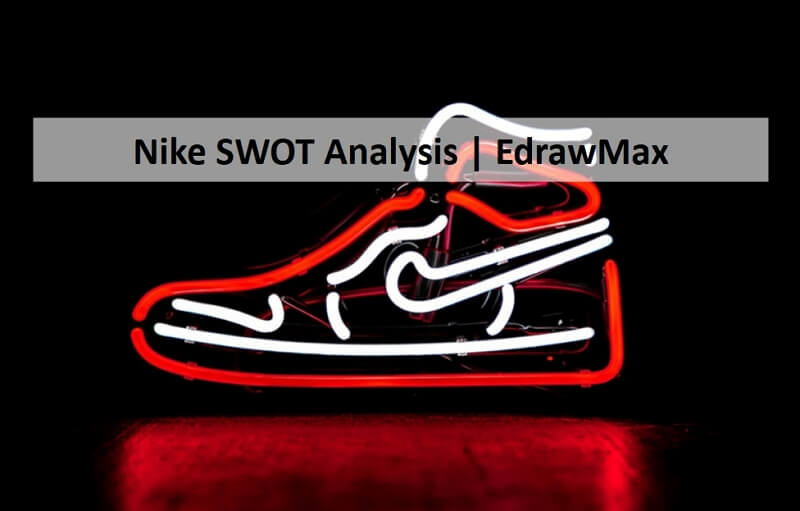 1. Background of Nike
Nike is an American multinational corporation that is engaged in the design, development, manufacturing, and worldwide marketing and sales of footwear, apparel, equipment, accessories, and services. The company is headquartered near Beaverton, Oregon, in the Portland metropolitan area. It is the world's largest supplier of athletic shoes and apparel and a major manufacturer of sports equipment.
1.1. Overall Overview of Nike
| | |
| --- | --- |
| Company's Name | NIKE, Inc. |
| Company's Former Names | Blue Ribbon Sports, Inc. (1964-1971) |
| CEO | John Donahoe |
| Company Type | Public |
| Year Founded | 1964 |
| Number of Employees | 75,400 (2020) |
| Annual Revenue | 37.4 billion USD (2020) |
| Founder | Bill Bowerman, Phil Knight |
| Area Served | Worldwide |
| Headquarters | Beaverton, Oregon, US |
| Operating Income | 3.12 billion USD (2020) |
1.2. Introduction to Nike
The first step to conduct Nike SWOT analysis is to know about the brand. Nike is one of the top-rated sportswear brands which offers good quality sports shoes and is associated with several sports stars like Cristiano Ronaldo, Neymar, James LeBron, Rafael Nadal. The brand was established in 1964 and flourished within a few years. The company currently has retail outlets in more than 170 countries, and they provide online service as well. Their Swoosh logo is one of the most recognized symbols in the world.
1.3. Milestones/ Development Timeline of Nike
| | |
| --- | --- |
| 1964 | Bill Bowerman, Phil Knight, establishes Blue Ribbon Sports |
| 1971 | The company cuts ties with Onitsuka Tiger (Asics) |
| 1971 | The company changes name to Nike, gets the Swoosh logo |
| 1972 | First endorsement program with Ilie Nastase |
| 1980 | Nike in IPO with a price of 18 cents per share |
| 1984 | Nike signs Michael Jordan launches Air Jordan Series |
| 1990 | First Niketown store opens in Portland, Oregon |
| 2002 | Nike's acquisition of surf-apparel company Hurley |
| 2004 | Nike's acquisition of Converse for $309 million |
| 2012 | Nike becomes the official supplier for NFL apparel |
| 2015 | Nike becomes the official supplier of NBA apparel |
2. SWOT Analysis of Nike
Nike SWOT analysis will reveal their strengths and weaknesses that are hindering their growth. Simultaneously, identifying the opportunities and threats present in the current market scenario will hint at their possible business strategies to tackle the situation.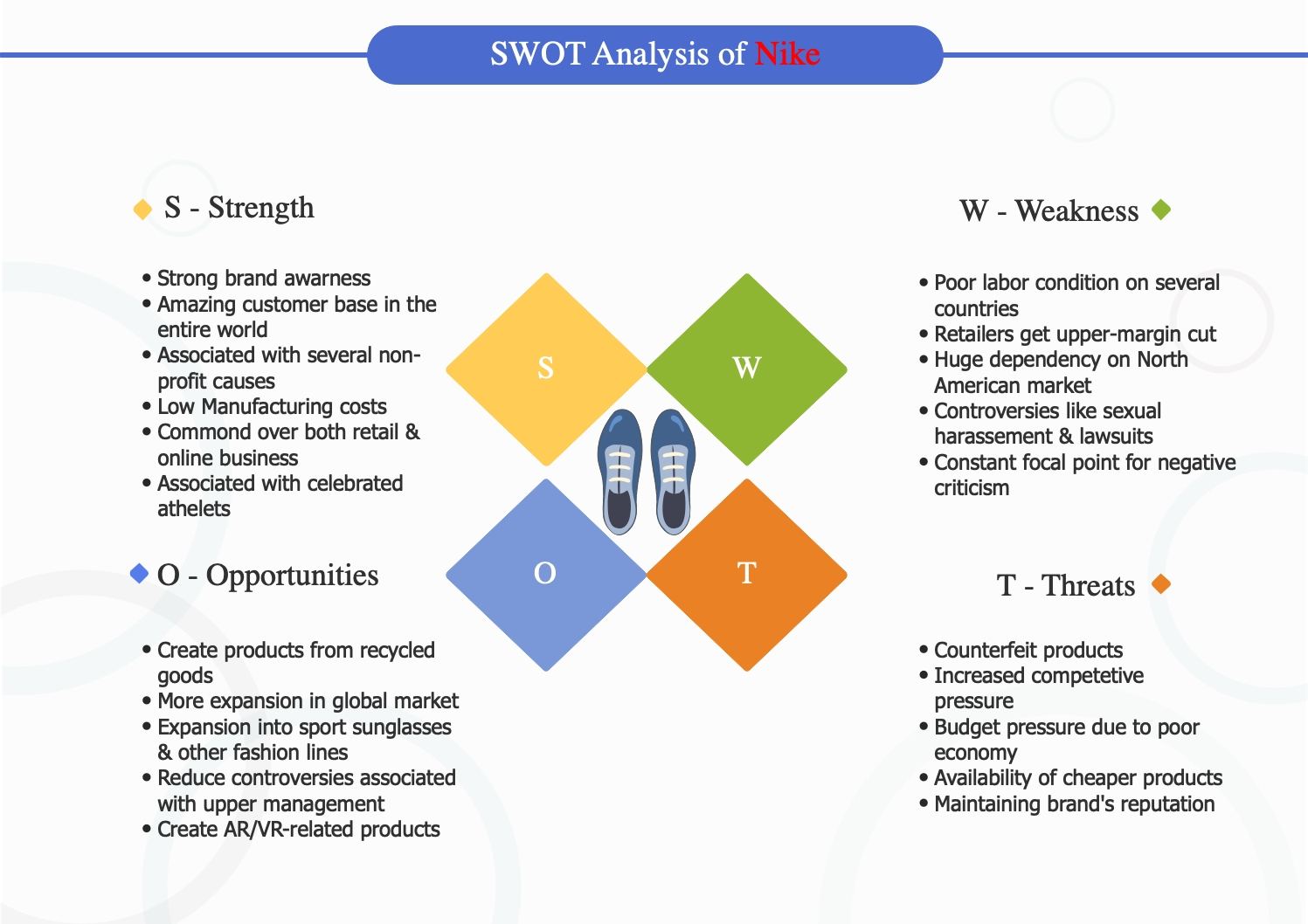 Source:EdrawMax
2.1. Nike SWOT Analysis in Detail
Strength:
For significant and famous companies like Nike, it is essential to know their strengths. It is their strengths that have helped them to reach one of the top positions. As a top-notch company, Nike has several vital areas. Some of them are:
The brand is successful in creating strong brand awareness. They are also associated with several non-profit organizations.
As a sports apparel company, Nike has successfully created a fantastic customer base in the entire world. Their low manufacturing cost allows them to have a cheap product range. Hence, they can attract many customers.
The brand has total control over its retail business as well as its online business. Their online business is also successful as its retail business.
The company knows how to do campaigns. They are associated with several celebrated athletes and also receive praise for their product quality.
Weakness:
Just like many other top-rated companies, Nike also has its weaknesses. Besides strengthening its vital areas, working on their strengths can improve its services, eventually supporting its growth.
Though the company provides a world-wide service, the company largely depends on the North American market.
The retailers get upper margin cuts, which is one of the significant weaknesses of the company.
There are several accusations against Nike regarding their poor labor conditions in several countries. They are also suffering from controversies, like sexual harassment and lawsuits. The constant highlight of their negative criticism is hampering the growth of their business to some extent.
The company's outsourced manufacturing is a weakness for the brand. For quality management and good brand awareness, the company must have a dedicated worker group. For outsourcing, Nike cannot always have control of its product. Hence, their product may not have the same quality in all countries.
Opportunities:
Though Nike is considered one of the top brands, the retail market, especially for sports apparel, is highly competitive. Several high-rated brands are continually struggling their way to the top. Nike must look for opportunities that can help them to expand their business.
The company's association with non-profit organizations can allow them to create more products from recycled goods if one of the top brands takes the initiative to involve its R&D team to work on recycled products that will surely encourage other small brands. It will support the environmental cause and also send the right message to the customers.
Nike should seize an opportunity by standing firm against any accusations about upper management. The high number of controversies related to the higher authority is harming their image. Nike should take steps against labor treatment and sexual harassment, helping them develop a more dedicated workforce.
Since Nike has a successful online business, it can create more AR/VR-related products.
Nike has an association with many celebrated athletes, so they have a better chance of growth if they bring in sports sunglasses, accessories, or other fashion lines.
Nike should try to look for more expansion in the global market while controlling product quality.
Threats:
In a highly competitive market like sports retail, several threats can affect a company's business. Recognizing them from Nike SWOT analysis can help the company to take several strategies that will negate them. It will help them to concentrate on their opportunities to expand.
The post epidemic economy is creating the wrong time for most of the companies. Even top brands like Nike cannot stay away from the effects. The budget pressure due to the low economy can adversely affect their growth.
The presence of counterfeit products is a severe threat to the brand. Since the market for these sorts of products is diverse, it is difficult for Nike to Control them.
The retail market is ready to accommodate more companies that are threatening for the existing ones. Though Nike is one of the top brands, it is also challenging for them to ensure their highly competitive market growth. Many brands offer the best quality products at a cheaper rate, attracting more customers towards them.
The company's brand reputation is under constant threats because of the accusations against the higher authorities, poor labor treatment, and inconsistent product quality.
EdrawMax Online
Create 280+ types of diagrams online
Access diagrams anywhere, anytime
Everything in desktop + Templates Community
Team management and collaboration
Personal Cloud and Dropbox Integration
3. Key Takeaways
Nike SWOT analysis shows specific issues that need to take care of to retain their position in the current competitive market. Nike SWOT analysis shows that the brand has several weaknesses that add to its threats and prevent growth. Based on the Nike SWOT analysis, here are some recommendations for the brand:
The company needs to take care of their product quality. In the countries they are using outsourcing for product development, they need to have specific guidelines to ensure that their quality is good.
Nike must not take the charges against the higher authorities casually. Workplace sexual harassment is a serious accusation. The company should investigate such charges on their level and take the necessary steps. It will revive their image and help them to get rid of the negative impressions.
Many retailers in the current market are offering similar products. Nike has limited itself in shoes only; they should start other labels and fashion lines with their signature style and be different from the other companies. It will support the company in its growth.
Use EdrawMax to create a SWOT analysis diagram, or create any other diagram with ease! There are massive SWOT templates and symbols to choose from, and creating a SWOT analysis diagram could be really simple.