Google PESTEL Analysis
Detailed PESTEL Analysis of Google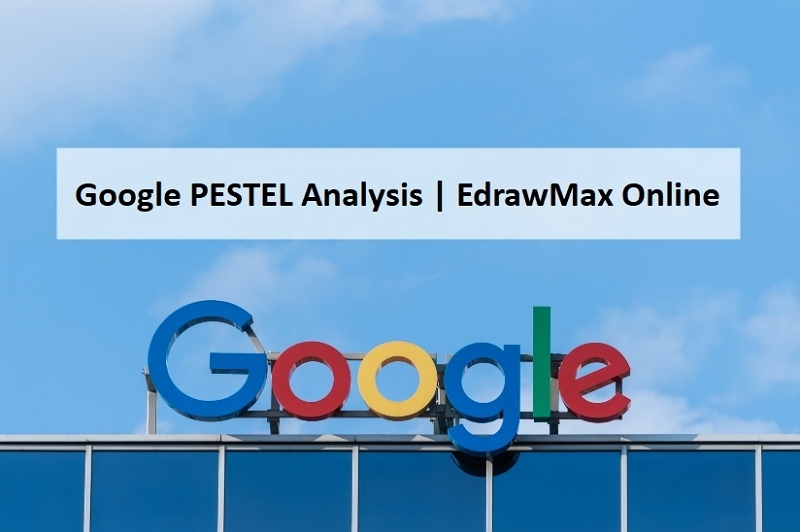 1. Introduction
PESTEL analysis of a company shows how different factors related to politics, economics, sociology, technology, ecology, and law can influence a company. A company can closely judge the factors while making strategies. It can help them to have opportunities to expand and increase sales. At the same time, they can find ways to survive in the highly competitive market.
Multinational company Google has a massive user base, but still, they can get affected by external influences. Google PESTLE analysis can show the conditions that can either hinder or propel its growth. Also, this analysis can help them, planning their future strategies to survive the competition and ensure growth.
2. Background of Google
For PESTLE analysis of a company, it is essential to know about their background and milestones they have achieved. Google is a multi-millionaire American company that has a wide range of products, including hardware, software. Google is a widely-used search engine, and Google.com is one of the top 100 sites visited by people worldwide.
2.1 Basic Information of Google
| | |
| --- | --- |
| Company Name | Google, LLC |
| Company's Former Names | BackRub, Google Inc |
| CEO | Sundar Pichai |
| Company Type | Public |
| Year Founded | 1998 |
| Number of Employees | 114,096 (2019) |
| Annual Revenue | US$ 160.74 billion (2019) |
| Founder | Larry Page, Sergey Brin |
| Area Served | Worldwide |
| Headquarters | 1600 Amphitheatre Parkway, Mountain View, California, US |
| Operating Income | US$ 41.67 B (2019) |
3. Disney PESTEL Analysis
PESTLE analysis of a company can give an overview of the external factors that can impact the progress and development of a company. Though Google is a multi-millionaire company, it still can get affected by external influences. The PESTLE analysis can show the impact of political, economic, social, technological, ecological, and legal conditions on the company's progress. However, the company can make proper strategies that can help them in cushioning the threats.
Political Factors:
Political scenarios can affect Google's progress. If an area has stable political conditions that may support its growth. Here are a few issues that can have an impact on Google:
As the free trade agreement offers more chances for export and import, Google can consider their product demands in markets and then sell their products. They can use the same free trade agreement to improve the sales of their online and hardware products.
If a country has a stable political scenario and good market conditions, Google can set strategies to penetrate the market.
At the same time, state-sponsored or state-owned companies can be a threat to Google. As these companies can be subsidized or enjoy some benefits offered by the Government, it can give good competition.
However, if Google takes into account the market, which they choose to expand their business, they should set such objectives that can help them in their growth.
Economic Factors:
For the growth of any company, economic factors are very crucial. The market conditions regulate the sales of a company and hence can show an overall impact on the company's growth. The Google PESTLE analysis can show that certain economic factors can impact Google:
Most of the developing countries are offering an emerging market to the companies who are willing to invest. The demands for technology-related items are also rapidly growing. It can be favorable for Google.
The pandemic has shrunk the economy in many countries where Google operates its services. The partial bans on imports and exports can hinder their growth.
Most of the countries have a high demand for different computing gadgets and other technologies. Thus, Google may get a good market in most of the areas they serve. If the United States market can maintain stability and the buyers retain the purchasing power, Google can also introduce some luxury products over time.
Google can consider both the flip side and positive views while finding a stable economy to increase its sales. Their market research can hint them where they should invest more in the future.
Social Factors:
Social factors can directly or indirectly impact the process of a company. Google can also get affected by different social factors. Here are a few social factors that can have an impact on the revenue generation of Google:
Data piracy has been a big concern of many users. Many of them may consider the idea of ad-blocking to stop their data from being revealed. Most of the browsers come with an ad-free version. As Google generates a good portion of their revenue from the ads, this situation can impact their income.
Similar platforms like Google are also gaining popularity. The competition can affect the growth of Google.
The presence of social media sites can be a threat to Google as well. Many people are more interested in posting ads on social networking sites than the Google search engine, considering the Ad-blocking system.
Technological Factors:
Technological innovation can be favorable to the growth of Google. The internet users are increasing every day, which can add to the firm's growth and development. Here are some technical issues that have an impact on the company's growth:
AI and cloud-based technologies are gaining high popularity among individuals, and many companies are also incorporating AI-based technologies in their systems. Google can add more features to its platforms with the integration of these technologies.
Google can constantly develop their product and keep them up-to-date. They must also secure their platform from hackers and viruses, as users will find it more preferable.
Smartphone users are increasing rapidly all over the world. The users can easily download the Google search engine.
Ecological Factors:
The ecological factors can also indirectly affect the business of a company. The users are becoming more and more concerned about the environment with time. Therefore, while choosing a product, they prefer the companies that produce ecologically harmless products. Here are a few ecological issues that can affect Google
The company can support ecology and go green projects. It can interest the users who are concerned about the environment.
Google has already established a sustainable relationship with its agents and suppliers. It can help them to create a good impression.
As a corporate company, Google can also take part in fulfilling some social responsibilities. It can help them to draw the attention of the people.
Legal Factors:
Legal issues can severely affect the business of any company. The laws made by a country can toll upon or restrict the business of a company. There may be some other trade laws that can create new opportunities for them. Here are a few legal issues that can impact Google if they wish to promote their business:
Many countries are making laws on online privacy which can impact the business of online platforms like Google. However, Google can improve its services to make them secure for users.
Google earns a significant part of its revenue from advertisements. As there are laws against getting hold of user information, their revenue may show a downfall.
As the countries are taking a strong standpoint against the violation of Intellectual property rights, Google may have some opportunity to protect the intellectual property rights of an individual for the works published online.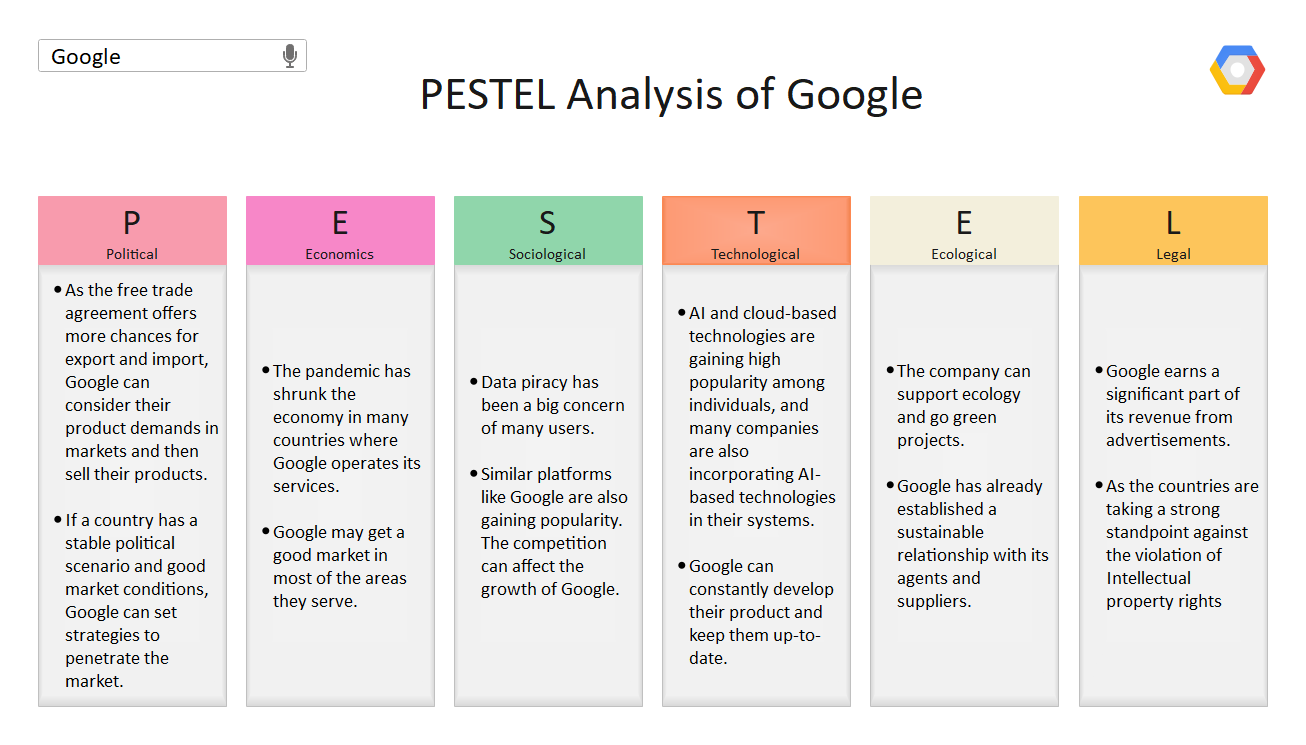 Source:EdrawMax Online
4. Key Takeaways
The PESTLE analysis of a company can help to judge the external factors that can impact a company's growth. It can also identify the weak areas and point out the opportunities that they can bag. Google can modify its systems regularly to develop a secured medium for the users. It can make them a preferable choice over their competitors. Google PESTLE Analysis shows that they need to have proper plans which can help them to survive in the highly certain economic factors in any competitive market.
Use EdrawMax Online to create a PESTEL analysis diagram, or create any other diagram with ease! There are massive PESTEL templates and symbols to choose from, and creating a PESTEL analysis diagram could be really simple. Also, you can find substantial PESTEL templates in our template community to have a quick start. If you want to know more about how to make a PESTEL analysis diagram in EdrawMax Online, just check this PESTEL guide, it may help you to create diagrams without efforts.
5. References
Edrawsoft. 2021. 'A Report on Google SWOT Analysis', PESTLE Analysis, [online]. Available at: https://www.edrawmax.com/article/google-swot-analysis.html (Accessed 16 June 2021).

Farooq, U., 2021. 'PESTLE Analysis of Google LLC | Marketing Tutor', Marketing Tutor, [online]. Available at: https://www.marketingtutor.net/pestle-analysis-of-google/ (Accessed 16 June 2021).

Panmure Institute. 2021. 'Google PESTEL/PESTLE Analysis & Recommendations - Panmure Institute', PESTLE Analysis ,[online]. Available at: http://panmore.com/google-pestel-pestle-analysis-recommendations/ (Accessed 16 June 2021).