Amazon SWOT Analysis
An In-Depth SWOT Analysis of Amazon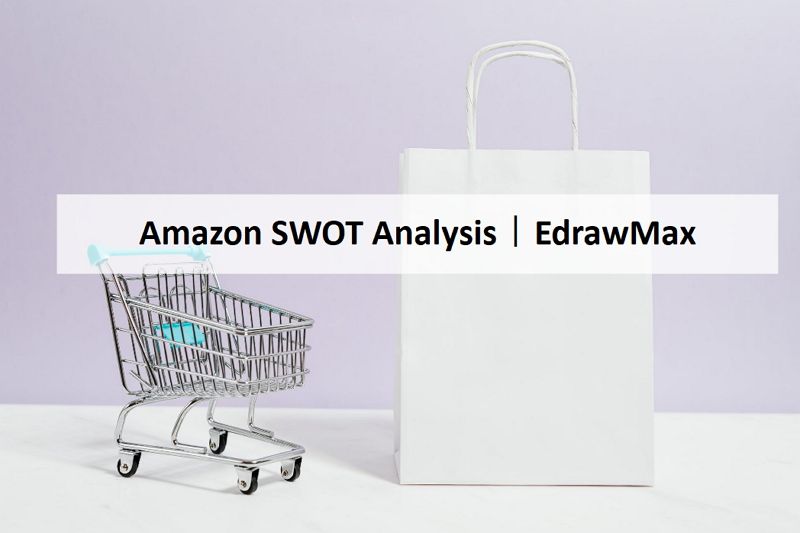 1. Background of Amazon
In 1994, Jeff Bezos started an online platform for selling books, which later grew to a marketplace for software, electronics, apparel, furniture, food items, toys, and stationery goods. The company showed incredible growth in 2015. It surpassed the American multinational retail company Walmart by capitalization. Apart from that, it provides the customers with an option to avail of Amazon Prime delivery service, ensuring a two-day delivery.
The emerging online retail market is allowing new competitors for Amazon. A SWOT analysis of Amazon can show the opportunities and threats that it can have to keep its progress intact.
1.1 Overall Introduction of Amazon
| | |
| --- | --- |
| Company's former name | Cadabra, Inc. (1994-1995) |
| CEO | Jeffrey Preston Bezos |
| Company Type | Public |
| Year Founded | 1994 |
| Number of Employees | 798,000 (2020) |
| Annual Revenue | $75.5 billion |
| Founder | Jeff Bezos |
| Area Served | Worldwide |
| Headquarters | Seattle, Washington, US |
| Operating Income | US$ 14.541 billion (2019) |
The company's primary objective is to return a decent profit to its stakeholders while maintaining a good value for themselves. The company has much room for improvement. Hence, they can incorporate strategic planning to retain its position as the world's most valuable company (from the list provided by Financial Times Global 500)
1.2 Milestone Development of Amazon
| | |
| --- | --- |
| 1995 | The headquarter got shifted to Seattle. |
| 1997 | Reach $438 million on US Stock Exchange |
| 2000 | Amazon opens up for third-party sellers. Amazon gets their new logo. |
| 2002 | Amazon launched AWS, which is controlling one-third of the world's cloud computing infrastructure. |
| 2005 | Amazon launches Prime. |
| 2007 | Amazon unveils Kindle to offer pricey e-books at a comparatively lesser price. |
| 2008 | Amazon acquires audible. |
| 2009 | Amazon acquires Zappos. |
| 2010 | Amazon launches Kindle Fire. |
| 2012 | Amazon buys Kiva, the robotics company. |
| 2015 | Amazon surpasses Walmart in market capitalization and starts its new service Amazon Flex. Amazon launches Echo. |
| 2018 | Amazon reaches worth $1 trillion. |
2. SWOT Analysis of Amazon
Any organization needs to know their strength, weakness, opportunities, and threats to plan. In the current retail business market, though Amazon is one of the leading players, the competition increases almost every day. Therefore, the company needs to do a SWOT analysis to plan its future steps.
2.1 SWOT Analysis of Amazon
Strength:
S in SWOT stands for strength. It is always better to identify the strength of the company to analyze the progress of a company. Giving stress to the strength of the company can help them to retain their growth. Amazon, one of the largest online retailers globally, has shown faster growth than the rest of the e-commerce market, which is positive. There are reasons behind Amazon surpassing its competitors, and a few of them are:
Third-Party Sellers: Amazon's business model is customer-oriented and accommodates third-party sellers. It allows the site to have a vast range of products, which is impressive for the customers. The presence of several third-party sellers also helps in significant price control. It enables the company to offer a large merchandise selection and provides a good platform for aspiring sellers. They can use Amazon's brand name to achieve their growth.
A large Number of Acquisitions: The third-party sellers get to compete with the products of Amazon. Amazons have a large number of acquisitions. Therefore, they can offer a varied number of products within a meager price range.
Good Customer Service: Amazon's service is very much customer-oriented. From the product shipping, notifications, return, everything is well-organized to make the process customer-friendly. The customers can seek assistance from the service for payment and return related issues.
Weakness:
Valuing the weakness alongside the strength of a company is essential. Therefore SWOT analysis of Amazon involves the process of identifying the drawback that the company can improve to prosper. For Amazon, there is a lack of business models, which is a hindrance to proper growth. The weakness of Amazon are:
High-priced products: For some Products, Amazon faces high competition because the seller may set a high price for their items. This competition can drive some customers to other e-commerce sites.
Dealing with Customer's End: Amazon may face significant losses for the fraud in case of a customer's end. These cases may affect the profit and service of Amazon.
Dealing with Issues related to Poor Sellers: Amazon often faces problems because the third party seller may fail to deliver useful quality items, meet the timeline, or replace a faulty good. It creates a negative impression on the platform. The company also faces hard times while dealing with these sellers.
Opportunities:
Expanding the business for a company is related to identifying and recognizing the opportunities. The online retail market is gaining rapid popularity. Amazon can use opportunities to penetrate the market and has a prominent presence. Their brand name is capable of creating a good impression. The SWOT analysis includes opportunities as a company can point out the scopes for their future growth.
Expanding Physical online stores: The company can provide a variety of products by expanding its physical online stores. Amazon can bring in more technological products and necessary items for the customers. They can also use their third party seller involvement to keep the price in check.
Creating a more user-friendly platform: Since Amazon is a customer-based site, they can use their technology to improve customer service. They can clear the related payment backlogs and the issues with low sellers. It increases the loyalty of the customers to the company.
More Acquisitions: More acquisitions and more diversification can make Amazon retain its position as one of the world's top retail companies.
Threats:
While identifying the opportunities, the companies should not avoid the risks they may face while expanding. For Amazon, the specific threats that are there are the following:
Employee Treatment and Working Environment: For companies providing a quality working experience to the employees is a key to earn credibility. Amazon must ensure that the employees have the right workplace environment.
Aggressive competition: As the current retail market scenario is changing, the competition is also increasing.
Other threats: Some other threats that Amazon is facing are controversies regarding their services, cybercrime, rising cost and products, and patent infringement. The increasing product cost may lead to a price hike for goods.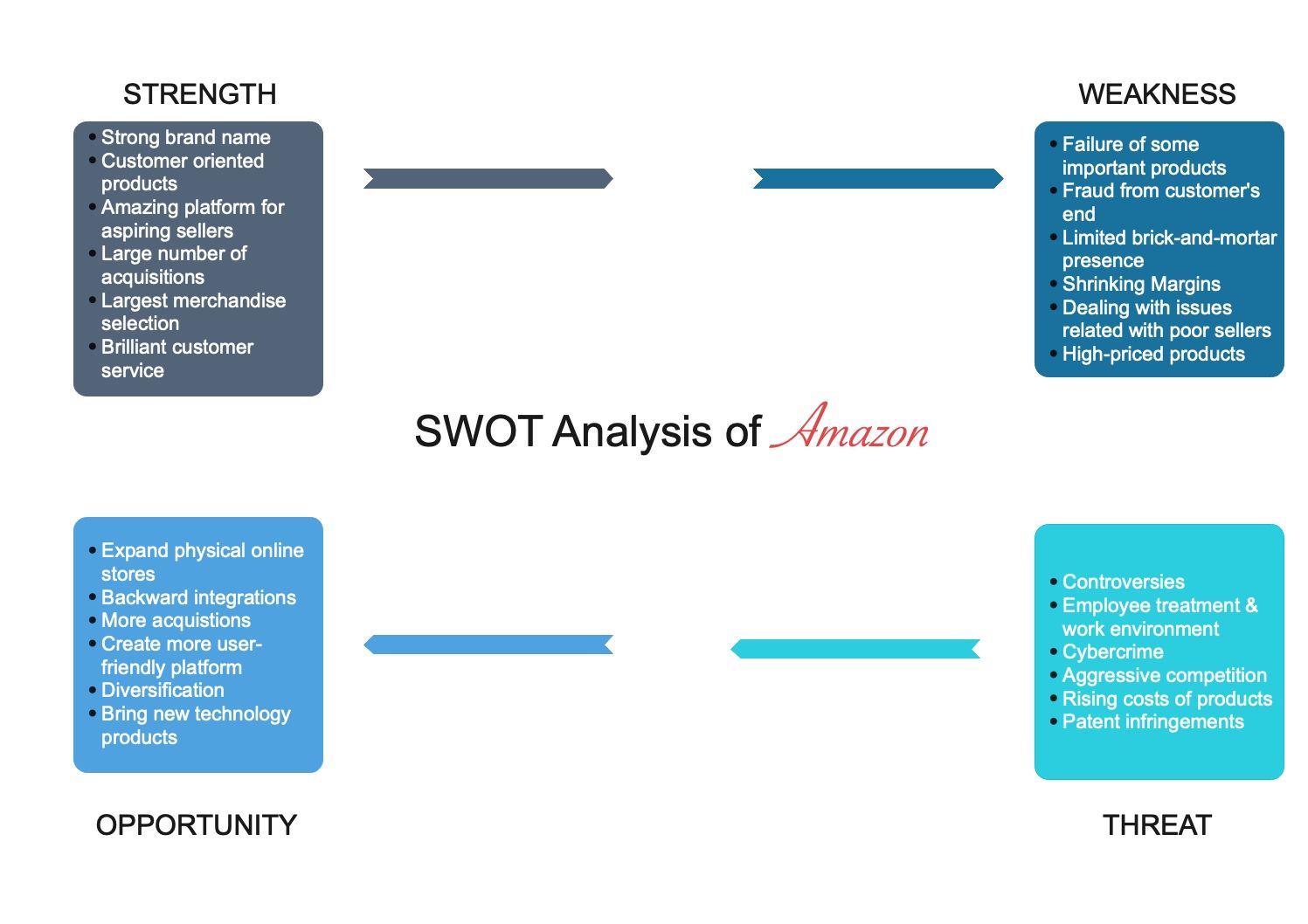 Source:EdrawMax
3. Key Takeaways
Here are some recommendations for the company after a detailed SWOT analysis that can help them to retain their competitive positive in the market enough in a challenging scenario:
The company can build immunity against the industry-specific risks by diversifying its business. They can also make a clear outline and plan their steps, considering the growing risk factors.
Amazon can also include more partners to increase their reach. It will help the company to have substantial multinational operations and increase its profit. The company can get itself prepared for more challenges with strong business partners.
Strategically dealing with global controversies, tax issues, and other service-related issues can help Amazon to improve its service. Since it is one of its key strengths, the company should emphasize its further growth and development.
Use EdrawMax to create a SWOT analysis diagram, or create any other diagram with ease! There are massive SWOT templates and symbols to choose from, and creating a SWOT analysis diagram could be really simple.