Nordstrom SWOT Analysis
An In-Depth SWOT Analysis of Nordstrom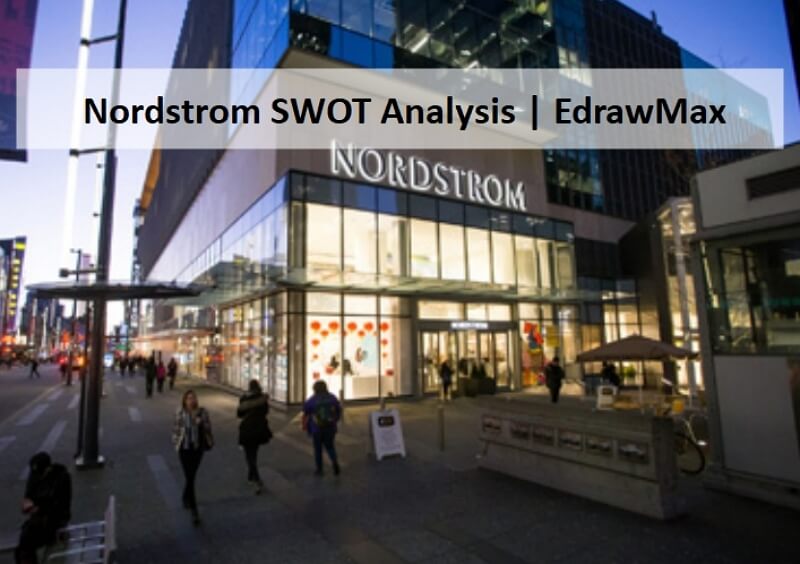 Source:Bloomberg
1. Background of Nordstrom
For a comprehensive Nordstrom SWOT analysis, it is essential to know the necessary information about the company. Nordstrom is one of the leading US-based fashion retailer brands serving for more than 90 years. The company started its business as a shoe store and gradually evolved into a retailer selling apparel, footwear, bags, accessories, cosmetics, perfumes, and such things.
1.1 Overall Overview of Nordstrom
| | |
| --- | --- |
| Company's Name | Nordstrom, Inc. |
| Company's Former Names | Wallin & Nordstrom (1901-1967), Nordstrom Best (1967-1973) |
| CEO | Erik Nordstrom |
| Company Type | Public |
| Year Founded | 1901 |
| Number of Employees | 74,000 (2018) |
| Annual Revenue | $15.86 (2018) |
| Founder | John W. Nordstrom |
| Area Served | US, Canada, Australia, Puerto Rico |
| Headquarters | Seattle, Washington, US |
| Operating Income | US$ 837 million (2018) |
In 2020, the company has more than 100 stores operating in the USA. The company has joined hands with some strong subsidiaries like Façonnable, HauteLook, to handle better the current retail market.
1.2 Milestones/ Development Timeline of Nordstrom
| | |
| --- | --- |
| 1901 | Establishment of Nordstrom. |
| 1960 | Seattle Shop became the largest shoe store in the country |
| 1963 | Introduction of women apparels |
| 1966 | Launching of men and children's clothes. |
| 1971 | The company went public |
| 1973 | National expansion of the company started |
| 1975 | Nordstrom in Alaska |
| 1998 | Nordstrom starts their online business |
| 2000-2007 | Nordstrom owner Façonnable |
| 2005 | Nordstrom purchases majority interest in Jeffrey |
| 2011 | The company acquires HauteLook |
| 2012 | Nordstrom is the only major US retailer to sell Topshop and Topman. |
2. SWOT Analysis of Nordstrom
The fashion and clothing market is a continuously changing market, and hence, the brands also need to adapt to the changing retail scenario. Since the company has changed significantly from the beginning of their business, Nordstrom SWOT analysis can identify the future business strategies that the company can implement to hold its position as one of the top retail brands. Nordstrom SWOT analysis's main objective is to identify its strengths and weaknesses and prevent threats to sabotage its growth.
2.1. The SWOT of Nordstrom
Strength:
A brand needs to identify their strengths and positive features to stand tall in the challenging competitive scenario. By Nordstrom SWOT analysis, the company will be able to recognize its strength. Identifying strengths helps the company to think and plan the future growth of the brand.
Nordstrom can provide customers with a variety of designs as they are exclusive deals with luxury designers. Their diversified portfolio is a reason the company can expand in various countries. They are partners with Allbirds, Greats, Reformation, and Glossier, which is also a strength.
The company offers innovative customer experience—the demand for a product in the market changes in time. If a company knows to innovate new ways to attract customers, they will have a strong reason a customer will want to get back.
The company is already established and has a strong financial position. Therefore, they can freely think about launching campaigns or launching different products that many other retailers may consider risky.
The customers often praise Nordstrom for its post-sell support. Their customer support service is one of their strengths, and their friendly post-sell support adds to it.
Weakness:
The companies plan their business strategies based on their strength. They aim to eradicate their flaws so that their weakness cannot stop them from further expansion. For Nordstrom, there are specific weaknesses that prevent their growth.
The merchandise released by Nordstrom is expensive, which fails to attract price-conscious buyers. As the brand's competitors offer products of more or less similar qualities, the brand is suffering because of the competition in the retail market. The brand also suffers because of the presence of other retail giants and larger departmental stores.
The company has almost no global presence, and they operate only in a few countries, limiting their progress. Nordstrom's physical stores are located mostly around North America, making it very difficult for them to target the global audience.
Another problem with the brand is that they are declining the operating margins; this decreases their partners' investment.
The brand is also suffering because of brand dilution. The brand has invested in so many products that they fail to bring in new things and products and improve the existing ones.
Opportunities:
The expansion of a company severely depends on identifying opportunities. If a company can work on its opportunities, it can sail through the tumultuous high-competitive market without worrying about the threats posed by other competitive brands.
For any brand to survive in the retail market, they need to create products that will appeal to the mass. Nordstrom needs to launch a less pricey and more affordable range of products that will attract more customers.
The brand needs to use its online business for growth. Using the eCommerce business to reach the global market will help them expand their business. They can also target the Asian countries like China and India for selling products.
Nordstrom can also decrease their competition by mergers and acquisitions. They can also choose to bring in other companies as subsidiaries to help their growth.
The Government's green drive is a positive sign for the companies seeking growth. The same goes for Nordstrom.
Threats:
The emerging retail market serves both as an opportunity and a threat to Nordstrom. The current retail market allows more companies to come in, and hence it is posing intense competition among the existing retail companies and eCommerce segments.
Many companies serve as luxury items for rental companies. The customers who don't want to spend money on pricey merchandise can rent for some occasions.
The epidemic has affected the economic condition, and the post-COVID-19 market will suffer some financial issues and market contraction.
The competitor companies who will offer similar products for a lesser price will attract more customers and pose a severe threat to the company.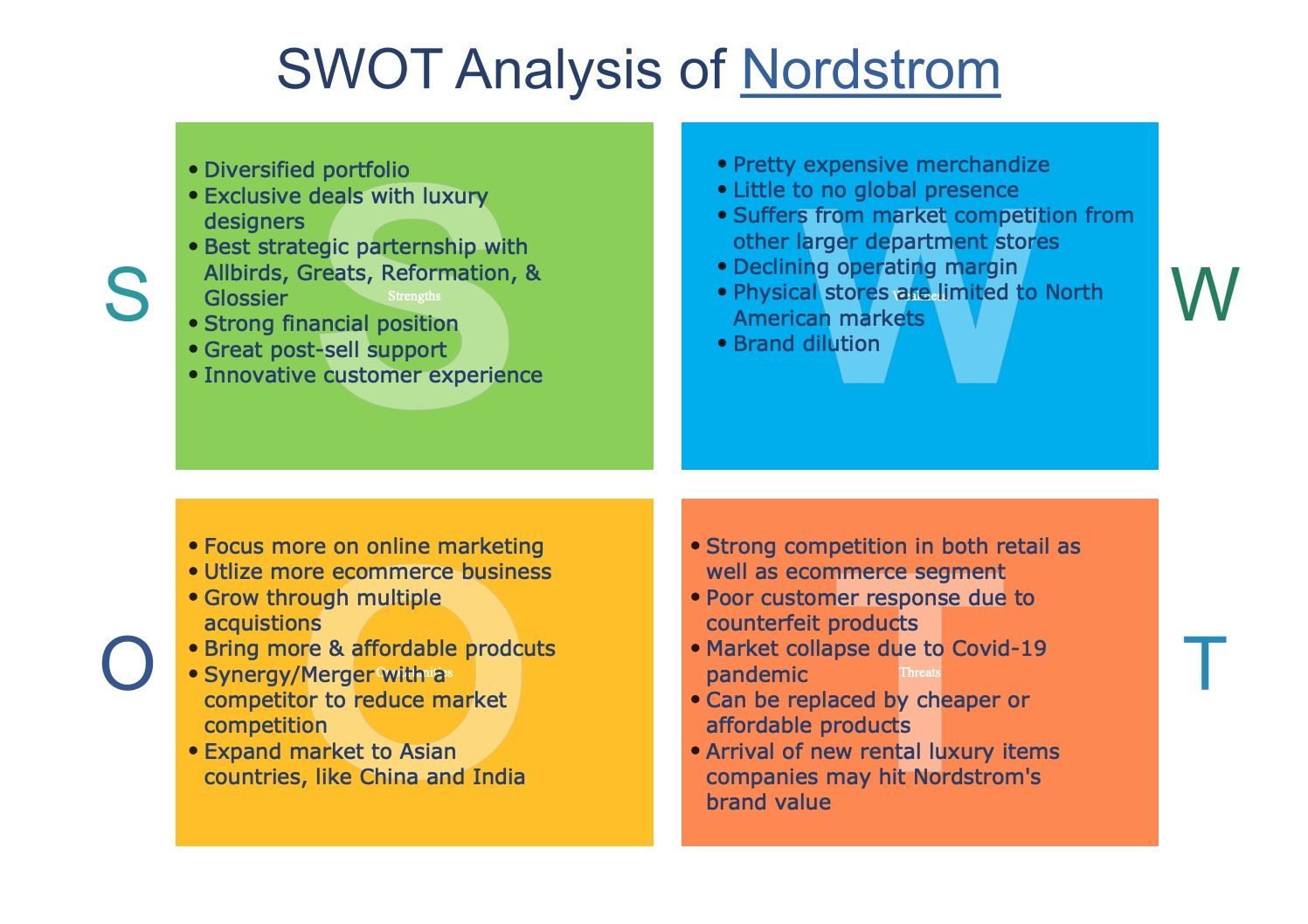 Source:EdrawMax
3. Key Takeaways
Nordstrom SWOT analysis shows that the company has opportunities for improvement that will catalyze their expansion, but they need to consider the threats posed before them. Here are a few recommendations for the company for accelerating their growth:
The company needs to work globally and have more physical shops and eCommerce sites outside American. They can use the emerging Asian retail market.
Nordstrom must think about having less pricey products as that will help them to reach more customers. The Nordstrom SWOT analysis shows that the company's expensive products are among their most significant weaknesses that prevent their reach to the mass.
The brand needs to work on its online marketing services. They can significantly expand if they can use their online service to have an international presence.
Use EdrawMax to create a SWOT analysis diagram, or create any other diagram with ease! There are massive SWOT templates and symbols to choose from, and creating a SWOT analysis diagram could be really simple.