PepsiCo SWOT Analysis
An In-Depth SWOT Analysis of PepsiCo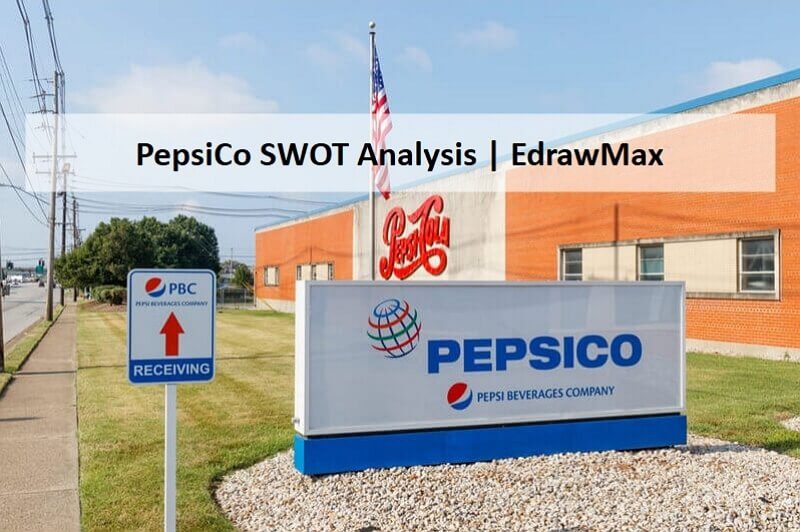 1.Background of PepsiCo
1.1. Overall Overview of PepsiCo
| | |
| --- | --- |
| Company's Name | PepsiCo, Inc. |
| Company's Former Names | Pepsi Cola |
| CEO | Ramon Laguarta |
| Company Type | Public |
| Year Founded | 1898 |
| Number of Employees | 267,000 (2019) (approximately) |
| Annual Revenue | US$ 67.16 billion (2019) |
| Founder | Caleb Bradham |
| Area Served | Worldwide |
| Headquarters | Harrison, New York, US |
| Operating Income | US$ 10.29 billion (2019) |
1.2. Introduction to PepsiCo
PepsiCo, Inc. is one of the leading beverage companies globally that sell in more than 200 countries. With its headquarter in New York, this company deals with grain-based snacks, beverages, and other products. The company has built a name for themselves, and in 2012, PepsiCo's 22 brands generated retail sales of more than US$1 billion.
1.3. Milestones/ Development Timeline of PepsiCo
| | |
| --- | --- |
| 1890 | Caleb Bradham creates Pepsi at his drugstore |
| 1898 | Creation of Pepsi-Cola company |
| 1898 | Release of Original Pepsi logo |
| 1940 | Introduction of the product name, Mountain Dew |
| 1950 | First Pepsi commercial |
| 1965 | Pepsi-Cola merged with Frito-Lay, the formation of PepsiCo |
| 1973 | Pepsi changes to their modern look |
| 1988 | Introduction of Cherry Pepsi |
| 1998 | PepsiCo acquired Tropicana |
| 2001 | PepsiCo merged with Quaker Oats |
| 2003 | PepsiCo made another logo modification |
| 2019 | PepsiCo modifies and gets the current logo |
2. SWOT Analysis of PepsiCo
PepsiCo SWOT analysis can show the strengths and weaknesses of the company. At the same time, PepsiCo SWOT analysis will lead the company's future strategies. The company will try to use the opportunities while trying to prepare itself for the threats that may cross their path.
2.1.SWOT analysis of PepsiCo in detail
Strength:
Realizing the strength is very important for all the companies who wish to maintain their global presence. It will help them to know why the customers are choosing their brand over their competitors. Top-rated companies like PepsiCo has several strengths –
The company has a comprehensive portfolio of 100 brands. PepsiCo also has a highly diversified brand portfolio. It attracts many customers towards them.
PepsiCo is financially stable. They got equipped to satisfy the needs of the customers with a wide variety of successful products. Their classic Cola is still one of the most preferred beverages worldwide.
PepsiCo owns and markets some of the most recognizable global brands. The company has mastered the way of selling their products. Hence, all of their products are known to all.
PepsiCo has successfully created strong brand awareness. Their logo is one of the symbols that is widely recognized all over the world. It also helped them to have a loyal customer base.
Weakness:
All brands have some weaknesses and shortcomings. While a brand must try to retain their strengths, they should also try to eradicate their weaknesses. Then they will be able to get more opportunities favoring their business –
PepsiCo mainly produces carbonated drinks. Due to increasing health concerns, the customers are more interested in the non-carbonated beverages that use fewer sweets in their products. The competitive brands are bringing in several health food alternatives. The bitter after-taste of diet coke and carbonated drinks is why many customers switch to other healthy options.
The company is failing to meet the demand of the market. This untapped market is one of its most significant weaknesses.
The brand needs more acquisition that will help them to expand their business.
The company's niche marketing and products are also one of its weaknesses. They only market a few particular products of themselves. The company needs a more comprehensive marketing plan for their new products and less-known products.
Opportunities:
If a company wants to grow, they need to look for opportunities and use them properly. Since PepsiCo has a worldwide presence, there are ample opportunities for them to expand their sales -
For a company that has product diversification, it is easier to expand their business. PepsiCo has a diversified profile. Hence it is easier for them to plan about more diversification that will lead to their expansion.
They can also look for introducing new products. Though their classic Cola is a high selling product, the company needs to bring in innovation. They can increase Consumer-Driven R&D for the expansion of their business.
PepsiCo can try to expand its operations in the emerging market. Many customers use digital platforms for online shopping. PepsiCo can have its platform for online business.
PepsiCo can extend their current partnership with Starbucks into other areas where both the chains have rooted themselves. It will be beneficial for both the business.
Threats:
A brand like PepsiCo should always cushion its threats if they want to concentrate on opportunities. While analyzing the threats, a company can negate the impact and learn what is threatening its goals.
Competition from another top-rated beverage brand, Coca-Cola, can be a possible threat to PepsiCo's profitability and market share.
The Economic recession is another hindrance to their expansion. The post-pandemic situation has also slowed down the economy. Moreover, the changes in demographics and economic status have also transformed the pre-existing market. Hence the companies' target market has also changed.
The company's competitors are adopting technologies more effectively. Taking the aid of technology can be profitable for any company.
The increasing health consciousness is driving many customers towards healthier products. It is the reason carbonated or sweet drinks are gradually losing their market. It is a significant threat posed in the way of PepsiCo.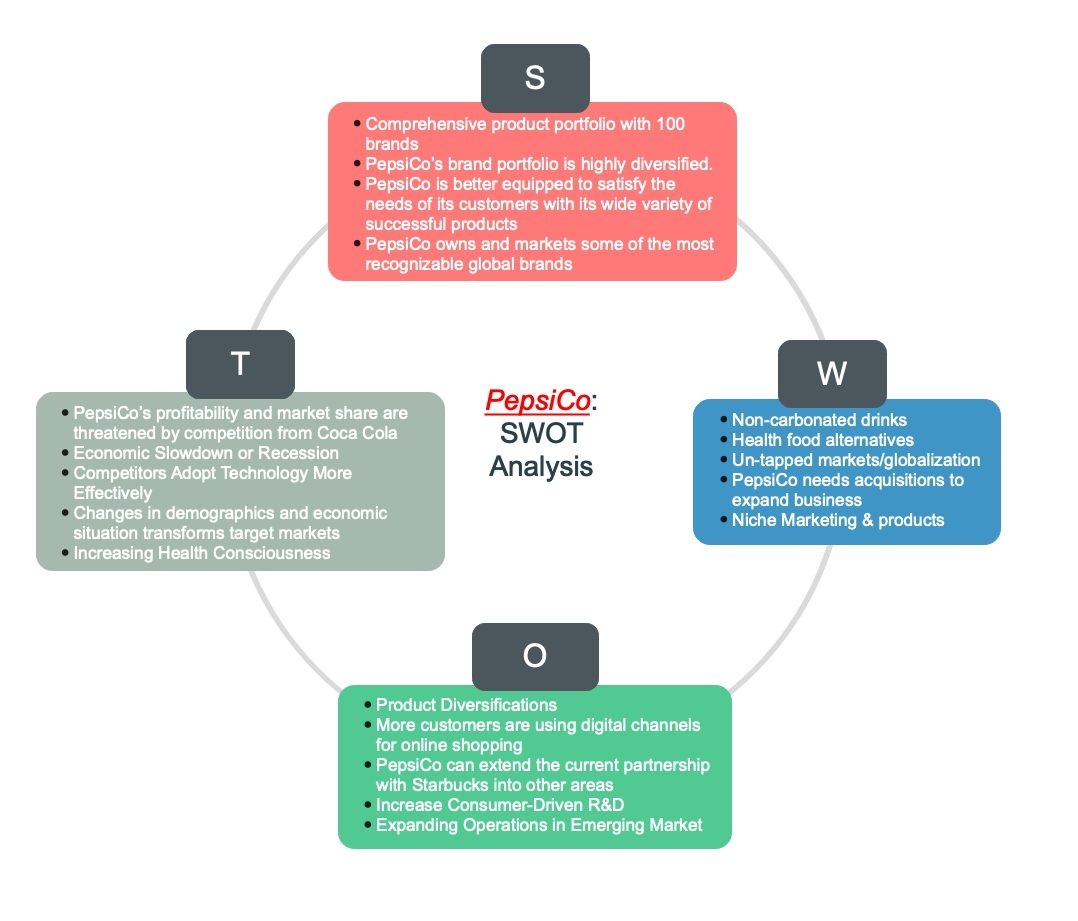 Source:EdrawMax
3. Key Takeaways
PepsiCo SWOT analysis shows that the company needs more planning to expand their business. New companies are entering the market now and then, and also the pre-existing companies are trying their best to adapt to the customer preference and market scenario. Here are some recommendations for the company –
The company needs to work to bring in new healthier products. They can bring a new range of non-carbonated drinks, less in calorific value, and not harmful to diabetic patients.
PepsiCo needs to work for their technological advancement. They can use online platforms for where the customers can order and can get home delivery for the products. It will require an efficient supply chain and offer new jobs, which will increase the brand's reputation.
PepsiCo may try more collaboration and acquisitions for successful growth. A successful partnership will help them to bring in new products, and will also help them to expand their business.
Use EdrawMax to create a SWOT analysis diagram, or create any other diagram with ease! There are massive SWOT templates and symbols to choose from, and creating a SWOT analysis diagram could be really simple.