Walmart SWOT Analysis
An In-Depth SWOT Analysis of Walmart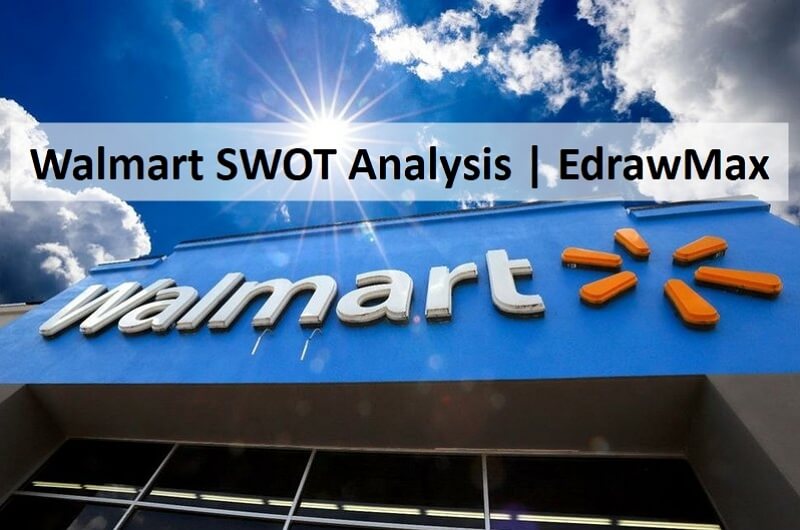 1.Background of Walmart
1.1. Overall Overview of Walmart
| | |
| --- | --- |
| Company's Name | Walmart Inc. |
| Company's Former Names | Wal-Mart Inc., Wal-Mart Stores |
| CEO | Doug McMillon |
| Company Type | Public |
| Year Founded | July 2, 1962 |
| Number of Employees | 2.3 million (2017) |
| Annual Revenue | US$524 billion (2020) |
| Founder | Sam Walton |
| Area Served | Worldwide (11,718 stores in 28 countries) |
| Headquarters | Bentonville, Arkansas, U.S. |
| Operating Income | US$ 6.05 Billion (2020) |
For Walmart SWOT analysis, it is a must to know about the company and its development. Walmart is an American multinational retail corporation with headquarter in Arkansas. The company owns Sam's Club retail warehouses and has a good customer base in North America. Walmart has significant stakes in many other retail companies and has acquired many other small retailers.
1.2. Milestones/ Development Timeline of Walmart
| | |
| --- | --- |
| 1962 | Sam Walton opens the first Walmart store in Rogers, Arkansas |
| 1967 | Walmart owns 24 stores, with US$ 12.7 million sales |
| 1969 | The official naming of Walmart Stores, Inc. |
| 1970 | Walmart went public |
| 1971 | The first distribution center opened in Bentonville, Arkansas |
| 1972 | Walmart registered at the New York Stock Exchange |
| 1979 | Walmart Foundation established |
| 1980 | Walmart reaches US$ 1Billion annual sales |
| 1988 | Walmart Supercentre opens in Washington |
| 1991 | Walmart's joint venture with Cifra |
| 1996 | Walmart opens in China |
| 1988 | Walmart in the UK with Acquisition of Asda |
| 2002 | Walmart in Japan |
| 2009 | Walmart enters Chile after the acquisition of a significant stake in D&S S.A. |
| 2010 | Bharti Walmart, a joint venture and opens the first store in India |
| 2011 | Walmart in South Africa after the acquisition of a 51% share of Massmart Holdings Limited |
| 2013 | Walmart acquires Bharti Walmart |
| 2015 | Walmart acquires Yihaodian, China |
| 2017 | Walmart acquires Moosejaw, ModCloth, Bonobos, and ShoeBuy.com |
| 2018 | Acquisitions of Flipkart India, Eloquii, Bare Necessities, Art.com |
2. SWOT Analysis of Walmart
SWOT analysis is an effective way to trace the future scopes of a company. It helps a company to identify their strategies after analyzing their strengths and weaknesses.
2.1. Why use SWOT Analysis to analyze Walmart
Strength:
Identifying the strengths of a company as a part of a SWOT analysis is significant for most companies. As one of the biggest companies, Walmart knows its strengths and holds onto them to work on their weaknesses while stressing their vital areas.
Walmart has a strong North American customer base, and they also provide employee benefits that top the charts in the United States.
For loyal customers, the company offers great deals on various products. These deals attract many new customers besides the old and loyal customers. The company provides the customer with reasonable prices on most of their products. It is one of the main reasons the company could achieve a good position in the competitive market.
The company has an efficient workforce that manages the supply. This efficiency significantly contributes to Walmart's growth.
Walmart's serving area is worldwide and has more than 11,000 stores in 28 countries. Hence the company contributes to the national GDP.
Weakness:
For all the companies, it is always a must to find out and acknowledge their weaknesses so that they can work to improve their weak areas. Walmart, currently at one of the top positions in the retail market, has certain drawbacks that may later affect their position in the competitive market.
Though Walmart has opened its stores in 28 countries, its business is still limited to some of those countries. The current competitive retail market demands expansion, and hence its one of Walmart's weaknesses is its limited expansion.
Walmart has to carry extensive inventories, which may cause business dilution. That can affect the quality of the product and customer satisfaction. The customers also do not get many size options, leading the customers to find other retailers.
The retail market is highly competitive. The current scenario of the retail market is always ready to accommodate new companies with better business approaches. It can be a weakness for the existing retail companies.
Unfair labor laws and thin profit margins are also the company's weaknesses, and these two can severely affect the company's growth in the long run.
Opportunities:
The expansion of a company is only possible if they look for opportunities to grow. The gradual changes in economic conditions are opening up the market for a hardcore competition. There are threats in a competitive market, but one can negate the risks with the opportunities' help. The same goes for Walmart, and the company needs to work on its business strategies considering the opportunities.
The company can try to expand their business by entering other countries. The expansion in different countries will contribute to their growth.
The company needs to increase its full-time employees' wages to create brand awareness and encourage them to work hard. The company can associate themselves with several non-profit organizations to improve their value.
The company needs to work to improve the local community's perception. This step will help the company to strengthen its local customer base.
Walmart needs to use its research team to improve the quality of their product. Some customers are willing to pay well for the right quality products. If they can provide excellent quality, they will gain more customers.
Threats:
Creating cushions for negating the threats must be a part of a company's business strategies. Then they will be able to expand more using the opportunities. From Walmart SWOT analysis, the company can find out the threats that are currently there, and they can also identify some of the future conditions that can threaten the company's growth.
The post-COVID-19 economy is a threat to most companies as it will adversely affect its growth for some time. Besides this, the tariff taxes are also preventing the companies from working on their progress.
Employee unions are gradually empowering themselves to voice their thoughts about wage, treatment, working hours. There can be rising conflicts and problems between the union and authority or among the people involved in the partnership. It can be a threat to a company's growth.
Walmart is facing a threat posed by massive competition from many other online business sites like Amazon. The company needs to eradicate their weaknesses to meet the challenge of the fiercely competitive market.
The small-scale business studying the market condition carefully and continuously improving their improvement can threaten giant companies like Walmart.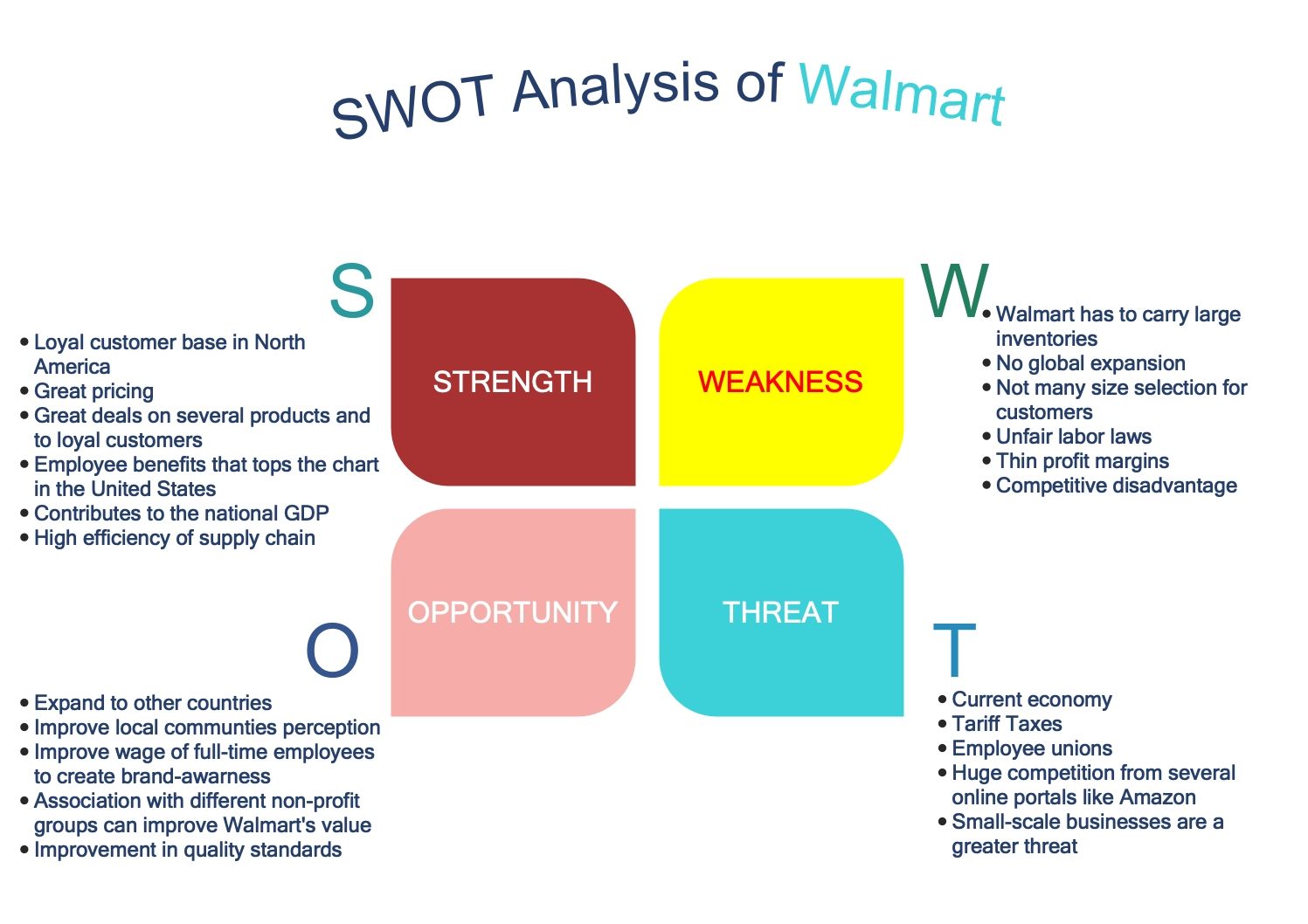 Source:EdrawMax
3. Key Takeaways
Walmart SWOT analysis reveals that though the company has its customer base and popularity, it still needs a way to go. Otherwise, it may fail to retain its position as a retail company. Its other competitors and small businesses can threaten Walmart's growth. Based on the Walmart SWOT analysis, here are some recommendation for the company:
The company should work on labor conditions. They need to ensure that they are paying well to their full-time employees. That will encourage them to work for the company's growth.
Walmart can enhance their customer base by considering the diversity of the customers and understanding their needs. For example, they can include more size options for their different products.
The company should think about expanding their business in different parts of the world. They can do it by strengthening their online service and having more physical stores.
Use EdrawMax to create a SWOT analysis diagram, or create any other diagram with ease! There are massive SWOT templates and symbols to choose from, and creating a SWOT analysis diagram could be really simple.