GoPro SWOT Analysis
An In-Depth SWOT Analysis of GoPro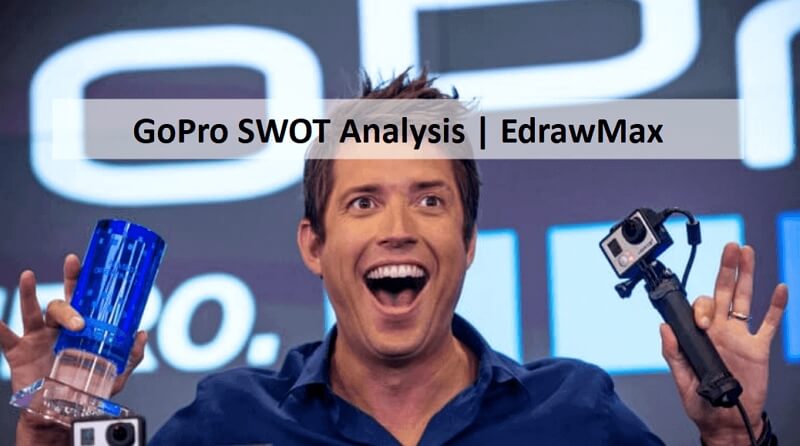 1. Background of GoPro
1.1. Overall Overview of GoPro
| | |
| --- | --- |
| Company's Name | GoPro, Inc. |
| Company's Former Names | Woodman Labs, Inc. |
| CEO | Nick Woodman |
| Company Type | Public |
| Year Founded | 2002 |
| Number of Employees | 964 (2019) |
| Annual Revenue | US$1.195B |
| Founder | Nick Woodman |
| Area Served | Worldwide |
| Headquarters | San Mateo, California, United States |
| Operating Income | -US$163.46 Million |
1.2. Introduction to GoPro
It is essential to get a basic introduction to the company for the GoPro SWOT analysis. Nick Woodman founded the American technology company, and it mainly deals with cameras. The company started its journey with live-action cameras, mobile apps, and video-editing software, and later they developed a quadcopter drone. The GoPro cameras are popular because they allow the sportsmen to document themselves while engaging in sports. They also changed the people's perspective of story-telling.
1.3. Milestones/ Development Timeline of GoPro
| | |
| --- | --- |
| 2002 | Nick Woodman |
| 2004 | Introduction of the First GoPro camera |
| 2011 | GoPro acquires CineForm and CineForm 444 video codec |
| 2014 | GoPro went public |
| 2015 | GoPro acquires Kolor, virtual reality startup |
| 2016 | GoPro partnered with Periscope for live streaming |
| 2016 | GoPro acquired Stupeflix and Vemory for video editing tools Replay and Splice |
| 2020 | GoPro acquired stabilization software company, Reelsteady |
2. SWOT Analysis of GoPro
The GoPro SWOT analysis can help determine how, as top companies, they work on their strengths and weaknesses to survive the challenging competitive market condition. From the detailed report of their strengths and weaknesses, it will be easy to analyze their market standpoint. GoPro SWOT analysis also shows how they use their opportunities while eliminating threats with proper strategies.
2.1. GoPro SWOT Analysis in Detail
Strength:
It is essential to know the strength of a company, as these strengths support the top-rated companies to retain their position in the competitive global market. GoPro, as one of the best camera-manufacturers, has several strengths:
GoPro has successfully created high brand awareness. Their customers praise their product quality, and the words of mouth from customers increase their brand value.
GoPro provides the best quality live-action camera and is trusted by the film-makers and sportspeople worldwide. Their superb performance in the sports world is the reason they have a high perceived value.
The strong partnership helps them to secure a top position in the current competitive market scenario. The company's strong associates help them to have an advantage over other competitors.
They have several lines of products that complement one another. They offer improved video capturing images with their products, and they are updating their products continually. It's the one reason customers prefer their products.
Weakness:
For any company, it is essential to know about their weakness. Improving the weakness can let them have the upper hand over their competitors in the fiercely competitive market. Top-rated brands like GoPro also have some weaknesses and flaws, and they hinder the company's growth to some extent.
The company's poor financial planning stops them from planning. The company spends more on its marketing planning, which they could have spent bringing in new products.
Their third-party integration is unsuccessful, which has severely affected their growth.
GoPro needs to invest more in its R&D to bring in new products of different range and variety.
GoPro products are pricey than other similar camera products. Though the cameras' quality is good, the brand's competitors sell the same quality camera at a lower rate. It is driving some customers to competitors.
Opportunities:
Recognizing the opportunities that align with the company's growth is a significant part of its strategic planning. They can use these opportunities for their development. For big companies like GoPro, it is easier to identify and use these opportunities for their growth. Since they have several strong points, it is easy for them to consider the opportunities.
The brand has an already established high-brand awareness, and hence expansion of physical stores in South-Asia markets will help them improve their business. They can also bring in customers from online platforms.
Since many athletes and sports telecasters trust the brand, they can use the emerging market in the sports world. It will significantly contribute to their growth.
GoPro is an already established company, and they have a lower inflation rate compared to others. The decreasing cost of transportation can decrease their products' prices, which will help them eliminate their weakness of having expensive products.
Since GoPro is already working with some associates, they can also join hands with non-profit alliances, gaining momentum.
Threats:
The current technology market is constantly changing, and the companies with strong R&D teams are working hard to improve their service. In this situation, stagnation and no-improvement can be frightening for any company. There are specific threats for GoPro, but proper planning can help them to survive through the situation.
The company lacks skilled workers who will work hard for the growth of the company.
The introduction of new technologies in the market can affect their demand. Good quality smartphones can also substitute the cameras, which is a significant threat to the company.
The company is highly dependent on the North-American market. The liability laws in different states and countries can hamper their growth. Moreover, specific regulations regarding the environment and these issues can also work as threats to the company.
The customer base of the company is limited, and poor customer service can impact their international sales.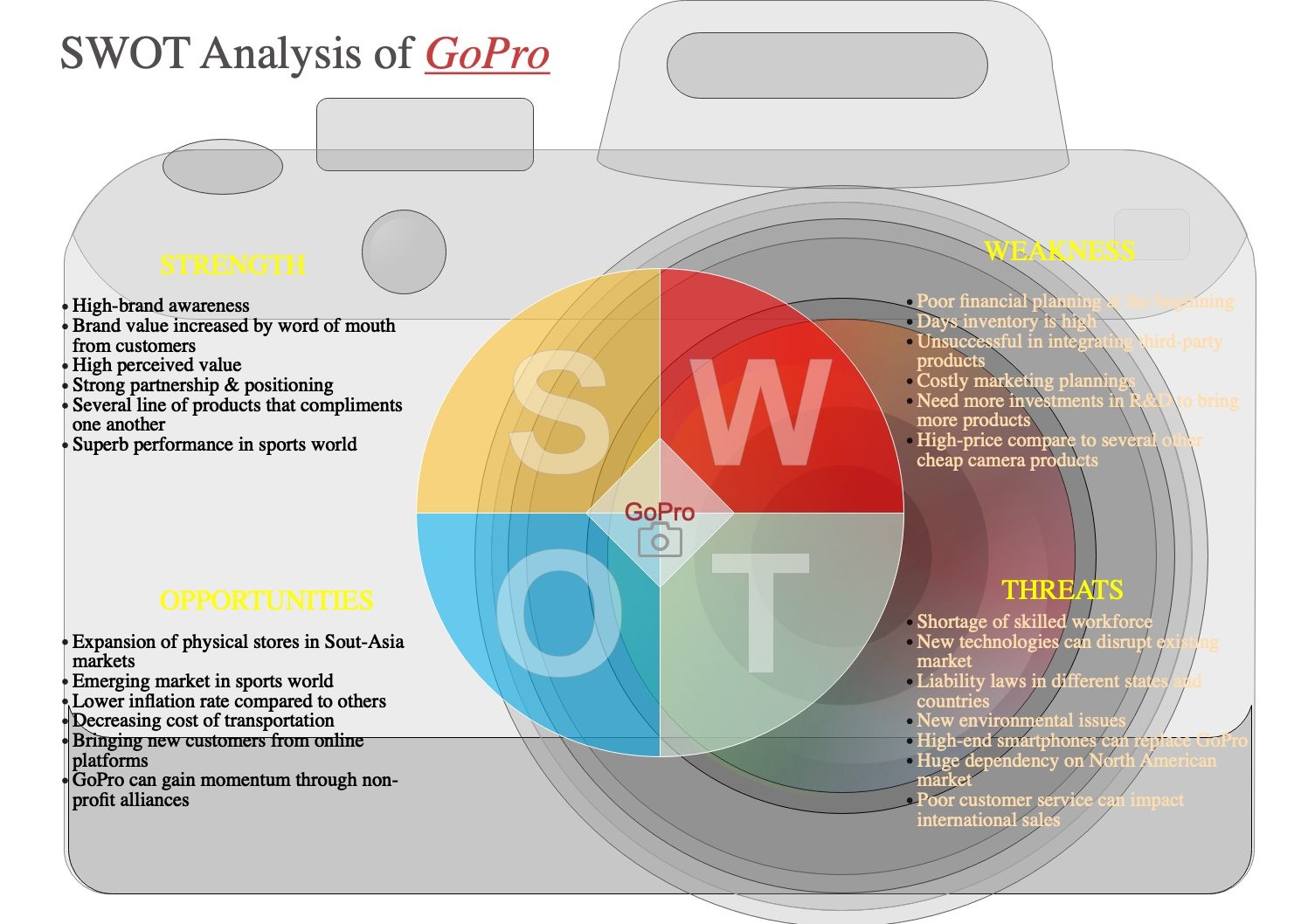 Source:EdrawMax
3. Key Takeaways
GoPro SWOT analysis reveals that in the current situation, GoPro needs to use its opportunities while strengthening their already existing vital areas. They can also work on their threats with strategic planning and eradication of their weakness. Based on the GoPro SWOT analysis, here are some recommendation for the company:
GoPro needs to work on its online service. The company can expand its service to Asian Countries. It will decrease their dependency on the North American market.
The company needs to bring in variations and more products that will compete with high-quality smartphone cameras.
GoPro needs to improve their customer service. They need to have more dedicated and skilled employees who will ensure quality after-service. Good customer service will attract more customers.
Use EdrawMax to create a SWOT analysis diagram, or create any other diagram with ease! There are massive SWOT templates and symbols to choose from, and creating a SWOT analysis diagram could be really simple.