Target SWOT Analysis
An In-Depth SWOT Analysis of Target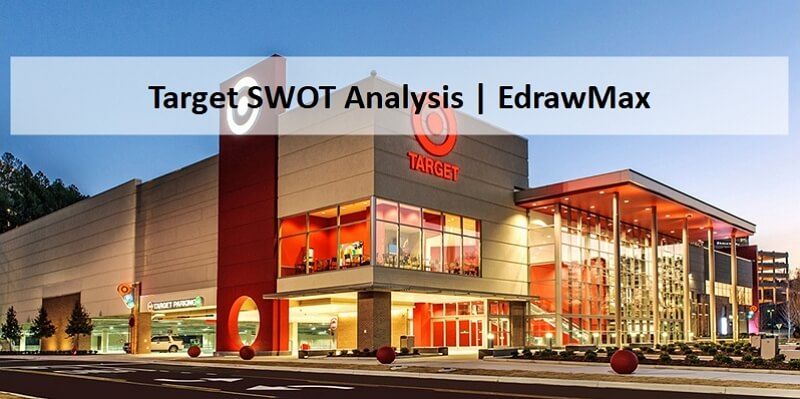 1.Background of Target
1.1. Overall Overview of Target
| | |
| --- | --- |
| Company's Name | Target Corporation |
| Company's Former Names | Goodfellow Dry Goods, Dayton's Dry Goods Company, Dayton Company, Dayton Corporation, Dayton-Hudson Corporation |
| CEO | Brian C. Cornell |
| Company Type | Public |
| Year Founded | 1902 |
| Number of Employees | 360,000 (2019) (approximately) |
| Annual Revenue | US$ 78.112 billion |
| Founder | George Dayton, John Geisse |
| Area Served | Worldwide (excluding North Korea, Mainland China, Syria, Crimea) |
| Headquarters | Target Plaza, 1000 Nicollet Mall, Minneapolis, Minnesota |
| Operating Income | US$ 4.11 billion (2019) |
1.2. Introduction to Target
For the Target SWOT analysis, knowing the necessary details of the company is essential. It is one of the American largest retail brands, headquartered in Minnesota, US. They are well-known for providing various products within an affordable price range. As per the 2019 data suggests, the company has more than 1844 stores throughout the United States.
1.3. Milestones/ Development Timeline of Target
| | |
| --- | --- |
| 1902 | Dayton company established |
| 1920 | Dayton company becomes a multi-million dollar business |
| 1956 | Southdale Centre opened |
| 1962 | First Target Discount store |
| 1966 | Dayton launches B. Dalton Bookseller specialty chain |
| 1968 | Expansion to Missouri |
| 1975-1981 | Target stores opened in several places in the US |
| 1990 | Target acquires Marshall Field's |
| 1992 | Target creates apparel specialty store, Everyday Hero |
| 1995 | Target opens its first SuperTarget hypermarket in Omaha |
| 1998 | Acquires Rivertown Trading Company |
| 1999 | Dayton-Hudson acquired Fedco |
| 2000 | Renamed as Target Corporation |
| 2011-2015 | Expansion in Canada and other development initiatives |
2. SWOT Analysis of Target
Target SWOT Analysis shows how the company uses its strengths to establish itself as a strong brand and use its opportunities to grow. At the same time, they can plan their business strategies to survive the highly competitive market while minimizing the competitive market scenario's threats.
2.1. SWOT analysis of Target in detail
Strength:
For companies, knowing their strength and power is very significant. Working on their strength will allow them to use the opportunities for the expansion of their business. As an established brand, Target has many vital strengths –
Target is a well-established and recognized brand. Their brand name has helped them to become a name trusted and respected by customers. The retail company has earned an international brand name that has given them a strong and loyal customer base.
Target's high quality and innovative products attract customers, giving the brand an upper hand over its customers.
The product price matches that of online goods. Therefore, the customers who are budget conscious prefer Target.
Target has financial services like Target REDcard, Target Visa, and Target Card, which is undoubtedly a strength.
Weakness:
Brands need to know the weaknesses that are hindering their growth. The companies need to work on their weaknesses to eradicate them. It will give them ample space to work on their opportunity.
The brand is not a household name like Walmart, Kroger Inc., Costco, and Amazon. The brand does not have any major cities in North America.
For pricing perception, the company needs to consider that of their competitors. Otherwise, their pricing can hold them back from profit and growth.
The e-commerce department of Target is lagging compared to its other competitors. It is significantly affecting their service. These may lead the customer to prefer different brands, and the company will lose its customers.
Target's financial service is much stronger and improved than its retail market. The brand also lacks marketing and campaigning.
Opportunities:
Identifying opportunities are significant for the growth of a company. Using their strengths to work on opportunities can help them regain stability in the highly competitive market. As the retail market scenario is always changing to survive the change, Target should use the presented opportunities very strategically –
The middle class's declining financial power in the US increases the demand for value for money purchases. It will lead many customers to get attracted to their budget-friendly products.
If Target can use their strongest card of not being considered a store for "broke" people correctly, they can increase their sales.
The firm can ensure its growth by expanding in international markets. They can also look for the countries that can accommodate them and offer them a good customer base.
Target is already known to the customers for its innovative products. They can bring diversity in their grocery section. They can also enhance their efforts to be eco-friendly to be one of their trump cards in the face of growing concerns about environmental issues.
Threats:
A company can use its opportunities properly only when fewer threats are there in its expansion path. Target, as a retail company, has specific threats that are affecting its growth. If they can work on these threats to negate their impact, they can easily find their ways to expand:
E-commerce services are gradually getting the dominance of the retail scene. In that case, Amazon is their biggest competitor. The brand has some strong competitors. Its other competitors, like Walmart, are also using their utmost strength to establish their superiority.
The post-COVID-19 economy is a rough one, and the tumultuous economic condition will simultaneously affect all the economies.
Their business is also getting affected by the consumers' negative words for lowering costs on health insurance.
The annual government taxes and increasing interest rates are also a threat to the growth of their business.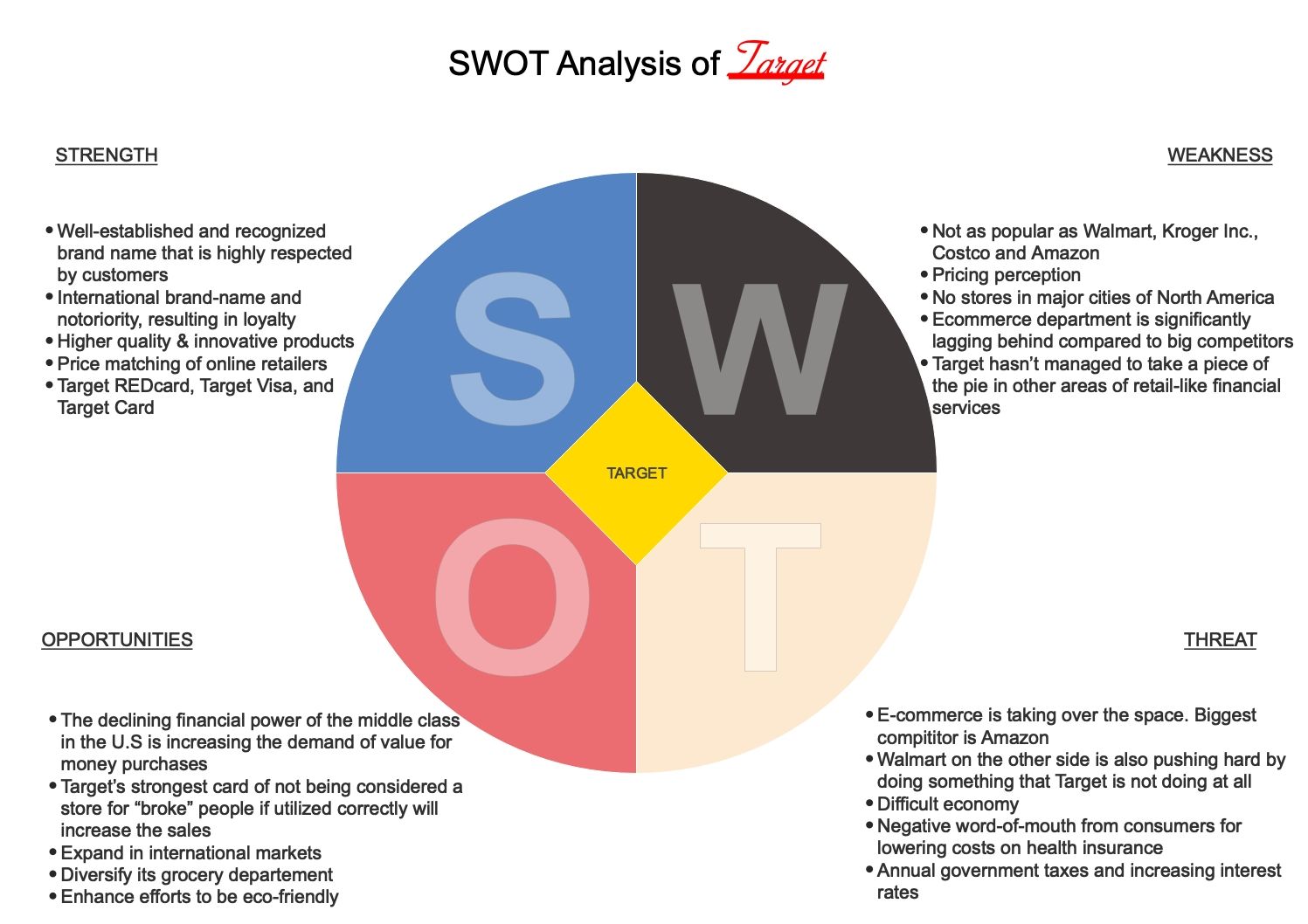 Source:EdrawMax
3. Key Takeaways
Target SWOT analysisshows that they have ample scope of development and growth. Though the company has established itself as a popular name in the retail market, they have several unexplored areas that can help them to grow. Target SWOT analysis reveals that the company needs to plan to negate their threat to expand its service strategically:
The brand needs to prepare for marketing and campaigning that will help them to reach more customers. Innovative marketing can help them to be a household name.

Target needs to consider the market that they haven't explored yet. Several countries are ready to accommodate new retail brands. The brand can increase its sales by expansion.

Bringing in product diversity for the food and grocery section can help them to get more customers. They can also work to give an innovative touch to their other products.
Use EdrawMax to create a SWOT analysis diagram, or create any other diagram with ease! There are massive SWOT templates and symbols to choose from, and creating a SWOT analysis diagram could be really simple.