Patagonia SWOT Analysis
An In-Depth SWOT Analysis of Patagonia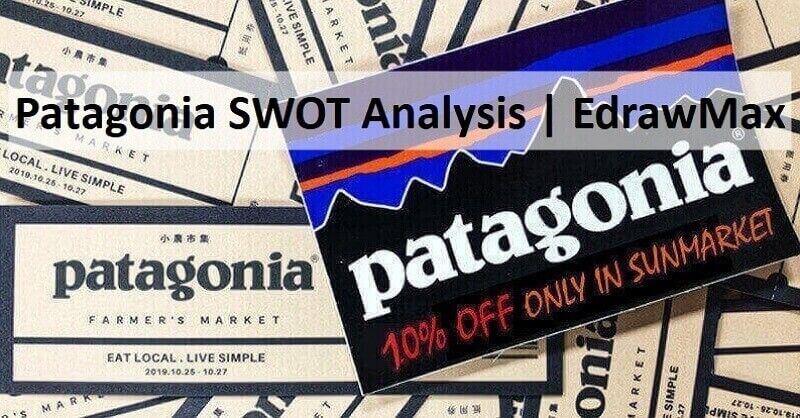 1. Background of Patagonia
Patagonia is a well known, multi-million dollar American clothing company that markets sustainable outdoor clothing and apparel.
1.1. Overall Overview of Patagonia
| | |
| --- | --- |
| Company's Name | Patagonia, Inc. |
| CEO | Rose Marcario |
| Company Type | Private |
| Year Founded | 1973 |
| Number of Employees | 1547 |
| Annual Revenue | $1B |
| Founder | Yvon Chouinard |
| Area Served | Worldwide |
| Headquarters | Ventura, California, US |
1.2. Introduction to Patagonia
It is essential to do a Patagonia SWOT analysis to know about the company and how it has become one of the world's most recognizable brands. Patagonia, Inc., the American clothing brand. The company deals in outdoor apparel and mainly sportswear. The company is headquartered in California and has become a significant private company in the retail market.
1.3. Milestones/ Development Timeline of Patagonia
| | |
| --- | --- |
| 1957 | Yvon Chouinard started making climbing tools |
| 1973 | Yvon Chouinard and Malinda Founded Patagonia |
| 1984 | Patagonia opens its first childcare center based at a US workplace |
| 1986 | The company gave 10% of annual profits to environmental groups |
| 1988 | Patagonia launches its first yearly environmental education campaign |
| 1994 | Patagonia produces its first environmental assessment report |
| 1996 | Patagonia chooses to use 100% cotton, Founds Fair Labor Association |
| 2005 | Patagonia starts the Common Threads Recycling program. Recycling of Clothing at retail stores |
| 2007 | The Footprint Chronicle traces the environmental and social impact of Patagonia products |
| 2009 | Chouinard helps in launching the Sustainable Apparel Coalition |
| 2012 | Patagonia becomes California's first registered benefit corporation and a Certified B Corporation |
| 2012 | Patagonia provisions launched, beginning with sustainably sourced salmon jerky |
| 2013 | Patagonia starts the $20 Million & Change fund |
| 2014 | Patagonia starts selling fair-trade apparel |
| 2015 | Patagonia starts operating the largest garment repairing facility in North America |
| 2016 | Patagonia and other B Corps start a $35 million fund for financing solar-panel installations |
2. SWOT Analysis of Patagonia
Patagonia SWOT analysis shows how the company sets its future business strategies by considering its strengths and weaknesses. It will also reveal how the company formulates its plan to face the competitive market's threats while using the expansion opportunities. Patagonia SWOT analysis can show how strategic planning helps them retain their position as top companies.
2.1. SWOT analysis of Patagonia in detail
Strength:
Analysis of a company's strength is essential as those features help them retain their position in the dynamic market scenario. Working on their strengths also allows them to penetrate new markets for expansion. As one of the top companies in the market, Patagonia must have some strengths that support them to survive in a highly competitive market.
For better performance, it is essential to have a hardworking and dedicated workforce. The company has a low employee turnover rate, which contributes to creating an efficient and experienced workforce.
The brand has a strong brand portfolio, which helps them to attract customers. They also have a very positive brand image.
The company has an intense dealer and reseller community that helps them to gain more customers. The company creates durable and attractive products which are very helpful to attract customers.
Patagonia adapts to the changing customer choice and demand, which is one of their major strengths. They also maintain their sustainability through unique missions.
Weakness:
Even for successful companies, weakness can hinder their growth. Patagonia SWOT analysis can highlight the company's weak areas that they can work on to improve their services:
Patagonia has improper financial planning, and therefore they are lagging in some cases. The company needs more investment in technology, which will increase their productivity. Their improper planning is holding them back from further investment.
Right marketing strategies ensure a brand's recognition. As more customers will get to know the brand, they may try to find out more about their services. The limited advertising campaigns are a significant weakness for the brand.
The company offers mostly expensive products. A particular section of society is willing to buy high price clothes just for the brand name. More customers will look for budget-friendly deals with buying clothes.
For Patagonia, there are huge gaps between the product ranges sold by Patagonia. It may be a significant issue that can affect the company's sales.
Opportunities:
For most companies, it is essential to spot opportunities to increase their market. Companies can improve their weak areas to increase their opportunities and chances to lead the market. For big companies like Patagonia, there are many opportunities that they can use to retain their position:
The need to invest in bringing on new technology as new technologies can secure ample growth. They can develop an online platform that will help them to get new customers.
The lower inflation rate allows the economic condition to revive, and hence the company can use it for their growth.
Since the company is already financially stable, it can aim for global expansion. Patagonia can conduct proper market research to identify the market that can allow them to increase their sales. They can expand in the target market based on the demand of the customers.
The company can bring in variety in their clothing options. They can also bring in a new line of products to attract more customers.
Threats:
There can be several threats that a company has to face while they plan their expansion. They can quickly get through this by proper planning, and finding a strategic way of handling the threats can cushion their impact. For Patagonia, some risks can affect the sales of the company.
Counterfeit and low-quality products can be a significant threat to the company.
The changing of the customer's behavior from online channels can pose a threat. The negative reviews on different media can impact the sales of the company.
The company's products are not unique and are not innovative enough to challenge competitors' concepts and styles.
Like Columbia Sportswear, the other competitors of the company, who are selling items and merchandise in affordable ranges, can threaten the company as many customers can get attracted to their products.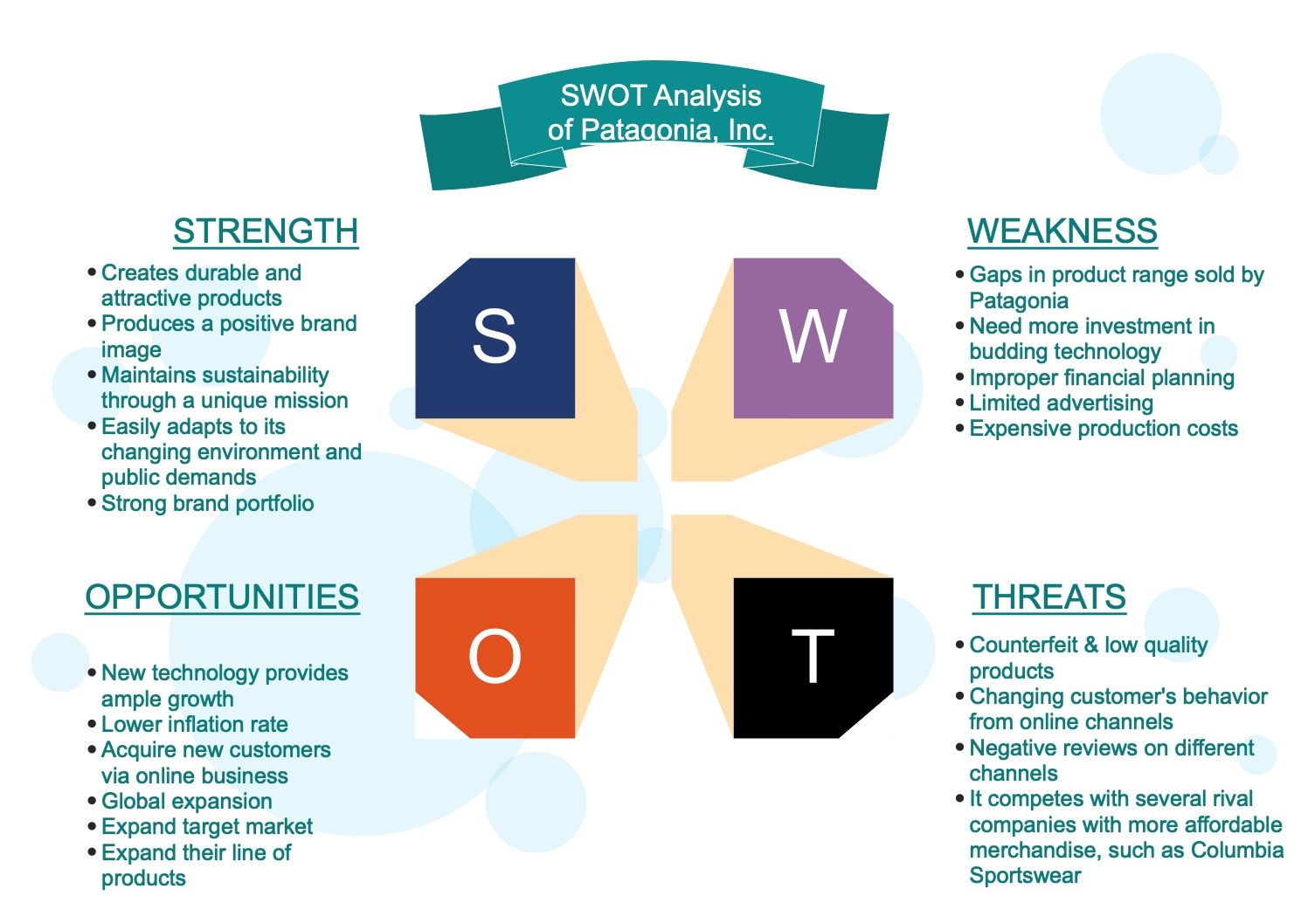 Source:EdrawMax
3. Key Takeaways
Patagonia SWOT analysis shows that though the company is still stable in the market, its position can be at risk anytime as new competitors are coming into the scenario. From Patagonia SWOT analysis, it is evident that the company needs to work on their opportunities while trying to cushion their threats. Here are some recommendations for the company:
The company needs to bring in new product ranges which will be affordable for the general mass. They can also think about launching new products to increase their sales.
The comipany needs to have a prominent online presence. They need to strengthen their online service by creating a robust supply chain. Since many people nowadays prefer online shopping, this will increase their business.
Patagonia should use the power of marketing. Excellent campaigning and marketing are very much needed for any company to make itself known to the customers.
Use EdrawMax to create a SWOT analysis diagram, or create any other diagram with ease! There are massive SWOT templates and symbols to choose from, and creating a SWOT analysis diagram could be really simple.