Netflix SWOT Analysis
An In-Depth SWOT Analysis of Netflix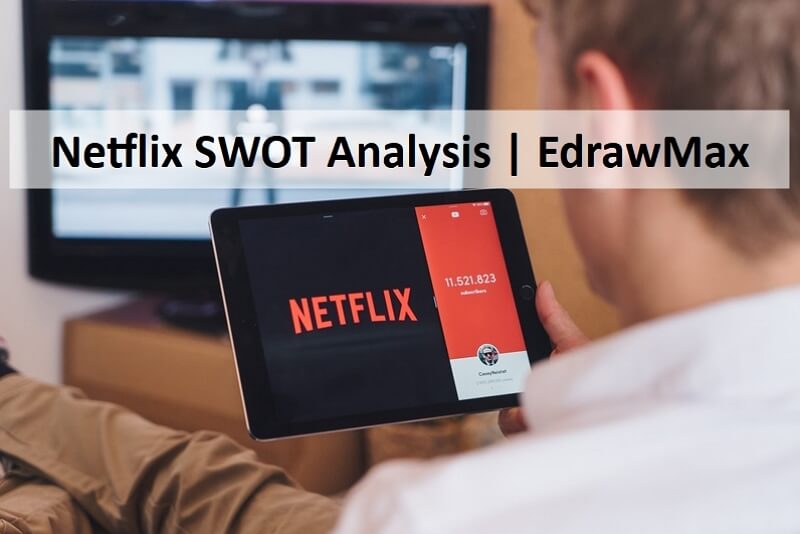 1. Background of Netflix
1.1. Overall Overview of Netflix
| | |
| --- | --- |
| Company's Name | Netflix, Inc. |
| Company's Former Names | Kibble |
| CEO | Reed Hastings, Ted Sarandos (co-CEO) |
| Company Type | Public |
| Year Founded | 1997 |
| Number of Employees | 8600 (2019) |
| Annual Revenue | US$ 20.15 billion |
| Founder | Reed Hastings, Marc Randolph |
| Area Served | Worldwide (excluding North Korea, Mainland China, Syria, Crimea) |
| Headquarters | Los Gatos, California, US |
| Operating Income | US$ 2.604 billion (2019) |
1.2. Introduction to Netflix
For the Netflix SWOT analysis, having a basic introduction to the company is essential. As one of the top-rated streaming service providers, Netflix exceeds the count of 193 million paid customers. It is currently available in more than 190 countries and is deemed one of the most successful streaming platforms globally. It offers the customers a streaming service to enjoy films, documentaries, and original series without commercials.
1.3. Milestones/ Development Timeline of Netflix
| | |
| --- | --- |
| 1997 | Foundation of Netflix in Scott Valley, California |
| 1998 | Netflix launches its first website with 925 titles |
| 1999 | Netflix launches monthly subscription |
| 2002 | Netflix went public |
| 2003 | Netflix reaches 1 million subscribers |
| 2008 | Netflix expands streaming service to the international market, First Canada |
| 2011 | Netflix streaming service in Brazil, Argentina, Uruguay, Paraguay, Peru, Ecuador, Mexico, Central America |
| 2012 | Netflix available in Europe, UK, Ireland |
| 2013 | Streaming of House of Cards, the First Netflix original |
| 2015 | Netflix in Japan |
| 2016 | Partnership with Unison,Netflix introduces the offline playback feature |
2. SWOT Analysis of Netflix
Netflix SWOT analysis discusses Netflix's strengths and weaknesses, figuring out its future expansion strategies, considering the current market's opportunities and threats. As one of the world's top streaming companies, it has several strengths. The company can use the opportunities to negate market threats on the business to continue its growth.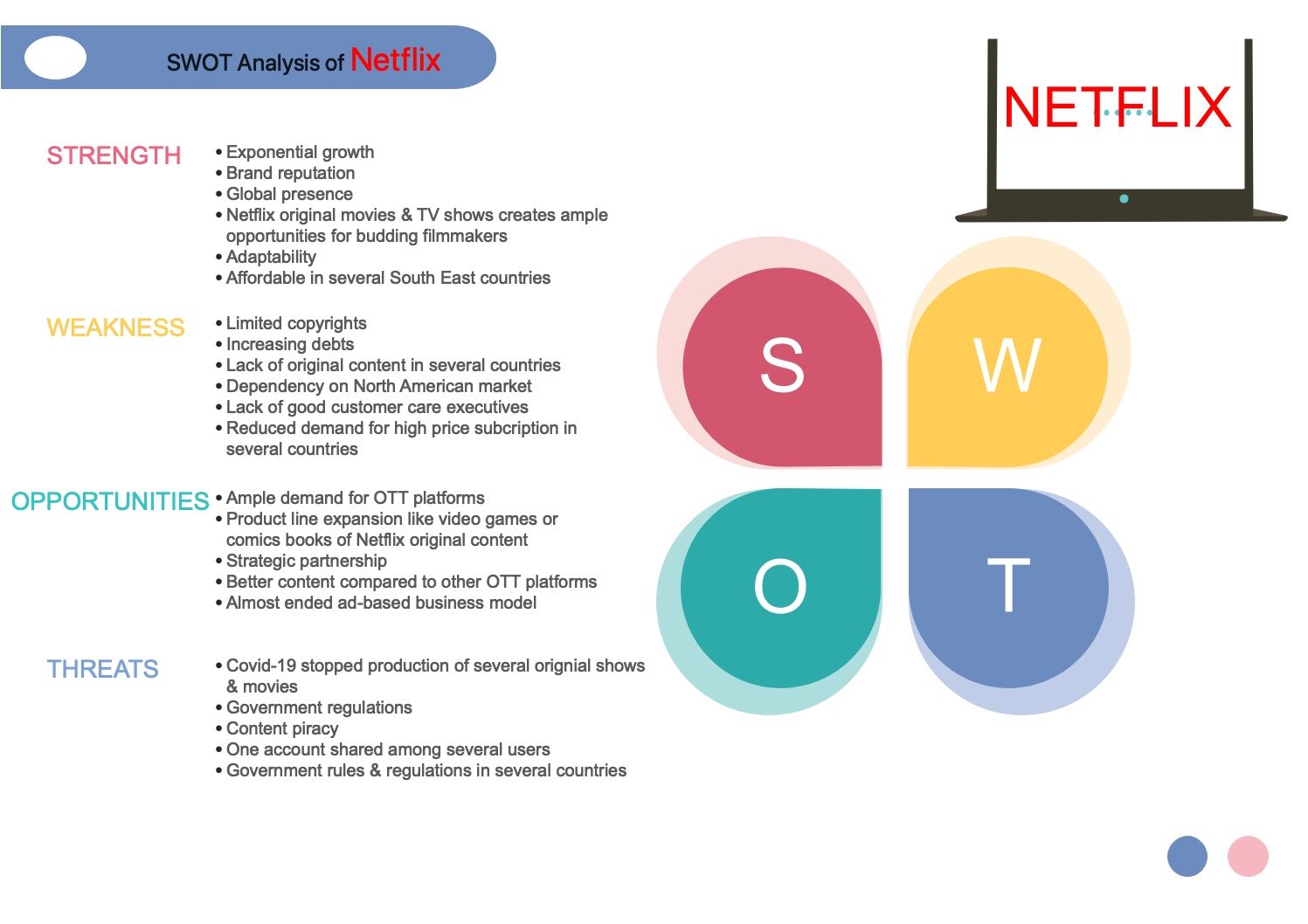 Source:EdrawMax
2.1. SWOT analysis of Netflix in detail
Strength:
As an essential component of SWOT, a company's strength is its asset to plan its expansion. Netflix has several strengths that make them one of the top streaming services:
Netflix has a strong brand reputation and has become a household name by substituting some top-rated television programs. The company has also shown exponential growth in recent years.
Netflix has a global presence and is affordable to many Southeast Asian countries. It has given them an advantage in the continually changing market scenario.
Netflix's original movies and TV shows offer ample opportunities to budding filmmakers. The audience enjoys the mode of the content presented by the platform as their original content.
The company has high adaptability. Netflix continually modifies its service, based on the market and the viewers' choice. It is the reason Netflix is currently high on demand.
Weakness:
Most companies have several weaknesses alongside their strengths. The companies may take strategies based to work on their weaknesses. Though Netflix is one of the top companies, there is a particular weakness that is working as a hindrance to its growth:
Netflix has limited copyright, which tolls upon their revenue. The debts of the company are also increasing.
There is a lack of original content in several countries. Therefore they have less demand for high price subscriptions in some countries.
The company mostly depends on its North American customer base.
Netflix lacks sound customer care executives, which harms customer service, leading to decreased customer satisfaction.
Opportunities:
The market is continually changing with increased demands, which helps any company aspiring for substantial growth. The need for OTT platforms is also rising, which is a good sign for Netflix. So, some of the significant opportunities that the firm can grasp from the current market are:
As Netflix has a brand reputation, the great demand for OTT platforms in the current market can allow the brand to expand.
Since Netflix is signing up for exclusive Netflix-only content, they can bring in other product lines, including video games, comic books, and more.
Netflix is already a global presence. They can strengthen their subscriber base by a strategic partnership with local markets that will help them to capture the local market.
The company can choose to work on new concepts that are better than other OTT platforms. Netflix has already said no to the traditional advertising-based business model, which is an opportunity for them to provide good customer service.
Threats:
For all the companies in the market, there are specific threats. The market has several OTT services, and the customers may choose based on their parameters. Therefore, excelling in almost all the possible parameters can be a solution to retain the position as the best. Even in that case, the companies may have to face the threats posed in the way of their expansion. As one of the biggest OTT companies, Netflix is not an exception. So, the threats and risks that Netflix is exposed to are:
COVID-19 has affected the reproduction of new original shows and movies. Like most parts of the entertainment industry, Netflix is also affected by the pandemic. Gradually with normalization, the condition will improve.
The government regulations in certain countries can hold them from expansion.
Netflix is suffering majorly from content piracy. Many people choose to watch the pirated version of the original series available without paying, threatening the company.
Another reason for fewer customers for Netflix is that many people share one account simultaneously.
EdrawMax Online
Create 280+ types of diagrams online
Access diagrams anywhere, anytime
Everything in desktop + Templates Community
Team management and collaboration
Personal Cloud and Dropbox Integration
3. Key Takeways
Netflix SWOT analysis reveals that there are specific weaknesses of the company. The company can bring in new policies to strengthen their weak areas. At the same time, they can consider the opportunities supported by their strengths to ensure growth. Based on Netflix SWOT analysis, here are some recommendations for the brand:
Netflix can bring in other content as a part of their original or exclusive content, including comics, small series, stand-up comedy pieces, anime, and more.
The firm can also try to recover its position in the local market by joining hands with local associates. The company can also make space for unique content for communities that will appeal to them.
Netflix needs to take decisive steps against piracy. They can use technology to stop the stealing of their copyrighted content.
Use EdrawMax to create a SWOT analysis diagram, or create any other diagram with ease! There are massive SWOT templates and symbols to choose from, and creating a SWOT analysis diagram could be really simple.