Apple PESTEL Analysis
Detailed PESTEL Analysis of Apple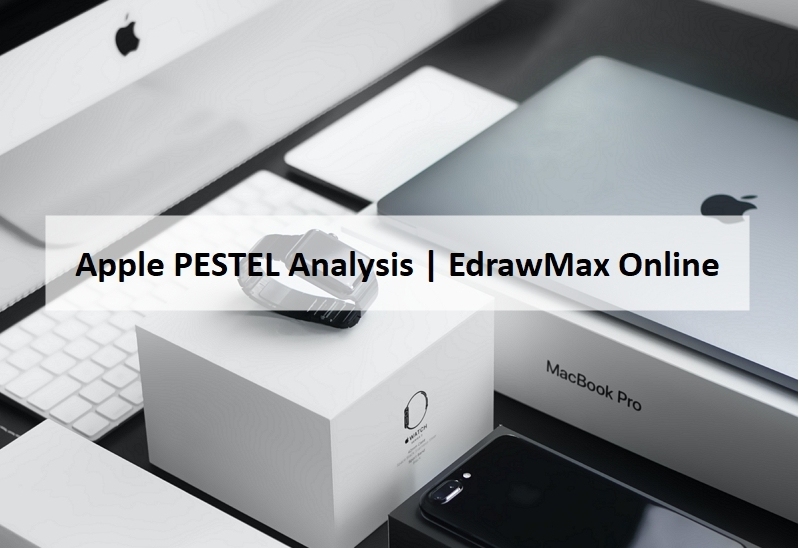 1. Introduction
PESTEL analysis is also known as PEST analysis. It stands for Political, Economic, Social, Technological, Environmental, and Legal factors that influence a business. It is a work plan developed for advancing a business in the professional field. The strengths and weaknesses of a business organization are measured with the help of this type of analysis strategy. PESTEL analysis also maps the unexplored opportunities and threats to an organization.
With the help of the framework provided by the analysis system, it is easy to acquire an overall view of the different aspects of a company. This form of planning is significant for business organizations to map their performance and improve it in the future. The macro-remote environment is beneficial in mapping the risks, and so it becomes a vital factor for monitoring a company's growth.
2. Background of Apple
Apple is a famous electronic brand established by Steve Jobs, Steve Wozniak, and Ronald Wayne in 1976. The good revenue and high ROI attracted investors for a long time. Apple Inc. designs a variety of electronic gadgets that includes android phones, music players, and more. The business model of Apple is primarily based on developing proprietary software. It has a full-fledged operating system for Apple devices. Apple has made a mark in information services by becoming the biggest retailer of music online that also includes video streaming.
Apple PESTEL analysis aids the company in dealing with the rising competition in the market. The various factors that PESTEL analysis includes are- Political, Ecological, Social, Technological, Economical and Legal.
2.1 Basic Information of Apple
Company Name

Apple Inc.

CEO

Tim Cook (since 2011)

Company Type

Multinational technology company

Year Founded

1976

Number of Employees

147,000 (2020)

Annual Revenue

US$274.515 billion (2020)

Founder

Steve Jobs, Steve Wozniak, and Ronald Wayne

Area Served

Worldwide

Headquarters

1 Apple Park Way
Cupertino, California, U.S

Operating Income

US$66.288 billion(2020)
3. Apple PESTEL Analysis
Political Factors:
Government policies are a vital factor that affects the expansion of a business organization in a state/country. The regulations imposed by the government include tax, labor laws, anti-corruption laws, foreign trade policy, and more. These aspects form the core of the political part of PESTEL analysis.
It charts the role and rules of the government concerning the scope of business in the country/state.
Apple Computers figures at $195.57 billion concerning cash balance. In the USA, the highly publicized cash balance has led to questions over corporate tax legislation. The pandemic has already worsened income inequality.
Apple outsources manufacturing to China, and the conflict ensuing between the USA and China has imposed restrictions on imports for renewing the US manufacturing business.
Ecological Factors:
The economic factor is immensely vital as it deals with the overall revenue of the organization. To acquire a comprehensive picture of the economic factor, one should consider several aspects. It includes employment rate, production cost, cost of raw materials interest rate, and more. This factor provides the business owners with a clear concept of the purchasing ability of the customers. The business owners can therefore plan their selling strategies accordingly to ensure a good profit margin.
The demand for higher wages among the Chinese workers can affect the production cost of Apple gadgets that will harm the cost advantage.
Social Factors:
The socio-cultural factor helps in understanding consumer inclinations. This factor is essential for gauging the demand for a particular product in the given niche. The vital aspects considered under this pointer include heritage and culture, population density, and level of education.
Consumers have gladly accepted the use of smartphones. Hence, one can deduce that once a person starts using a smartphone.
It will be replaced or renewed after one or two years. But social status is no longer an effective force for upgrading mobile devices as consumers are looking for cost-effective and functional solutions. Hence, Apple needs to diversify as they cannot earn from just smartphones.
Technological Factors:
The advancement in information technology and the latest innovations influence the market a lot. Hence, it is an essential factor in the PESTEL analysis.
Apple has to compete against formidable competitors Google, Samsung because they produce advanced products like gadgets and smartphones for consumer use. Often Apple's signature products. Hence, further innovation is required to develop truly unique services.
Currently, the firm is providing pricey accessories to its consumers. Now, this does not match with high-end innovation.
Economic Factors:
The ecological aspect of PESTEL reviews the potential of the organization and its chances of growth and survival in a particular environment. Problems such as pollution and climate change are addressed adequately through the environmental factor of PESTEL analysis.
Apple can face environmental challenges. The disposal of Apple devices after it is no longer of any use is the most pressing problem.
Industrial emissions from manufacturing outlets in China are another issue because China is implementing stricter emission laws.
Legal Factors:
Legal factors are the rules and regulations stipulated by the Court of Law. Business organizations have to adhere to the industry regulations, safe working environment for the employees, consumer law, and more to avoid legal violations.
Apple's entry into the financial services industry is a lucrative choice. However, it is also a regulated field. Apple is also planning to expand its business by opening automobile manufacturing units.
These business arenas entail insurance and compliance expenses for Apple. To combat intellectual property theft to safeguard the range of products, the company also needs to bear the litigation expenses.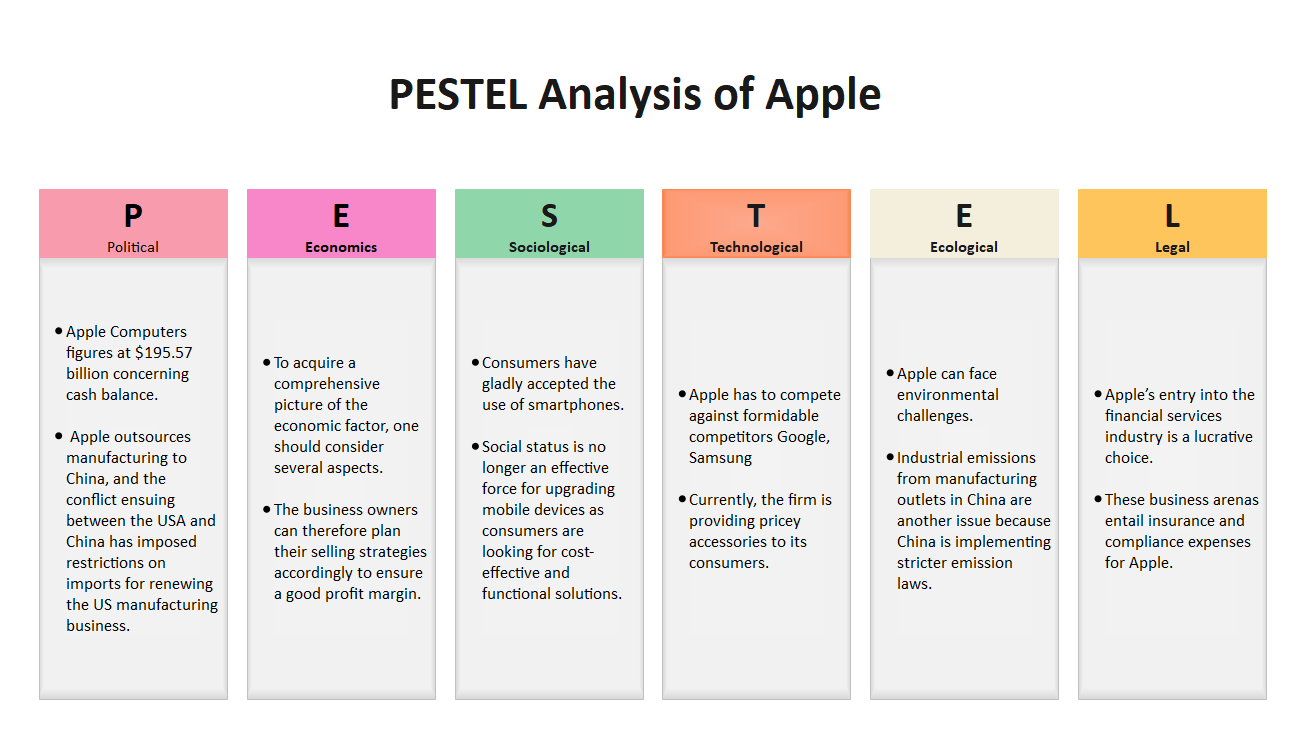 Source:EdrawMax Online
4. Key Takeaways
It is prudent to conduct a half-yearly PESTEL analysis, to maintain an advantageous position in the business field. The company must monitor those strategies employed to elevate the company's status and improve its customer solutions. It is possible with the help of PESTEL analysis. With the help of PESTEL analysis, the company can point out the problems by scrutinizing the macro-environmental aspects.
Apple PESTEL analysis reveals the key issues that can potentially hinder the company's progress in the future. It also enlists the factors that can help them in achieving their goals and broadening their scope.
Use EdrawMax Online to create a PESTEL analysis diagram, or create any other diagram with ease! There are massive PESTEL templates and symbols to choose from, and creating a PESTEL analysis diagram could be really simple. Also, you can find substantial PESTEL templates in our template community to have a quick start. If you want to know more about how to make a PESTEL analysis diagram in EdrawMax Online, just check this PESTEL guide, it may help you to create diagrams without efforts.
5. References
Contributor, P., 2021. 'Apple Inc. PESTLE Analysis', PESTLE Analysis, [online]. Available at: https://pestleanalysis.com/apple-pestle-analysis/ (Accessed 21 June 2021).

Cuofano, V., 2021. 'Apple PESTEL Analysis - FourWeekMBA' FourWeekMBA [online]. Available at: https://fourweekmba.com/apple-pestel-analysis/ (Accessed 21 June 2021).

En.wikipedia.org.2021. 'Apple Inc. - Wikipedia.' PESTLE Analysis [online]. Available at: https://en.wikipedia.org/wiki/Apple_Inc (Accessed 21 June 2021).