Starbucks SWOT Analysis
An In-Depth SWOT Analysis of Starbucks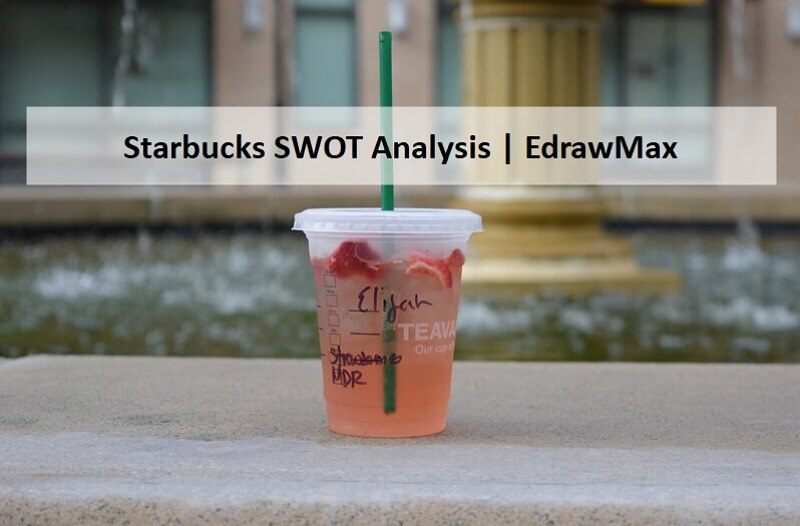 1.Background of Starbucks
1.1. Overall Overview of Starbucks
| | |
| --- | --- |
| Company's Name | Starbucks Corporation |
| Company's Former Names | II Giornale Coffee Outlets |
| CEO | Kevin Johnson |
| Company Type | Public |
| Year Founded | 1971 |
| Number of Employees | 346,000 (2019) (approximately) |
| Annual Revenue | US$ 26.50 Billion (2019) |
| Founder | Jerry Baldwin, Zev Seigl, Gordon Bowker |
| Area Served | Worldwide |
| Headquarters | 2401 Utah Avenue South, Seattle, Washington |
| Operating Income | US$ 4.07 Billion (2019) |
1.2. Introduction to Starbucks
For the Starbucks SWOT analysis, it is essential to know about the company's history and its future planning. Starbucks Corporation, the American multinational coffeehouse chain, is the primary representative of the United States' second wave of Coffee culture. Starbucks, the world's largest coffeehouse chain, is headquartered in Seattle, Washington. They are present in more than 31,000 locations and serves beverages and baked goods.
1.3. Milestones/ Development Timeline of Starbucks
| | |
| --- | --- |
| 1971 | Very first Starbucks opened in Seattle, Washington |
| 1982 | Howard Schultz joins as the director of retail operations and marketing |
| 1984 | Very first Starbucks Caffe Latte got served |
| 1985 | Schultz found Store II Giornale to sell coffee and Espresso |
| 1987 | Starbucks, owned by Howard Schultz |
| 1991 | Starbucks was the first privately owned company to offer a stock option program that included part-time employees |
| 1992 | Starbucks has 140 outlets with revenue of US$ 73.5 Million |
| 1994 | Starbucks opens the first drive-thru location |
| 1996 | Starbucks opens first store outside North America, in Japan |
| 1999 | Starbucks acquires Tazo Tea and Hear Music |
| 2001 | Starbucks introduces Starbucks card |
| 2003 | Starbucks acquires Seattle Coffee Trading Company |
| 2004 | Starbucks acquires Ethos Water, opens first Farmer Support Centre |
| 2008 | Starbucks acquired Coffee Equipment Company and its Clove Brewing System |
| 2009 | Starbucks introduces the online payment method |
| 2013 | Starbucks opens 1000th stores in China and Japan |
| 2014 | Starbucks in 64 countries, including Brunei and Columbia |
| 2015 | Starbucks launches Cold Brew Iced Coffee and Evolution of Smoothies. |
2. SWOT Analysis of Starbucks
Starbucks SWOT analysis can find out the strategies that can help the company to strengthen its position and increase revenue. The company can develop its actions by considering opportunities. At the same time, the company can look for business diversification to earn long term stability in the market.
2.1.SWOT analysis of Starbucks in detail
Strength:
Identifying strength is a must for the companies as it gives them an idea about the reasons behind their current progress. A company can also ensure progress to some extent using their already existing strengths. For one of a famous brand like Starbucks, they must have several strengths that have established them as one of the favorite brands:
Starbucks Corporation is the most popular and strongest brands in the food and beverage industry. They have successfully created a brand awareness in people, which helps them to increase sales.
Starbucks has a brand value of US$ 11.7 billion as per the 2019 Interbrand ranking report. They have also secured a loyal customer base that contributes to their ranking.
They have strong financial performance; therefore, it is easy for them to get new investors to expand their business. They can also afford to introduce experimental products for their financial stability.
Starbucks has an extensive international supply chain, which has increased its sellability.
Weakness:
The brands need to be aware of their weaknesses to try to negate them. The companies need to set proper strategies to eradicate their weaknesses that will affect their long-term goals. Multi-Millionaire companies like Starbucks can efficiently work on their opposing sides just by changing some of their strategies:
Starbucks' food products are costlier than McDonald's and other similar brands. It is the reason they may fail to capture the customers who are willing to visit the shop regularly. Simultaneously, there is a problem with the procurement department, which is a significant drawback for them.
Starbucks does not offer any unique products. Their product range is similar to regular coffee joints. The lack of experiments in the food menu is the biggest weakness for the company.
Though Starbucks has outlets in several countries, there isn't any product alignment with the countries' culture and food habits. They have their traditional American menu in most of the states.
The controversies and criticism that they faced in the UK have severely affected their brand reputation.
Opportunities:
The most crucial factor is to take complete advantage of the opportunities to ensure the firm's overall growth and development. Several popular coffee supply chains are gradually gaining popularity. Therefore, to survive in the current competitive market, Starbucks need to look for the opportunities they have:
Though Starbucks is present in India, China, and a few Africa regions, more places are left to explore. The company can open outlets in different locations in these countries, which will increase its sale.
For growth, Starbucks must-try business diversification and product specifications. They need to include unique products to their menu. The company has financial stability, which allows them to work on innovative ideas.
Starbucks has the opportunity to partner. To penetrate different countries' markets, they can join hands with other associates who may offer a country-specific menu range. They will also be able to introduce new products and holiday-specific favors that will attract more customers.
Starbucks needs to work on its supplier network in the Asian market. The Asian market can provide the brand with more opportunities to grow.
Threats:
Companies need to carefully consider their position in the market to identify potential threats. In the current competitive scenario, there are specific threats that can affect reputed companies like Starbucks. The companies need to make clear strategies to cushion the threats:
The company is facing competition with low-cost coffee sellers. Customers who are regular visitors or uninterested in brand names quickly get drawn towards these small businesses.
The independent coffeehouse movement is also affecting the business of the company affecting their sales.
Starbucks had to close 2000 stores in China due to the Coronavirus outbreak. In several other countries, they suffered a loss during the lockdown period. It has affected their business significantly.
The rising cost of coffee beans and other dairy products are becoming a threat to companies like Starbucks. They are also facing trouble for disrupting the supply chain due to the pandemic and lack of coordination.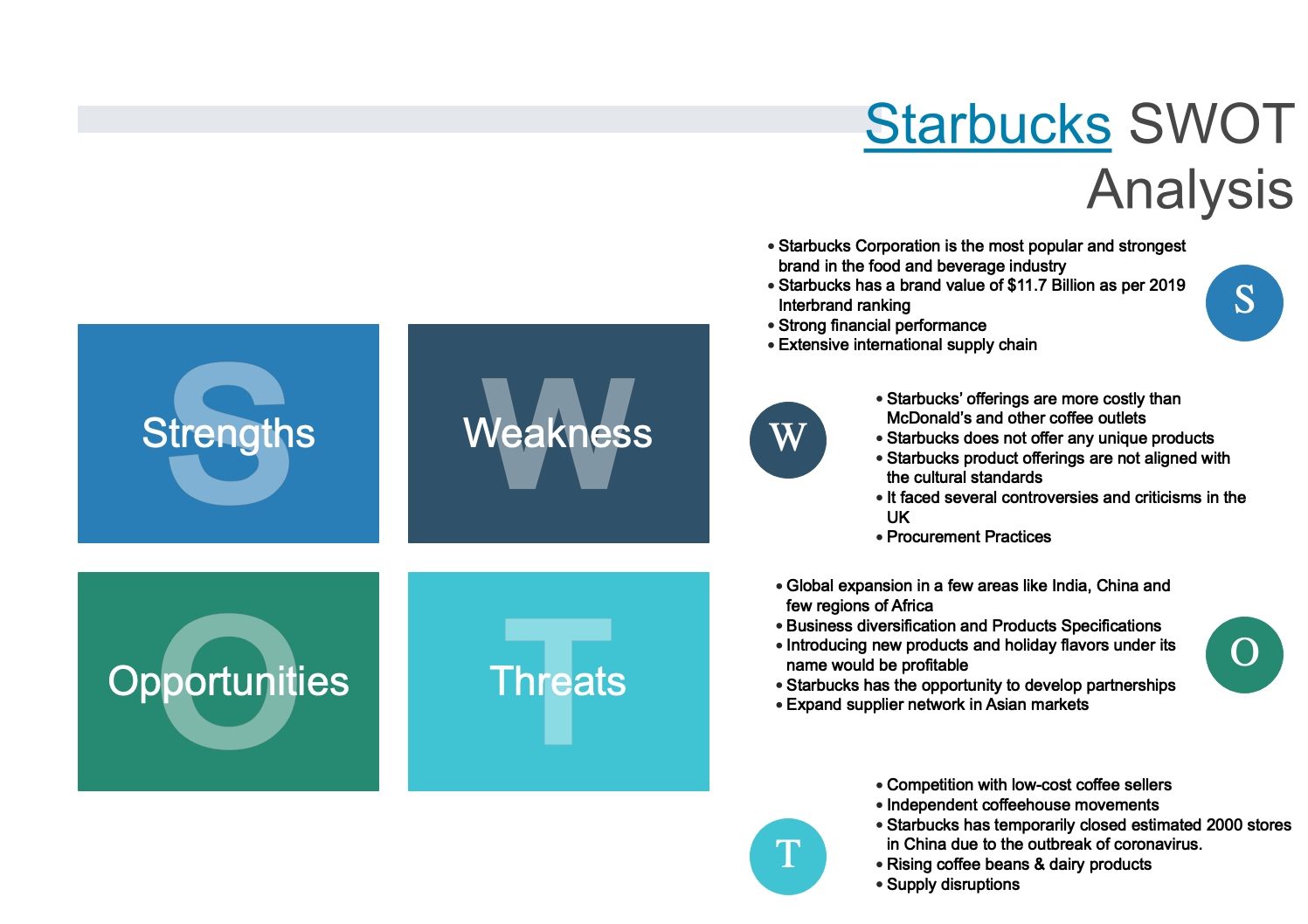 Source:EdrawMax
3. Key Takeaways
Starbucks SWOT analysis shows that the company has ample scope to expand. Though the company is one of the reputed companies, they need to take specific steps to grow their business. Here are some recommendations for the company-
Starbucks needs to target the Asian and African countries as a part of its global expansion.
The company needs to bring variations in its product range. They should consider the food habits and culture of the countries and offer country-specific food and beverage ranges.
Starbucks can also include a set of comparatively less pricey products that will attract more customers who visit shops regularly for breakfast.
Use EdrawMax to create a SWOT analysis diagram, or create any other diagram with ease! There are massive SWOT templates and symbols to choose from, and creating a SWOT analysis diagram could be really simple.