McDonald's SWOT Analysis
An In-Depth SWOT Analysis of McDonald's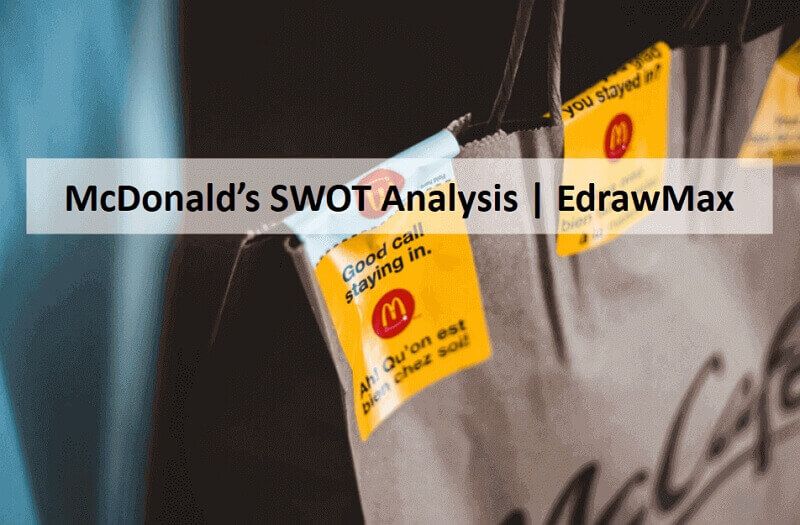 1. Background of McDonald's
1.1. Overall Overview of McDonald's
Company's Name

McDonald's Corporation

CEO

Chris Kempczinski

Company Type

Public

Year Founded

1940

Number of Employees

205,000 (2019) (approximately)

Annual Revenue

US$ 21.076 billion (2019)

Founder

Richard and Maurice McDonald (restaurant)
Ray Kroc (Founder of McDonald's Corporation)

Area Served

Worldwide

Headquarters

Chicago, Illinois, US

Operating Income

US$ 9.070 B (2019)
1.2. Introduction to McDonald's
For McDonald's SWOT Analysis, it is a must to know about the company. McDonald's Corporation, the American fast-food company, is currently the world's largest fast-food restaurant chain. They started as a hamburger joint, and now they have more than 38,000 restaurants all over the world. Headquartered in Chicago, the brand is presently serving 69 million daily customers through their outlets in more than 100 countries.
1.3. Milestones/ Development Timeline of McDonald's
| | |
| --- | --- |
| 1940 | Dick and Mac McDonald opened McDonald's Bar-B-Q restaurant |
| 1948 | The restaurant reopens as a self-service Drive-in Restaurant |
| 1955 | Kroc opens his first McDonald's in Des Plaines, Illinois |
| 1961 | Hamburger University opened in the basement of McDonald's restaurant. |
| 1974 | First Ronald McDonald House opens in Philadelphia |
| 1990 | First McDonalds in Moscow |
| 1993 | The World's first McCafe opened in Melbourne |
| 2002 | McDonald's published its first-ever Social Responsibility report |
| 2003 | McDonald's first global ad campaign |
| 2017 | Global McDelivery Day is celebrated on 26th July to support the Global launch of McDelivery with UberEats. |
2. SWOT Analysis of McDonald's
McDonald's SWOT analysis can show the strengths and weaknesses of the company. The McDonald SWOT Analysis will also discuss how the company uses its strengths as an opportunity to retain its position as the most prominent brand while cushioning the threats with strategic planning.
2.1. SWOT analysis of McDonald's in detail
Strength:
For any company, the very first step to success is assessing their performance. Considering the vital areas that have made their company have a good position in the market is crucial to ensure growth. McDonald's, as one of the most popular fast food joints, has several strengths that have helped them in becoming one of the fastest-growing food chains:
McDonald's is one of the most valuable brands in the entire world. Their brand value is very high, and they also have one of the most recognized logos. They are also taking the help of revolutionary technology to improve their products and service.
McDonald's is also a multi-billion real estate empire, and hence they have a strong financial backup.
Often the customers mention McDonald's French fries as one of the tastiest fries in the fast-food world. Similarly, their other fast foods are comparatively better in taste than most other food joints. It attracts many customers.
McDonald's acquisition of 'Dynamic Yield' has ensured their progress towards more personalized marketing and customizations.
Weakness:
Besides its strengths, it is also crucial for a company to know its weakness. Once they identify the reasons affecting their growth, they can take the necessary steps to negate their impact. Though McDonald's is one of the strongest brands, it has some weaknesses that tolls upon its performance –
The Franchise business model is a significant weakness of this company. It may show a greater impact with the passing time. The interruption in supply-chain business models can also affect the growth of the company.
Though the company has more than 200 thousand employees, they fail to provide employee satisfaction. It may affect their efficiency and hence end up further affecting the service of the food chain.
McDonald's breakfast menu has lost its charm over the years. The lack of variation and innovation can be the reason behind that.
The continuous negative publicity has also impacted their growth to some extent. Once there is negative publicity, the company should try to come out clean after that.
Opportunities:
The company's performance assessment shows how they can use the available opportunities in their favor. The company can concentrate on the ones that align with their strengths. As a top-rated brand, McDonald's has several strengths which allow them to use many of the opportunities to ensure their growth –
McDonald's has launched its "$1, $2, $3" menu and "2 for $5 Mix and match deal" as it attracts many customers because of its affordability. The customers who continuously prefer regular meals can choose these menus.
McDonald's is present in selective locations in Asian countries. They can look for further expansion by having more restaurants in Asian countries by launching menus and items based on the locales' geographic conditions and taste-preference.
McDonald's can start working to rebuild its brand image. The company needs to look for some powerful ways that can negate the effects of negative publicity, and at the same time, they can try to offer employee satisfaction.
McDonald's has initiated a partnership with UberEats. Many people who cannot visit the location can order the food from home and get a good service offered by UberEats.
Threats:
The countries' economic conditions are changing with time, impacting the market scenario. If a company wants to aim for an uninterrupted expansion, then they must look for the ways they can cushion the threats –
McDonald's risky investments in technological initiatives may severely affect their growth in the future.
The competitive market can be a genuine threat to the company. The other reputed brands like Burger-King can be significant threats to McDonald's.
McDonald's is often considered an old-school, and this can have a substantial impact on their business. When competitors try to adapt to changing food habits, the company can lag because of not pushing for changes. They are also facing cultural threats while operating in different countries.
McDonald's is facing immense pressure to improve its practice to minimize waste production. It creates a negative impression of the company.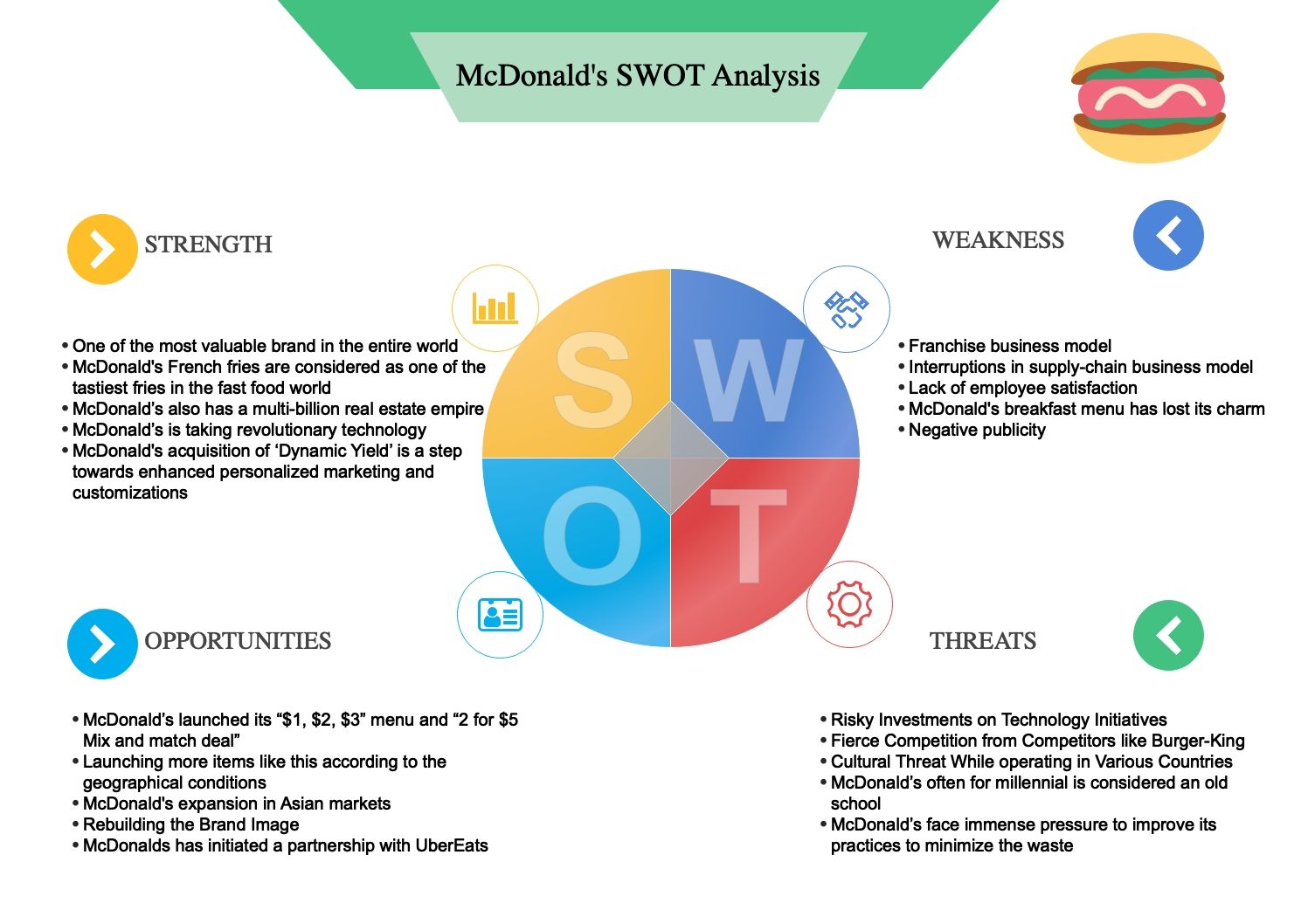 Source:EdrawMax
3. Key Takeaways
McDonald's SWOT analysis shows that though the company is one of the most valuable brands, it still has to make vast improvements that will lead to its growth and development. The changing market scenario can affect their sale if they do not look for opportunities to grow. McDonald's SWOT analysis hints that there are specific ways they can use:
Ensuring employee satisfaction can be the first step the food chain can take. It will create high brand recognition and improve the brand image in turn. Moreover, it will also indirectly help the company to have more efficient and experienced employees who can provide the best service.
McDonald's needs to work on their menus. They need to bring in new and unique foods while keeping the classic ones by the side. It will attract more customers. For different countries, they can try to provide menus that go with the taste of the locales.
The company needs to take specific steps to decrease its wastage. The demand to do so has already created immense pressure on them. Improving the aspect can improve their impression in the customers' minds.
Use EdrawMax to create a SWOT analysis diagram, or create any other diagram with ease! There are massive SWOT templates and symbols to choose from, and creating a SWOT analysis diagram could be really simple.