Chipotle SWOT Analysis
An In-Depth SWOT Analysis of Chipotle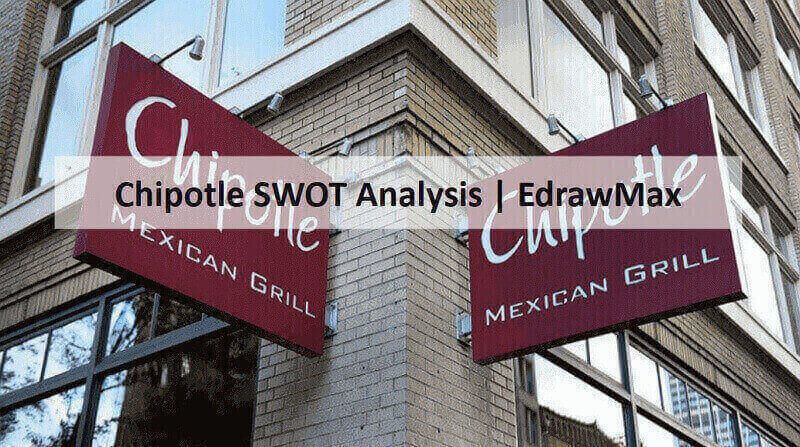 1. Background of Chipotle
1.1. Overall Overview of Chipotle
| | |
| --- | --- |
| Company's Name | Chipotle Mexican Grill, Inc. |
| CEO | Brian Niccol |
| Company Type | Public |
| Year Founded | 1993 |
| Number of Employees | 64,570 (2017) (approximately) |
| Annual Revenue | US$ 5.586 billion (2019) |
| Founder | Steve Ells |
| Area Served | Worldwide |
| Headquarters | Newport Beach, California, US |
| Operating Income | US$ 443.958 M (2019) |
1.2. Introduction to Chipotle
For Chipotle SWOT Analysis, here is an introduction to the company. Chipotle Mexican Grill, Inc. is one of the most popular American fast-food restaurant chains. They are famous for their tacos and Mission burritos. The company has headquarters in California and is currently available in more than 2500 locations.
1.3. Milestones/ Development Timeline of Chipotle
| | |
| --- | --- |
| 1993 | The beginning of Chipotle Mexican Grill |
| 1998 | Chipotle becomes a chain of sixteen restaurants |
| 2006 | Chipotle goes public |
| 2008 | Toronto gets its first Chipotle. The international journey of Chipotle starts |
| 2010 | Chipotle opens in the United Kingdom |
| 2011 | Chipotle launches Chipotle Cultivate Foundation |
| 2011 | Chipotle launches ShopHouse Southeast Asian Kitchen in Washington, DC |
| 2012 | Chipotle opens in France |
| 2013 | Chipotle opens in Germany |
| 2017 | Chipotle remodels their original location where Ells opened the restaurant |
2. SWOT Analysis of Chipotle
Chipotle SWOT Analysis can show how a well-established company uses its opportunities to ensure its growth. It can show how the company takes advantage of its strengths to use the opportunities while working on their weaknesses. Chipotle SWOT Analysis will also reveal their expansion plans.
2.1. SWOT analysis of Chipotle in detail
Strength:
Identifying the strengths is crucial for any company helps them to identify the root cause of their success. The company can also give stress to their strengths while working on their weaknesses as it will ensure their productivity. Chipotle, as a strong restaurant chain, has many strengths that have helped them to secure the position of one of the bests –
The food offered by Chipotle is delicious. Their food quality is also excellent. Many customers get attracted to their tasty and good quality food.
The company prefers traditional ways of making food, which is superior to the batch production of food. Many restaurants prefer batch production to save time. The classic production methods help Chipotle to offer tasty food.
The company arranges for reasonably-sourced meat. It helps them to sell their good quality food at an affordable price.
Chipotle has a brilliant relationship with suppliers and buyers. Their coordination keeps the supply chain running efficiently.
Weakness:
Any company can improve its sales is directly by improving its weaknesses; Chipotle is no exception. They need to plan so that they can remove their weaknesses strategically. Chipotle can also remove their imperfections by working on them –
The company is dependent on their limited number of suppliers. It is a weakness as if any problem these suppliers face will have impacts on Chipotle's business.
Sodium content in the food is very high, which can be bad for the people who have health issues or are allergic.
Chipotle has limited food items compared to other known brands. This lack of variation is a huge problem for the company.
They mainly sell brand specific source food. It can affect their sales as many customers prefer variation. Lack of innovative food and variety is a significant weakness of Chipotle.
Opportunities:
A company can use its strengths to determine the opportunities they can work on to succeed. They can also improve their weaknesses and find out the suitable options they can use for their growth. Chipotle, as a well-known and an established restaurant, can use several opportunities, some of them are:
Chipotle can go for asset leverages that will help them to invest in having innovative products. They can also invest in technology as the rise in digital order can earn them good money.
The emerging-market will allow them to expand their business in other countries, including Asian countries. The Asian market is enormous, and the company can bring in a new menu that will include both the local cuisine and Chipotle's traditional dishes. It will help them to attract more customers.
Chipotle can gain a competitive advantage over its competitors by retaining its employees, increasing their brand consciousness. The brand will also earn a reputation. It will also strengthen the workforce to offer better service.
The current popularity of drive-through shops can give Chipotle an advantage. They can add more drive-through options in the areas where there are not many shops nearby.
Threats:
Assessing the threats allows a company to prepare their strategies. They can cushion their threats so that they can work on their opportunities. Though Chipotle can use several opportunities to increase their business, several threats can hinder their growth –
They have lost customer trust due to Food-Borne Illness. Many customers may find it uncomfortable to choose Chipotle as their daily dine-in option because of this reason. Legal cases are going on against the brand, which is also adding to their negative impression.
There are sometimes disturbances in the supply chain. Since they have limited suppliers, any small disruption in the current supply chain can potentially harm their business.
The current competitive market is a severe threat to the company. The other competitor brands are continuously striving to bring in new menus, improve their service. It is the reason, though Chipotle is one of the well-known brands, they can face the impacts.
External factors like the government, politics, and laws can also affect their business. The current economic scenario and government policies may not favor the company and impact its growth.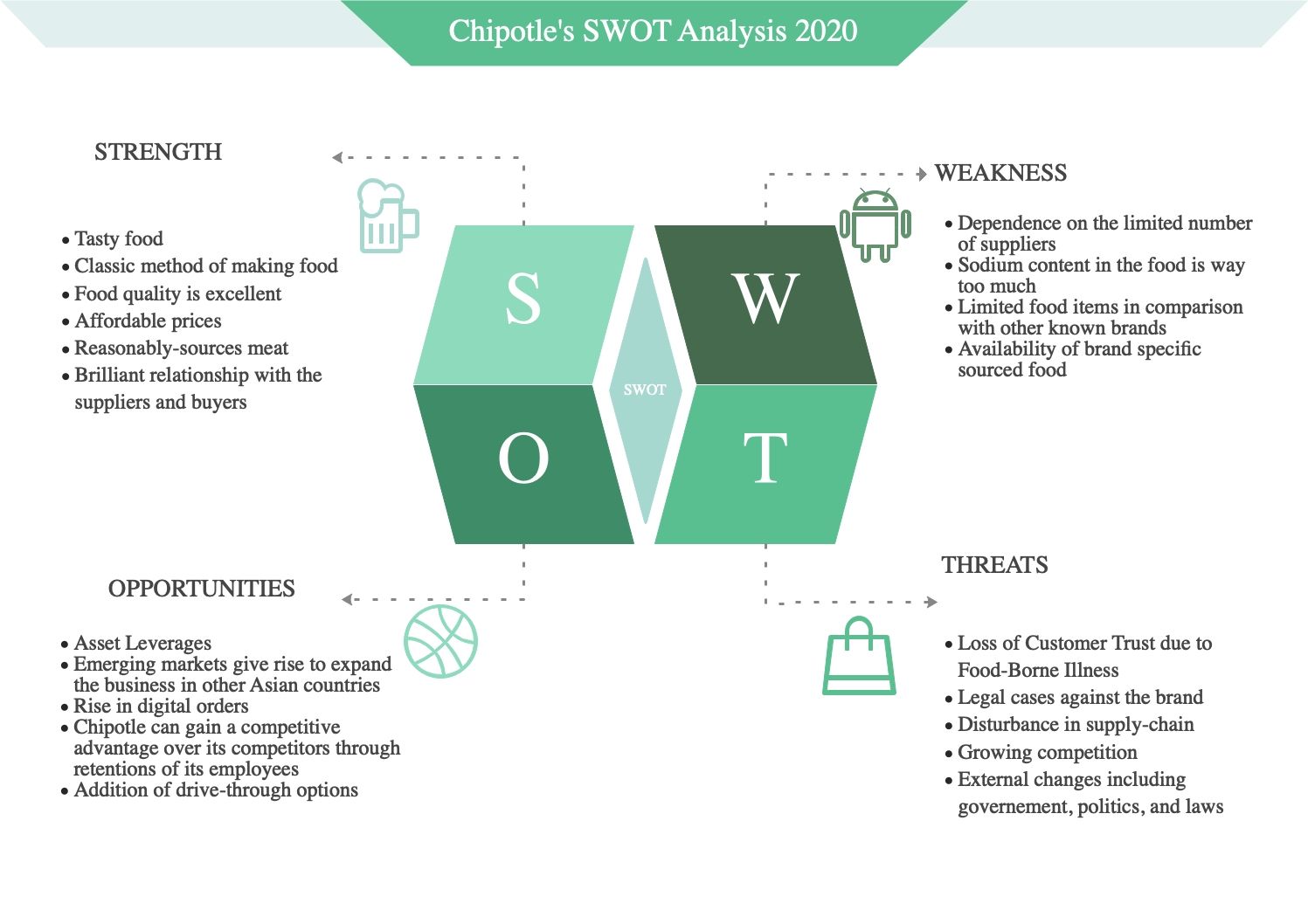 Source:EdrawMax
3. Key Takeaways
Chipotle SWOT analysis shows that the company needs to follow proper strategies to grow in the competitive market. They need to work on their weaknesses so that they can remove the threats caused by them. The Chipotle SWOT Analysis also shows that companies can try for expansion by strengthening certain other areas. They will be able to use more growth opportunities. Here are a few recommendations for the company:
Chipotle needs to verify if their food is risky for the customers and can induce Food-Borne Illnesses. If so, they need to follow the authorities' guidelines to reduce this chance of health hazards.
The company needs to bring in variations. They can launch special menus and dishes that will satisfy the local people. They can also bring variation in their old menus and can provide holiday-specific offers and menus.
The company needs to work on its online services, and they can also add more drive-through options, which will help them increase their sales.
Use EdrawMax to create a SWOT analysis diagram, or create any other diagram with ease! There are massive SWOT templates and symbols to choose from, and creating a SWOT analysis diagram could be really simple.