A Quick-Start Map Maker
An incredible versatile mapping tool helps you personalize your card for all uses!
The Magic of Maps
Online and Printable Maps Available in EdrawMax
Directional Maps
Recommened Scenario: Park/Playground

Use the map-maker to visualize geographical areas of your park or playground for visitors. Such directional maps allow people to visit the area of interest and have as much fun as possible in the shortest amount of time!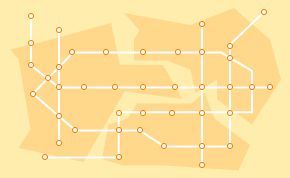 Subway Maps
Recommended Scenario: Subway

Map creators can not only make clear subway maps but also insert landmarks, popular restaurants, and government offices in different stations accordingly to make city affairs and travel more convenient!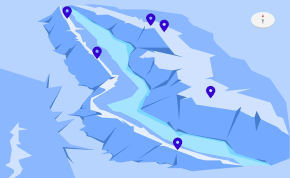 3D Maps
Recommended Scenario: Better Navigation

People would prefer to view the map obliquely, as we do with our own eyes every day, especially for those with a poor sense of direction. The less conceptual leap between a 3D map and the real-world, the quicker they find their way!
How to Create Your Custom Maps?

Step 1 Prepare
Have all your information and data ready in your draft document before you start drawing maps, such as iconic position and transfers between subway lines.

Step 2 Customize
Simple drag and drop the symbols and icons and customize them in your chosen template or a blank canvas. And insert pictures according to your needs.

Step 3 Share
Don't forget to share your completed map via email or on social media with just simple clicks. Or you can print it and hand it out on the spot.
Why EdrawMax to Create Your Maps?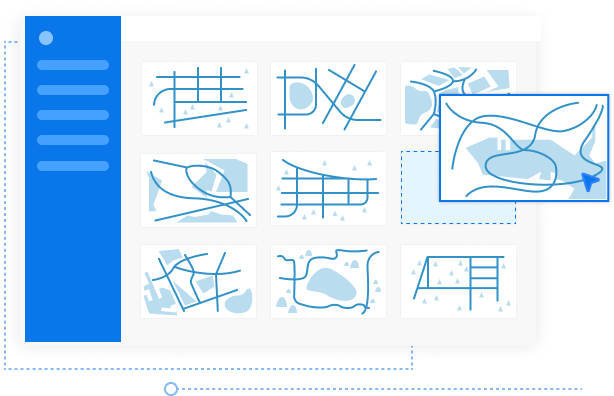 Dive into Our Template Sea
Our simplest map tool allows you to make directional maps, subway maps, or even 3D maps with multiple built-in templates to start in seconds. There is no complicated user interface and no learning curve. Everything you need to do is dragging and dropping any map elements from our 350+ symbols libraries.
Play around Our Drawing Tool
Once you select the template, keep as creative as possible to personalize everything on your map. The predefined themes, color schemes, icons, and fonts are customizable for adding excitement to your map. Although there is no Geo map template (coming soon!), the advanced functions, like automatic spacing and alignment, are enough to make a directional map.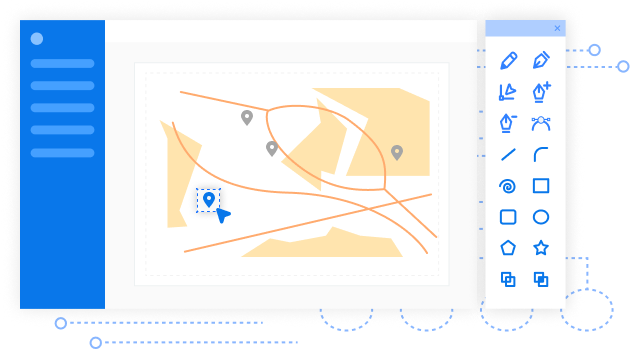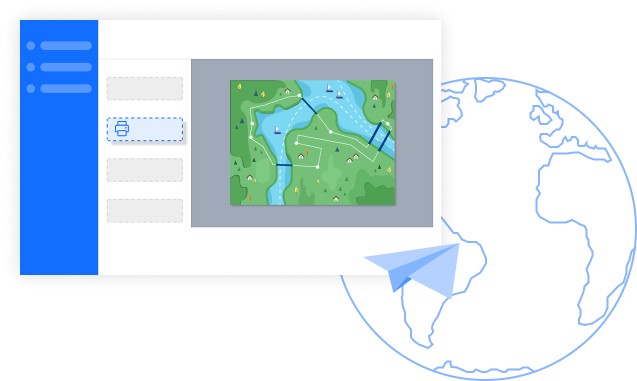 Explore Possibility with Your Map
After finishing your creation, take your map, let the adventure begin. No matter you are in tourism, government, real estate, or many more industries, we support exporting your map in PDF, PS, Office, Graphs formats, and share with your team members or partners on social media. Also, directly print it or show it by presentation mode in front of others.
Frequently Asked Questions in EdrawMax
1. How much does it cost to create a Map in EdrawMax?

You don't have to pay. You are free to create custom maps. Just make your first map in EdrawMax now, and we are confident that you will love it!

2. Can I create a Map online?

Absolutely yes! Use EdrawMax to create your maps in every scenario you can think of, online, or offline. EdrawMax will be here for you!

3. Which format should I choose to export my Maps?

EdrawMax allows you to export maps in multiple formats as your preference, including Graphics, PDF, PS, EPS, Office, HTML, SVG, Visio. Moreover, if you intend to print it, we suggest exporting it in PDF format to ensure the highest quality.

100% security guarantee! All information and file transfers are safeguarded with the highest level of SSL encryption.

5. What if I want to know more about Maps?
Reviews from Our Users

We've used EdrawMax to create a direction map for our family farm since many visitors lost their way when they came to experience countryside life. I have to say EdrawMax is the most straightforward tool to create a map in a few minutes, and, surprisingly, we can print our map directly!

I'm happy to use EdrawMax to create the 3D street map for my primary school students when I taught them how to safely cross the street. Notably, the 3D effect reflects the streets visually to help me a lot. I like EdrawMax. It makes my class funny!

Our team has been using EdrawMax to create maps for a year, and we think it is a friendly tool for creating maps and other more diagrams. Its intuitive interface and rich design libraries make diagramming easy. And hope it will add geo map templates in the future.
More Than A
Map

Maker

EdrawMax is more than a graph and chart maker, there are 280+ types of diagrams for you to create with ease!
All-in-One Diagramming Tool
EdrawMax is committed to optimizing features to satisfy your needs continually, and further build powerful all-in-one diagramming tool over the world. Just try it, you will love it!