A Quick-Start Brochure Maker
Always focuses on creating professional and impressive brochures to make your job easier!
The Magic of Brochure
Use Brochures for Both Digital and Offline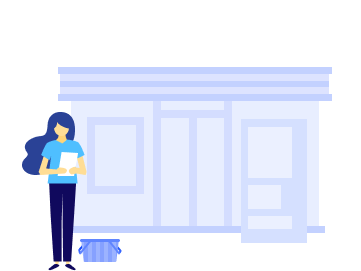 Advertise via Brochures
Recommended Scenario: Supermarket

A brochure allows you quickly and easily advertise your latest products and discounts with your customers. Remember, the sooner you let your customers to find what they want, the more popular your business will be!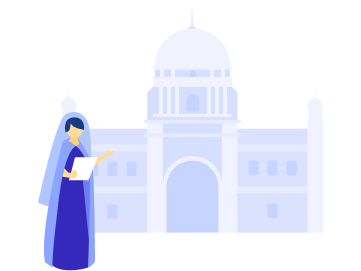 Outreach via Brochures
Recommended Scenario: Church

A brochure allows congregations and visitors learn about your church, such as your theological stance of the denomination and church programs. Not only that, the more outreach via this well-made brochure, the more visiting families will know your church is right for them!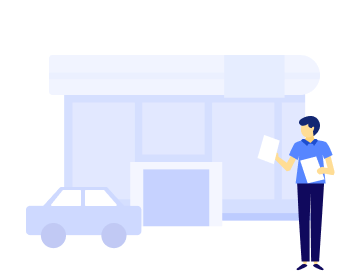 Sales via Brochures
Recommended Scenario: Car Sales

A brochure allows you showcase your most popular car model and top selling vehicle timely and comprehensively. What's more, the more frequently asked questions you answer in advance, the more you can speed up your buyers' buying process!
Start the 120s Challenge to Create Your Brochure

Step 1
Prepare all the information you want to put in your brochure.

Step 2
Open EdrawMax and select a built-in brochure template

Step 3
Copy and paste all the information - you have to be quick in this step :)

Step 4
Print or share it, and your brochure is ready!



Brochure Design Features You Can Easily Master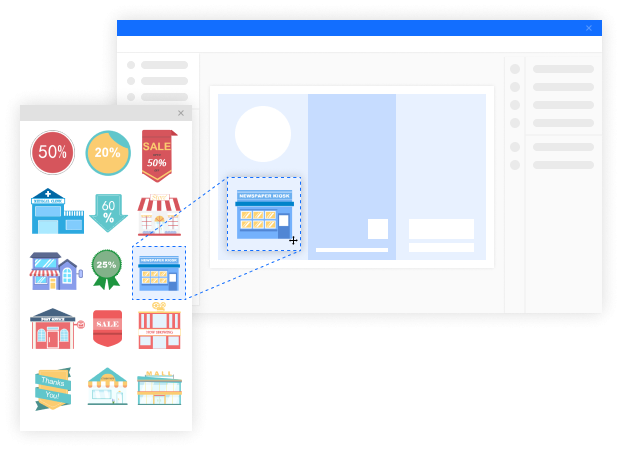 Get Started in Seconds
• Each brochure template has been created just for you to choose from, and anyone can be a designer without any efforts;
• Diverse professionally-designed elements in our libraries could make your brochure more impressive;
• Our intuitive interface makes your creation quick and easy, all the tools are listed on the navigation panel that you can find directly;
• The darg-and-drop function supports to start your creation simply by putting anything you want in the libraries onto the canvas.
Customize Everything with Ease
• Bring some excitement to your brochure by adding some icons or graphics, there are thousands of high-quality icons to choose;
• Use eye-catching color and font to quickly draw audiences' eyes. Just explore our wide variety of predefined colors;
• Insert your shop's or Instagram QR code to let your audience easy to find you by simply scanning it in your brochure;
• Add your own images to make your brochure truly unique, we allow you to customize every details of your work.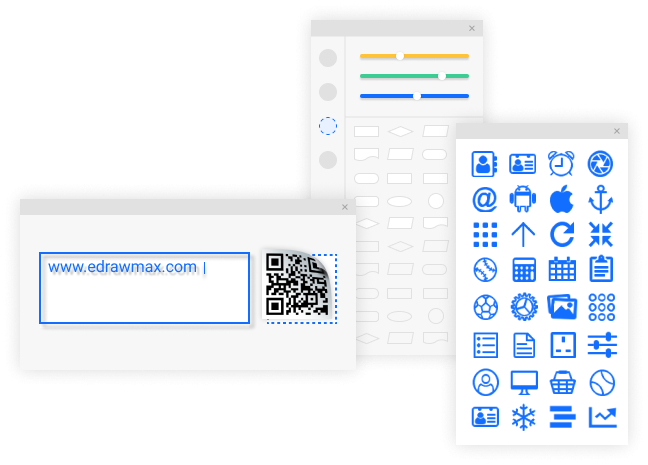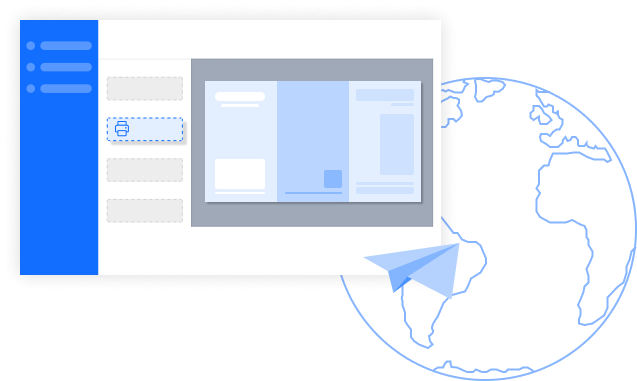 Support Export, Print and Share
• EdrawMax print makes your brochure to get on all your audiences' hands once you finished your creation;
• EdrawMax allows you to export your brochure in several formats, including Graphics, PDF, Office, PS, SVG, and Visio;
• EdrawMax enables you to get a customized link and easily email it to your friends and colleagues;
• EdrawMax lets your charts share easier by social media with one click to your friends and colleagues.
Frequently Asked Questions in EdrawMax
1. How much does it cost to create a brochure in EdrawMax?

You don't have to pay. You are free to create customed brochure. Just create your first brochure in EdrawMax now, and we are confident that you will love it!

2. Can I create a brochure online?

Absolutely yes! Use EdrawMax to create your brochure in every scenario you can think of, online or offline. EdrawMax will be here for you!

3. Which format should I choose to export my brochure?

EdrawMax allows you to export brochure in multiple formats as your preference, including Graphics, PDF, PS, EPS, Office, HTML, SVG, Visio. Moreover, if you intend to print it, we suggest to export in PDF format to ensure keep the highest quality.

4. Is my data safe when using EdrawMax?

100% security guarantee! All information and file transfers are safeguarded with the highest level of SSL encryption.

5. What if I want to know more about wireframe?
Reviews from Our Users

I usually use EdrawMax to draw my grocery brochure. This made my job easy. Before that, I had to spend hours searching for all the symbols on the Internet.

EdrawMax is the most convenient software in designing field - serves many purpose for me! The brochure templates were just easy to work with.

I use EdrawMax to create my brochure, and I surprisingly found it can add QR code in my brochure, after that, my customers could check anything by scanning that QR code.
More Than A
Graph

Maker

EdrawMax is more than a graph and chart maker, there are 280+ types of diagrams for you to create with ease!
All-in-One Diagramming Tool
EdrawMax is committed to optimizing features to satisfy your needs continually, and further builds powerful all-in-one diagramming tool over the world. Just try it, you will love it!