A Quick-Start Venn Diagram Maker
A diagram is worth thousands of numbers!
The Magic of Venn Diagram
Use Venn Diagrams to Make Comparisons in Various Field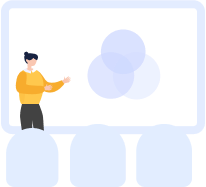 Math Comparison
Recommended Scenario: Classroom

The Venn diagram is usually related to education. They are often used in mathematics to understand the set theory and make various comparisons in the classroom.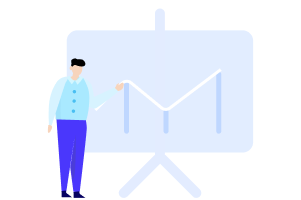 Marketing Comparison
Recommended Scenario: Company

The Venn diagram is also used for marketing when comparing different social media channels' features or even studying consumer behaviors.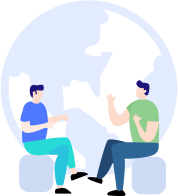 Language Comparison
Recommended Scenario: Linguistics

Venn diagram is an excellent way to compare the difference among multiple languages, especially for the linguist study.
Create A Venn Diagram in 4 Steps

Step 1
Log in or sign up first

Step 2
Select a Venn diagram template you like

Step 3
Customize every detail

Step 4
Export, share or print



The Simplest Venn Diagram Tool for Everyone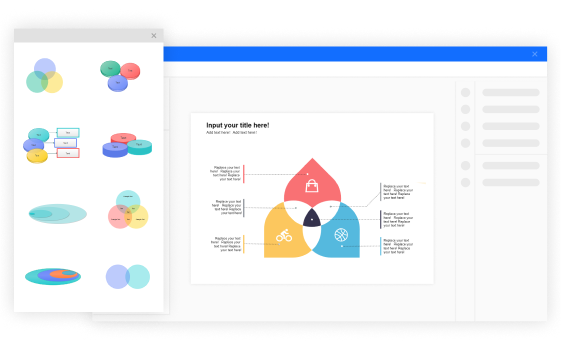 Create Your Venn Diagram in Seconds
With multiple professional built-in templates and themes, you can start creating your Venn diagram in seconds regardless of your design skills. Hundreds of exquisite icons and text blocks to decorate your diagrams artfully.
Customize Your Venn Diagram in Every Aspect
Edraw Max allows you to customize the color, fonts, and background to satisfy your needs. Plus, a designer-approved color palette is perfect for making the diagram stylish. Changing the background or inserting images is another way to personalize your Venn diagram.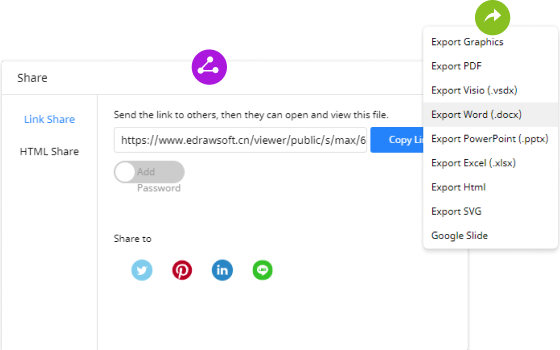 Share Your Venn Diagram in a Click
You can easily export your Venn diagram to multiple formats, including PDF, SVG, Visio, JPG, and Microsoft Office, and send emails to your friends directly. Or, share your unique Venn diagrams on social media.
Present Your Venn Diagram in Front of Others
After finishing your Venn diagram, it's time to display it to your business colleagues or classmates. Edraw Max enables you to show your work by the presentation mode, which enhances productivity dramatically.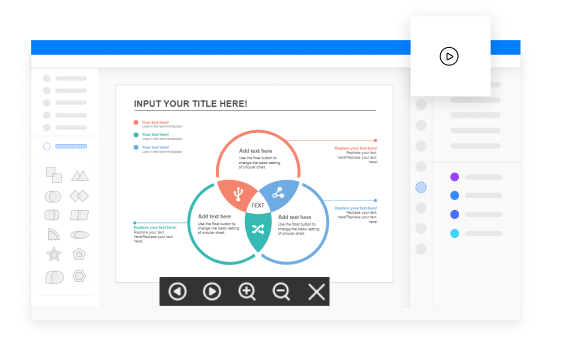 Frequently Asked Questions in EdrawMax
1. How much does it cost to create a Venn diagram in EdrawMax?

You don't have to pay. You are free to create customed brochure. Just create your first brochure in EdrawMax now, and we are confident that you will love it!

2. Can I create the Venn diagram online?

Absolutely yes! Use EdrawMax to create your Venn diagram in every scenario you can think of, online or offline. EdrawMax will be here for you!

3. How to make the multi-set Venn diagram in EdrawMax?

It is super easy to make multi-set Venn diagrams by dragging and dropping the circles onto the canvas until meeting your needs.

4. Is my data safe when using EdrawMax?

100% security guarantee! All information and file transfers are safeguarded with the highest level of SSL encryption.

5. What if I want to know more about the Venn diagram?
More Venn Diagram Templates
Reviews from Our Users

I've used the Venn diagram during the whole class activity. Using the Venn diagram is the best way of teaching primary grades about comparing and contrasting skills. I want to recommend it because students were more engaged in creating the diagram online rather than on paper with Edraw Max!

Many of the best marketing and communications activities result from the intersection of two very contrasting sets of insight. And the Venn diagram should be the exact tool that every marketing people should master! Edraw Max is simple but effective! I'll recommend this tool.

I want to recommend the Venn diagram in Edraw Max for all senior students who need to do a questionnaire during your final year project! It's very useful, especially when you're trying to show the intersection of all multiple choice answers. It's like a new world has opened up - everything is so clear!
More Than A
Venn Diagram

Maker

EdrawMax is more than a Venn diagram maker, there are 280+ types of diagrams for you to create with ease!
All-in-One Diagramming Tool
EdrawMax is committed to optimizing features to satisfy your needs continually, and further builds powerful all-in-one diagramming tool over the world. Just try it, you will love it!